Are Kobe Bryant and Vanessa reconciling?
It sure looks like it. According to TMZ, the estranged spouses were photographed sharing a Valentine's Day kiss after the Laker's game on Tuesday. Vanessa was also snapped smiling and cheering in the bleachers (photos below).
The PDA comes two months after Vanessa Bryant filed for divorce from the Los Angeles Lakers star in December 2011. At the time, sources told TMZ that Vanessa decided to end their 10-year marriage due to Bryant's alleged infidelity.
Because the pair reportedly have no prenup, Vanessa may be entitled to half of Bryant's earnings during their 10-year union, should they divorce. Indeed, the Los Angeles Times reported last month that the couple's three Newport Beach estates -- with a total value of $18.8 million -- have already been transfered into Vanessa's name.
Their divorce documents (via TMZ) indicate that Vanessa requested joint custody of the couple's two daughters, 8-year-old Natalia and 5-year-old Giana.
Check out the photos below and weigh in: Will Kobe and Vanessa kiss and make up?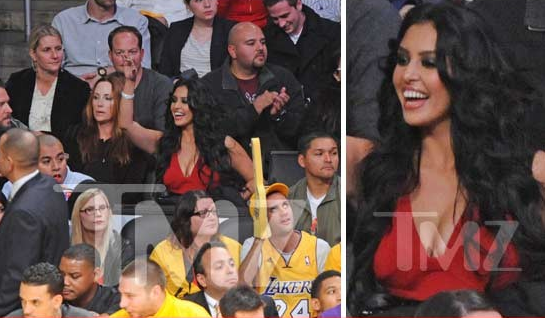 YOU MAY LIKE
CONVERSATIONS
FOLLOW HUFFPOST