The FBI, Watergate And Deep Throat - What Really Happened When Nixon Fell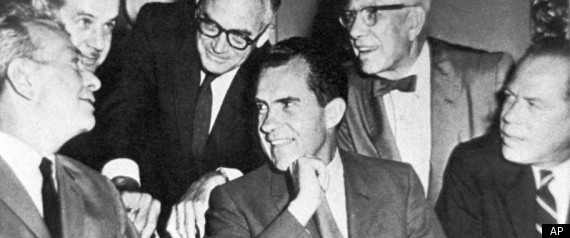 The following is excerpted from the new book "Enemies: A History of the FBI" by National Book Award-winner Tim Weiner [Random House, $30.00]:
On May 2, 1972, in the darkness before dawn, J. Edgar Hoover died in his sleep. It rained all day as his closed casket lay on a black catafalque in the rotunda of the United States Capitol. He was buried half a mile from where he was born, alongside his parents. Forty years later, the myths and the legends are still alive.
"Oh, he died at the right time, didn't he?" Nixon said. "Goddamn, it'd have killed him to lose that office. It would have killed him."
A few minutes after Hoover's casket left the Capitol, the acting attorney general, Richard Kleindienst, telephoned his most loyal assistant at the Justice Department, L. Patrick Gray.
"Pat, I am going to appoint you acting director of the FBI," he said.
"You have to be joking," Gray replied.
Gray was fifty-five years old, and he had never held an authority greater than the command of a submarine. He still had his navy crew cut. He was a bull-headed man with a jutting jaw, a straight-arrow Nixon acolyte. He had known the president for a quarter of a century, and he revered him. He had one qualification: he would do anything Nixon asked. Now the president was entrusting Hoover's legacy to him. In a state of awe, Gray came to the White House after Hoover's burial on May 4. Nixon gave him some sound advice.
"Never, never figure that anyone's your friend," the president said. "Never, never, never... You've got to be a conspirator. You've got to be totally ruthless. You've got to appear to be a nice guy. But underneath you need to be steely tough. That, believe me, is the way to run the Bureau."
Gray lacked steel. He was a malleable man. He was deeply unsure of how to take control of the FBI. He dreaded being seen as "an interloper bent on pushing Hoover into the pages of history and remolding the FBI in my own likeness," he wrote in a posthumously published memoir. He knew little about the Bureau. He understood nothing of its customs and traditions. He did not comprehend the conduct of the Bureau's top commanders. He came to learn, as he wrote, that "they lied to each other and conned each other as much as they could."
Thus began the dark ages of the FBI. In a matter of months, the joint conduct of Pat Gray; his new number-two man at the Bureau, Mark Felt; and his intelligence chief, Ed Miller, would come close to destroying the house that Hoover built. "Once Hoover died," Miller remembered mournfully, "we were absolutely deluged."