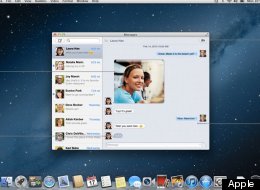 One of the new features unveiled Thursday in Apple's surprise unveiling of OS X Mountain Lion -- the next incarnation of Apple's desktop operating system -- is Messages, an application meant to replace iChat.
Inspired by iOS's iMessage app, Messages will allow Mac users to send messages, photos, videos and other attachements to the iPad, iPhone and iPod, according to Apple.
Users will also be able to video chat using FaceTime as well as see when the person you're communicating with is writing back.
Like iMessage, the messages sent to and from your mobile won't count against the SMS allotment you have with your wireless carrier.
According to TechCrunch, 26 billion iMessages have been sent in the four months since iOS 5 launched.
Messages also supports other instant message services like AIM, Google Talk, Yahoo! Messenger and Jabber.
While OS X Mountain Lion (OS X 10.8) won't be available for the general public until this summer, users with Lion (OS X 10.7) can already download a beta version of Messages. Just visit Apple's official download page and install Messages onto your hard drive to get started.
CNET's Josh Lowensohn notes that the desktop Mac experience is continuing to look more and more like that of Apple's mobile devices:
Of course, the idea of convergence between the two platforms is nothing new. When taking the wraps off Lion (Mountain Lion's predecessor) in 2010, Steve Jobs said the software was what the company imagined would happen if the iPad and the MacBook "hooked up."
Indeed, on its launch page, Apple touts the operating system as "inspired by iPad. Re-imagined for Mac."
Click here for more on Mountain Lion's new features, or check out the slideshow (below).
OS X Mountain Lion Features (CLONED)
One of the biggest surprises is wholesale Twitter integration into the Mac operating system. Apple already shocked many with its announcement that sharing to Twitter -- and not Facebook -- would be baked into iOS, and now it is doubling down on that strategy with Mountain Lion OS X. Many apps, including Safari, Photo Booth, and third-party apps, will have the option to launch a pop-up Twitter window to share whatever it is you're doing. Notifications from Twitter will also appear in the new Mountain Lion Notification Center.

Apple is expanding the domain of iCloud, the cloud-based storage system for photos, documents and more that it introduced with iOS 5 in 2011. Now iCloud will automatically sync the mail, contacts, calendar and documents on your Mac as soon as you update them across all of your devices (if you want it to). Like it does when you register a new iPhone, when you register a new device with OS X Mountain Lion you will go through a sign-up process (or log-in screen) for iCloud.

One of the most popular (and controversial) features of iOS 5 was iMessage, Apple's text message killer -- any device with iOS 5 (iPhone, iPod Touch, iPad) was able to messages to any other iOS 5 device for free over the mobile network, totally avoiding SMS charges from the carrier. Now Apple is bringing that functionality to the Mac, with a service it's calling "Messages Everywhere." Message will replace iChat and will enable users to send Messages from the Mac to any iOS 5 or Mountain Lion OS X device for free. Conversations in Message will stay up-to-date across all of your devices, regardless of where you're sending and receiving. Those interested can actually download a free Beta version of Message for Mac right now; no word on whether Apple has plans for a Windows version.

Gatekeeper is Apple's defense against malicious apps from getting on your computer. Mountain Lion users will have three options for what kind of applications they can download onto their machines: Any apps at all (as on OS X Lion); only apps from the Mac App Store (the highest security setting); or apps from the Mac App Store or from those with an Apple developer ID (the new default setting). TechCrunch's MG Siegler calls this the most controversial new feature of Mountain Lion: Developers now have to sign up to be a Mac developer, which apparently will cost $99, before their applications will be able to be downloaded in the default Mountain Lion settings. Those settings, of course, can be changed by the user. Read more about Gatekeeper on Apple's website.

Another new app with iOS 5, Reminders is a to-do list that will also come to OS X Mountain Lion and will also stay synced across Mac devices with iCloud.

The Notification Center from iOS 5 will also come to the desktop on Mountain Lion. Unlike on iOS 5, where your Notification Center appears when you swipe down from the top of the screen, the Notification Center in Mountain Lion will appear from the right side of your monitor. Small notification banners will also pop-up in the upper right hand corner of the screen as the notifications appear, much as they do now.

Apple is inserting the Share button from iOS -- the company is calling it "Share Sheets" -- into many of its Mountain Lion apps, most notably Safari. On any webpage, you'll be able to click the Share button and send a link to Twitter, Mail, iMessage, Flickr, Vimeo and several other apps. This was one of the big features being touted by Microsoft in Windows 8, and it appears that Mountain Lion OS X will beat them to release with Share Sheets.

For those that use Game Center -- the Apple social gaming network available for many of the most popular games on iOS devices -- here's some good news: Now you'll be able to sign in and play your Game Center games on your Mac with Mountain Lion. Your Game Center account is the same as your Apple ID and will sync up across all Apple devices.

AirPlay for iOS devices allows iPhone, iPod Touch and iPad users to transmit their screens onto their televisions through their Apple TV boxes. Now Mac computers will get AirPlay with Mountain Lion, which Apple is touting as a useful feature for Keynote (its slideshow presentation app) and iMovie.