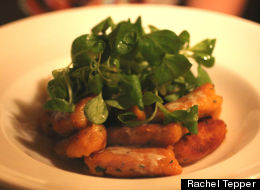 ALEXANDRIA, Va. -- A lot has changed at The Evening Star Cafe in Del Ray since it closed last October for a massive renovation. The place now has a new look, a new menu and a new chef.
Georgia native and new executive chef Jim Jeffords has put a decidedly Southern spin on the eatery's new dishes, and HuffPost was fortunate enough to try some of them out. The restaurant also recently rolled out a new brunch menu on Jan. 29, and the cocktails are all new as well.
Click through the below gallery for a taste of what Evening Star now has to offer.
The Arcadian cocktail with Hendrick's gin, honey syrup and rosemary.

These fried balls are "poppadews," red and golden peppadew peppers filled with pimento cheese and fried golden brown.

Boiled peanuts, a Southern specialty, are served salted.

This rendition of Hoppin' John is made with arborio risotto, housemade tasso ham, mustard greens, black-eyed peas and Parmesan.

This salad of pickled pumpkin, baby arugula, red peppers and toasted pumpkin seeds is surrounded by "piggy croutons," or fried pig ears.

The seared sweet potato dumplings are drizzled with Sweet Grass Dairy blue cheese fondue and brown butter, and served with mache salad.

The buttermilk-fried chicken here is served with braised collard greens, boiled peanuts, sunchoke mash and a red-eye sausage gravy.

For dessert, try the apple biscuit cobbler served in a cast iron pan, served with creme fraiche and caramel sauce.