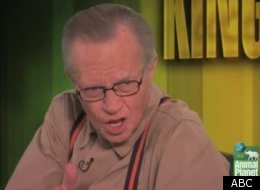 What's Larry King been up to since he left his decades-long stint at CNN? According to Thursday night's "Jimmy Kimmel Live" he's been getting in touch with nature in a pretty ridiculous way.
Kimmel showed a promo for King's new show on Animal Planet, "Larry's Animal KINGdom," and we have to say we don't know how long it's going to last. Surprisingly, sloths just aren't as entertaining talk shows guests as you'd think.
Whatever happens, we just hope King keeps making these late night cameos.