'The Chew' Celebrates Presidents Day: Hosts Don Costumes, Talk White House Food Favorites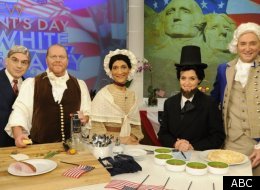 Sometimes, a picture is all you need. In honor of Presidents Day, the hosts of "The Chew" are really getting into the spirit. Monday's episode (1pm, ABC) will feature Michael Symon as Harry Truman, Mario Batali as Benjamin Franklin, Carla Hall as Phillis Wheatley, Daphne Oz as Abraham Lincoln and Clinton Kelly as George Washington. The quintet will discuss presidential food favorites and "Chew Crew" correspondent Evette Rios will share her recent interview with White House Chef Chris Comerford.
We must say, Mario Batali makes a decently realistic Benjamin Franklin. If he gets tired of cooking, perhaps there's an open position for him in Colonial Williamsburg.
The photo: