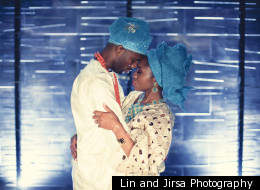 "Black Love" Wedding Announcements:
Getting married? Celebrating a wedding anniversary? If so, share your love with us, here at BlackVoices, and get featured on the site!
We've also teamed up with Munaluchi Bridal, the leading authority of bridal inspiration for women of color, to showcase the love and wedding celebrations from some of these amazing couples.
Enjoy and spread the love!
Nakita Sheerta Monique Dodd-Feagin and Justin Andre Feagin were married on October 22, 2011. The bride, 29, is a social worker and the bridegroom, 28, is a claims adjuster. They reside in Rancho Cuamonga, California. The couple met through a mutual friend, and although they didn't hit it off at first their second meeting proved to be a true love connection. The couple on their bright future: "Our hope is to continue to build a loving relationship and to continue to learn new things about one another and together. We would like to raise a family one day and to show them that real love does exist, and marriage is totally worth the effort."

Jheanelle Bailey and Shawn Bailey were married on October 9, 2011. The bride, 26, is a registered oncology nurse and the bridegroom, 28, is a business analyst. They reside in Miramar, Florida. This two met online back in late 2006 and maintained a casual friendship before becoming an official couple one year later. The bride on what inspires their love: "Our greatest love inspiration is the love that we have for our lord and savior Jesus Christ. This love and our religion and brought us thru so much in our religion and continues to inspire our love."

Shavara Dashiell Washington and Kelton Lamar Lyons were married on January 15, 2012. The bride, 32, is a secondary educator and the bridegroom, 32, is a freight broker. The couple met while working together at a mortgage company. After developing a friendship and praying for a meaningful romance, the two become one. The groom on this beautiful wife: "I can truly say that God has sent me the final piece of my puzzle to complete my life. Shavara is my everything. I begin my day thinking about her, and I end my night thanking God for sending me such a special woman. She is the true love of my life."

Our Munaluchi Bridal feature couple... Abiade Adedoyin and Ernie Dore were married on October 16, 2011. The bride, 31, senior finance manager at Microsoft and the bridegroom, 33, is a program manager. They reside in Seattle, Washington. The couple met while attending college in Oklahoma, where their friends convinced them to go to an event for international students--the bride is from Nigeria and Ernie is from the Caribbean. That chance meeting turned into a beautiful relationship. The bride on the couple's relationship: "The things that make us so different are the very things that make us so great together. Sure, like any other couple we have had our share of ups and downs, but through it all we feel so blessed to have found each other and look forward to building our lives together as husband and wife." To read more about Abiade and Ernie's inspiring love story and see pictures from their beautiful wedding day check out check out their full feature on MunaluchiBridal.com.