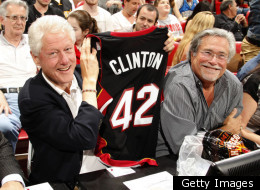 MIAMI -- Former President Bill Clinton did something Sunday that many celebrities do when visiting South Florida.
He watched the Miami Heat.
With the best seat in the house – of course – Clinton arrived shortly before tip-off of the Heat's game against the Orlando Magic, even getting his hands on a deflected ball late in the first half and smiling as he flipped it back onto the court. Clinton stayed until the very end, then posed for plenty of postgame photos with fans, as well as one with the officiating crew of Bill Kennedy, Mark Lindsay and Rodney Mott.
"As a crew, it was an honor and a privilege," Kennedy said after the game.
Clinton told the crew: "No one in this building, other than me, has been second-guessed more than you guys."
The Heat won the game 90-78.
Clinton sat just to the right of Heat managing general partner Micky Arison, the two chatting just about nonstop during play while sitting near midcourt at a table only inches from the sideline. The former president's visit was not announced beforehand, and when asked about it postgame, Heat coach Erik Spoelstra still apparently wasn't aware that Clinton was sitting next to one of his bosses.
"I didn't know," Spoelstra said. "Is he still here? Do I have a chance to go shake his hand?"
Players, however, were keenly aware of who was playing the role of First Fan on Sunday.
"I did notice that," said Heat guard Dwyane Wade, who exchanged greetings with Clinton. "I wasn't like Spo."
Added Heat forward LeBron James: "It's humbling, honestly. ... The best thing about it is we were able to win a game while he was here."
Clinton took his seat shortly before the Heat starting lineup was introduced to the crowd, and at times seemed just like any other fan. He received a lengthy cheer in the third quarter, standing as a spotlight shone upon him and after he received a Heat jersey with "Clinton 42" emblazoned on the back.
He was laughing during a timeout when the Heat's "Golden Oldies" – a dance troupe composed of older citizens – performed, applauded when James threw an alley-oop pass to Wade, turned to look skyward at the overhead video screen for replays and pored over stat sheets during timeouts.
Clinton has long enjoyed many sports. He played golf in Colombia last week at a Nationwide Tour event.
Heat executives Nick Arison and Alonzo Mourning met briefly with Clinton in Haiti last month, discussing ongoing earthquake relief efforts. Clinton and Mourning chatted that day for a few minutes about a number of other topics, including the Heat's season to that point and how much the former president enjoyed the retired Heat center's book.
___