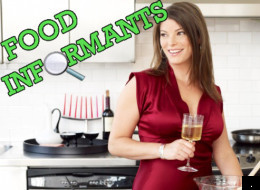 Food Informants is a week-in-the-life series profiling fascinating people in the food world. We hope it will give you a first-hand look at the many different corners of the food industry. Know someone who would make a great Food Informant? Tell us why.
Gail Simmons is a trained culinary expert, food writer and dynamic television personality. Since the show's inception, she has lent her expertise as a permanent judge on BRAVO's 2010 Emmy-winning hit series "Top Chef," and is host of "Top Chef: Just Desserts," its pastry- focused spin-off, which just completed its second successful season.
Gail joined Food & Wine in 2004 and directs special projects for the epicurean magazine. Prior to Food & Wine, Gail was the special events manager for Chef Daniel Boulud's restaurant empire. She was born in Toronto, Canada and moved to New York City to attend culinary school. She then trained in the kitchens of legendary Le Cirque 2000 and groundbreaking Vong restaurants, and worked for esteemed food critic Jeffrey Steingarten at Vogue. Gail makes regular national culinary event and TV appearances and has contributed to several cookbooks. Her first book of her own, "Talking With My Mouth Full," is available today.
Read Gail's diary below to learn about her busy week right before her book launches.
Monday, February 6
8am: Getting over cold so didn't sleep so well last night. Need a hearty breakfast. I make hot oatmeal with shredded coconut and maple syrup.
10am: Conference call with my publicist about upcoming book launch: "Talking With My Mouth Full." It comes out in just 2 weeks and there is so much still to do for it -- coordinate details of book launch party, book tour schedule travel, confirm recipes for the multitude of cooking demos I will be doing as well as book talks and signings, and of course a major wardrobe consult is in order.
2pm: I'm in my office at Food & Wine magazine. After a lunch of a Greek salad from the local diner, I am faced with a bunch of press interviews and deadlines. Today: AdWeek and Hollywood Reporter are calling, and I have to write a short paragraph for Zagat about my best meal ever (see second slide).
4pm: Meeting with my assistant Allison, my partner in crime, to brainstorm several recipes I need to submit for various cooking demos.
5pm: Call with an event company in Calgary, Alberta looking to create a food and wine festival there with me...a check of the weather tells me it is about 18 degrees there right now. They better be thinking August. I may be Canadian by birth but after 12+ years in New York I have grown soft. Canadian winter is a whole other species...
7:30pm: Knicks Game at Madison Square Garden!!! This is my very first time at a Knicks game and I had forgotten how much fun basketball is to watch. I'm with my husband Jeremy, my agent Jeff and his associate Jenni. It's been a while since I have been at MSG in general and am so excited about the food makeover it's received since my last visit. In between cheering for Jeremy Lin, we feast on Hill Country brisket sandwiches, Jean Georges Vongerichten's chicken with soba noodles and fresh dill (yes, fresh herbs on food at a sporting event!) and a chicken hot dog with kimchee. Oh, and Bud Light. Yum. Jeremy Lin kills it. Knicks win against the Utah Jazz 99 to 88. Lin scored 28 points. Move over Manning, NYC has a new hero. Hooray!
10:30pm: Home! I now have to preview the upcoming episode of "Top Chef" every Monday night so I can work on a blog for Bravo as well as a recap for Entertainment Weekly online each week. This was a great one, the last episode in the season before our Whistler/Vancouver three-part finale begins. Bev is back (after winning "Top Chef: Last Chance Kitchen" on the "Top Chef" website)! We bring in the 5 remaining chef's mentors and ask them to each cook a dish for all of us. It's a very emotional challenge and Paul is victorious. I have to admit, his chilled Dashi & Sunchoke soup is one of the best dishes I have EVER eaten on the show. Ed Lee is eliminated. He is a talented chef and I am sorry to see him go but he definitely made the most mistakes that night.
11:30pm: Still time to get in one episode of "Friday Night Lights" before bed. I am deep into this show and sort of obsessed, so be warned: I will talk about it many more times this week.

Tuesday, February 7
9am: Institute for Culinary Education (ICE) advisory board meeting and facility review. Its my old alma mater and I attend meetings with them about twice a year. Always nice to go back and see how things are changing. Also a chance to catch up with industry friends like Chefs Kerry Heffernan, Michael Laiskonis, Scott Campbell, and ICE president Rick Smilow.
11:30am: I have a call with Josh Wesson, wine expert, author, and dear friend, to discuss our upcoming food and wine pairing seminar for the South Beach Wine & Food Festival on February 26th. The seminar is based on recipes from my new book as well as from important milestones in my life. He has arranged to pair some pretty exciting wines with each course. Check it out and join us if you can.
12:30pm: I make a salad of shredded carrots, broccoli, avocado and red cabbage with lemon, soy, a drop of fish sauce and a little sesame oil. Allison arrives to test a recipe with me. I am shooting an episode of "Dr. Oz" on Friday and they need the final recipe by tomorrow. It's for a "snacking" episode which will air February 17th. They have asked me to make a Five-Layer "Belly Busting" Dessert for the show, wherein each layer has an ingredient that is good for you but that still tastes great. I am starting with a Devil's Food Cake that uses Greek Yogurt instead of eggs and oil. The next layer is skim ricotta with coconut milk, shredded coconut and agave, then a sprinkle of finely chopped walnuts, flaxseeds and toasted oat, followed by piles of fresh berries (I know, its February, but what can you do!?) and finally lots of shaved dark chocolate on top. The final dessert is not necessarily what I would think to make on my own, but I have to admit, it tastes pretty good.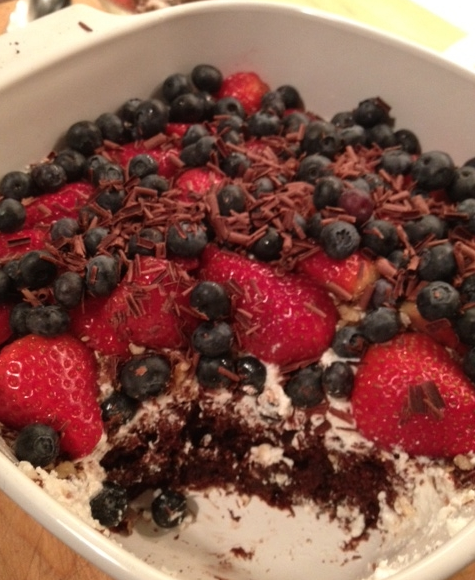 2pm: Allison and I work on updating my Google+ page. I can admit that I have been slow to most social media. I mastered Twitter early on, but really don't spend enough time on Facebook and the rest. Google is working with me on a bunch of events for my book launch so I am trying to get better acquainted with the site.
3pm: I meet my agent Jeff for a meeting with a lovely lady named Sheila from ShopNBC about possible brand collaboration and promotional opportunities.
5pm: Weekly Q+A call with my friend Monica from Bravo -- she's the editor of BravoTV.com and is one of the most patient and easygoing people I have ever worked with. I guess she has to be if you consider the "Bravolebrities" she has to deal with every day. We discuss the upcoming episode I watched last night for my blog. Then we spend about 15 more minutes talking about "Friday Night Lights." I can't help it.
6pm: My old friend Jason Kirk is in town from LA so I meet him at Peasant in Nolita for a drink before I have to run off to dinner. He and I studied in Spain together fifteen years ago and have remained close ever since. He and his wife Christine are planning a trip to Vietnam and Cambodia soon and since I went to Vietnam for my honeymoon four years ago, we spend most of the time talking about all the amazing things he will see, do and eat. I recount to him my favorite story from that trip, which you can actually hear for yourself, as I recently told it to an audience of 1,000 people for The Moth.
7:30pm: Dinner at Parm with Danyelle Freeman. We shot a season of "Top Chef Masters" together in LA 2 years ago and try to get together a few times a year to catch up. I haven't been to Parm since it first opened in November so am excited to try it again. Rich Torrisi, one of the young chef/owners, is an old friend and I am very proud of how well he has done. We worked together for several years when he was a line cook at Café Boulud, under Andrew Carmellini, and I was working on events and marketing for Daniel Boulud and all his restaurants. Danyelle and I over-order as usual: calamari with Italian long peppers, fresh mozzarella wrapped in prosciutto, baked clams, baked ziti, their famous eggplant parmesan, and of course that incredible ice cream cake (see below). At the end of our meal we bump into a few other friends who are there too, Kate Krader (Food & Wine's Restaurant Editor and Robin Insley, a NYC restaurant PR expert).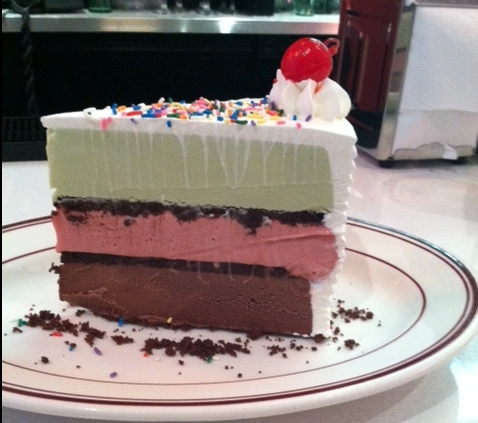 11pm: Just one episode of "Friday Night Lights!" Pretty please? Oh and I watched that night's episode of "New Girl" too. Hilarious. Two words: Underpants Captain.
Wednesday, February 8
9:30am: Weekly Food & Wine "coffee talk" with Wendy Mure (VP Marketing), Sonia Zala (Promotions Director), and Diella Koberstein (Senior Event Marketing Manager). We eat bagels and cream cheese and discuss everything coming up for Food & Wine, including my article in the March issue, updates on the Food & Wine Classic in Aspen, what we are doing at the South Beach Wine & Food Festival at the end of the month, and much more.
10:30am: More press interviews -- Tribune Media, Entertainment Weekly for my Top Chef blog, Elle.com
12pm: Food & Wine meeting about my book launch party! I cannot reveal the details but it is going to be AWESOME. Thank you Food & Wine and Essie Nail Polish.
1:30pm: COOKIES FOR LUNCH! My friend and mentor, cookbook author extraordinaire Dorie Greenspan, has a fantastic cookie company called Cookie Bar, with her son Josh. They are doing a Valentine's week pop-up at a storefront on Park Avenue so I just have to drop by and support them. Allison and I order way more cookies than we should. My favorite are the chocolate-peppermint and the classic blondie.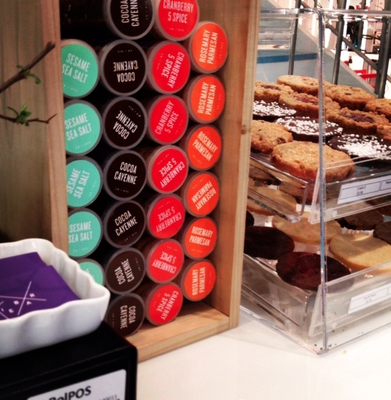 3pm: Conference call with the producer and food stylist from "The Dr. Oz Show" to finalize all details for my segment on Friday.
5pm: I pop into Jeff Chastain Parlor to see my friend Jessie Riley, who does my hair and makeup when I have to go to events. She's got mad style.
7pm: Jeremy and I head to Brad Pitt's Make it Right Foundation's event with eBay for a celebrity auction to benefit his work in New Orleans' Lower 9th Ward. I do some chatting on the red carpet, eat a few mini muffalettas, and check out the awesome auction lots.
9:30pm: I'm still hungry and my hair is looking so good that we cannot go home yet. So Jeremy and I go to Pastis, just around the corner from where the event takes place. I have not been here for a really long time -- its amazing how some things never change. It's still packed as always. We eat white bean and vegetable soup, grilled striped bass, chicken paillard and are home by 11pm!
11:30pm: Leftover cookies from Cookiebar and another episode of "Friday Night Lights." Coach Eric Taylor is my guru.
Thursday, February 9
9:30am: Coffee and avocado toast at The Commons Chelsea with one of my best friends, Jessica. She has three kids and we both have so much going on that we just don't get to see each other enough. We try to meet for quiet coffee once a month in the morning. I love this new little coffee place, its right near my house and they use La Colombe Torrefaction coffee. It's the best.
11:30am: Another recipe brainstorm session with Allison for 3 cooking demos I have to do on book tour (Vero beach, Florida, Seattle, and Montreal, as well as for a recipe I need to submit to Design Sponge (my favorite design website/blog!).
2pm: After wolfing down a bowl of lentil soup and a banana for lunch I have more press interviews for the book: YumSugar.com, People.com, and DivineCaroline.com. My cheeks are getting tired from yapping so much.
7pm: Time for the gym. A necessary evil. I go to the YMCA. It's for EVERY BODY.
9pm: I'm home too late to cook dinner so Jeremy and I order from Dirty Bird on 14th Street. It's pretty much the go-to take-out in our house. I love their rotisserie chicken, chopped salad and brussels sprouts. They also make these really delicious sauces that I could drink if I was allowed -- classic hot sauce and amazingly lemony honey-Dijon vinaigrette.

Friday, February 10
11:30am: I work from home all morning, answering emails and writing up a few recipes so I can meet my friend, Canadian author of the award-winning food history book "Save The Deli," David Sax, for an early lunch at Buvette in the West Village. I have been wanting to go here for so long and have heard so many great things. It lives up to the expectations. I have a Croque Madame with mushrooms and spinach, an extra large latte, and a glass of blood-orange juice. David will be hosting a book event for me in March for the McGill University NYC Alumni Chapter. We are both alums but actually first met when I was about 15, at summer camp in Northern Ontario, Canada.
1:30-5pm: At 30 Rock for the Dr. Oz show taping. Allison and I are there for over 3 hours, but the Five-Layer Belly Busting cake is a hit. Dr. Oz is very hands-on when I make it during our segment, which I love. Can't wait to see the show air next week!
8:30pm: Date night with Jeremy! We go to Hangawi in Koreatown, one of my favorite restaurants. It's vegetarian and the menu is vast, with so many delicious choices. Korean food is so spicy and satisfying. We order kimchee, mushroom and leek pancakes, the Hangawi salad, a tofu hotpot with ginger, the kimchee brown rice bowl, and extra spicy rice cakes with vegetables.
10:30pm-1am: Jeremy is going out of town for the weekend so he has to pack. I help a bit but get distracted by "Friday Night Lights," of course...
Saturday, February 11
11am: I meet another close friend Stacey and her husband Glen for brunch at Red Farm. It's such a fun addition to my neighborhood and the food is great: shrimp dumplings, pork and shrimp soup dumplings, steamed pork buns, egg roll with Katz's pastrami, vegetable spring rolls, Kung Pao chicken dumplings, pineapple and arugula salad. Ed Schoenfeld, the owner, regales us with stories of his years in the restaurant business.
1pm: I need to find some clothes for my upcoming book tour -- so many events! Who has the wardrobe for this? Stacey comes with me to shop uptown a bit. We find one thing but I am not totally satisfied...I go back downtown to run a bunch of boring errands at Duane Reade, Best Buy and Bed, Bath & Beyond. Three of my least favorite shopping experiences.
6:30pm: The gym. Again.
8:30pm: In a cab on my way to a friend's birthday party in Nolita I learn that Whitney Houston has died! And I will ALWAYS love you. Period.
8:45-11:30pm: Who knew Lovely Day restaurant on Elizabeth Street had such a cool little private room downstairs? My friends Alan & Sarah are having a joint birthday party (they are married). I have always liked this little place. Good sliders, edamame, calamari with yuzu, sweet potato fries, veggie summer rolls, and lots of wine.
12:30am: Home pretty early so can watched "SNL" on DVR. Zooey Deschanel does a pretty great job as host, I must say. She's adorable. I'm a big She & Him fan (her band). And I hear she is a big "Top Chef" fan. I like a girl who can make fun of herself and who also looks so cute in those frilly dresses...plus, she can dance! Who knew?
Sunday, February 12
10:30am: Cleaned out my home office, which I have been putting off for months. Went through all my book drafts, edits, and notes that piled up over the last 6 months. It was sort of therapeutic. I can now officially put it all to bed.
1pm-6pm: I take the F Train to Cobble Hill, Brooklyn to cook a long, boozy lunch with friends: Nilou Motamed and Peter Lindberg (both star editors at "Travel + Leisure"), Evyn Block and Adam Sachs (PR master and famed writer, respectively) and their little man Will (7 months), at the home of Susan Naci (Ad Director at Vanity Fair) and Alan Barlis (Principle architect at Dennis Wedlick) with their awesomely cool kids Rainen (4) and Sabine (14 months). Nilou brings a fantastic Iranian potato and egg pancake called Koo Koo, we grill three huge rib eyes, stew Turkish lentils with lots of garlic, cumin and dried spearmint, toss up a arugula & tomato salad, a few fried eggs for the kids, grilled zucchini, roasted cauliflower. All while guzzling bottles of Lambrusco and Brooklyn Local 1 ale. For dessert, I brought discs of Mexican chocolate with ginger to whisk into milk, and a pile of black & white cookies from Empire Bakery. Not bad. We all stumble home happy and full.
7pm: I signed up for a SoulCycle class three days ago and now I have to go. Still tipsy from lunch. It seemed like such a good idea at the time...I trudge over to their Union Square location and somehow I get through it. Feels pretty good to sweat out that garlic actually.
8:30pm: Home in time to watch the Grammys, do a few loads of laundry, work on an essay I have to submit to Barnes & Noble as a special extra for Nook purchasers of my e-book, and get to bed early. Next week looks like a busy one. G'Night!
See previous Food Informants below:
Food Informants(CLONED)(CLONED)
Bob Tuschman is the general manager/SVP of the Food Network. He previously served as senior vice president, programming and production for Food Network, heading up all programming aspects for the network. He was instrumental in discovering, developing and producing many of the network's biggest stars including Rachael Ray, Giada De Laurentiis and Guy Fieri, and led the network to record viewership levels. Prior to joining the Food Network, Tuschman worked at ABC News as a producer for Good Morning America, as well as on specials and numerous pilots. He also produced pilot, series and documentary projects for HBO, ABC, American Movie Classics and CNBC. Tuschman is a graduate of Princeton University and currently lives in New York City. Read Bob Tuschman's diary here.

Dorothy Neagle and Taylor Cocalis met while attending Cornell University in 2004, and immediately bonded over food -- namely, ice cream cones. While Taylor's studies eventually took her to Italy for a Master's degree in Food Culture, and Dorothy's work as an interior designer led her to New York City, they stayed in touch and eventually became neighbors in New York once again. Taylor was running the classroom at Murray's Cheese shop with unbridled enthusiasm when Dorothy discovered that her passion for environmentalism was stirring up an interest in food and agriculture. It didn't take long for the two of them to brainstorm an idea that would satisfy their interests in sustainability, food culture, and making a difference in other people's livelihoods. Good Food Jobs launched in October 2010. As of January 2012 the site has amassed over 16,000 registered followers and posted over 3,000 jobs. Read Taylor and Dorothy's diary here.

One of the biggest college football games of the year was the BCS National Championship. Louisiana State University (ranked number 1) was pitted against rival University of Alabama (number 2), a match-up that also occurred earlier in the season, resulting in LSU's win. But for the championship round, things ended up a little differently. The competition wasn't just between Alabama and LSU though -- chefs had their reputations at stake as well. The Boudin vs. BBQ tailgate pitted Drew Robinson of Jim 'N Nick's Bar-BQ in Alabama against Chris Barbato's Café Adelaide in New Orleans. The diary chronicles Chef Drew Robinson from Jim 'N Nick's, he details how one preps for such a big barbecue feast on someone else's turf. At the same time as Drew was preparing his porky goodness, Tory McPhail, executive chef of Commander's Palace, one of New Orlean's most institutional fine dining restaurants, was preparing for an influx of guests in town for the game. Read Drew and Tory's diary here.

Irene Wong is the Executive Producer of "Unique Eats" and "Unique Sweets," two hit series on the Cooking Channel. Irene's career in food television started in 1999 when she joined the Food Network and created and directed "Everyday Italian" with Giada De Laurentiis, "Ciao America" with Mario Batali, "My Country My Kitchen" and "Melting Pot." In 2006 she started her own production company, IW Productions LLC, which is based in New York City. She was the Co-Executive Producer and Director for several seasons of "Everyday Food," "Everyday Baking," "Mad Hungry" and "Martha Bakes." Read Irene Wong's diary here.

Ben Potts, 28, is the lead brewer at Dogfish Head Brewing & Eats in Rehoboth Beach, De. After Ben discovered craft beer, there was no turning back. His first forays into this world were Sierra Nevada Pale Ale and Bigfoot Barleywine, as well as Dogfish Head's Midas Touch and 90 Minute IPA. Talk about full circle! When a friend started homebrewing, he thought, "Hey, I can do this," and picked up his first kit. His first professional gig came about five years later. He was in art school studying to become a painter, but decided brewing might be a more achievable -- but equally creative -- career, so he dropped out and started volunteering at Dock Street Brewing Co. "I worked my ass off until they hired me as assistant brewer," he says. "Then I took over as head brewer in October 2008." Ben moved from Philadelphia to Rehoboth this fall to work at Dogfish Head's brewpub. Outside of the brewhouse, he enjoys hiking, camping, mountain biking, roller hockey, movies, fantasy novels, cooking and having a pint with friends and family. Read Ben Potts' diary here.

Brian Noyes left 25 years of magazine art-direction (Smithsonian, House & Garden, The Washington Post) to launch a rural bakery in the Virginia Piedmont hunt country 50 miles west of Washington, DC. Trained at the Culinary Institute of America in Hyde Park, NY, and at L'Academie de Cuisine in Maryland, he bought a red 1954 Ford pickup from designer Tommy Hilfiger, renovated a 1921 Esso service station in Old Town Warrenton, Va., and threw open the Red Truck Bakery doors in August 2009 just as the economy started to plummet. Rave reviews by The New York Times, Garden & Gun, Southern Living and other publications turned this three-chef bakery into a small town coffee stop with a big online presence, sending out hundreds of orders nationwide each month. He lives in Arlington, Va., with his partner Dwight McNeill and has a farmhouse 20 minutes from the bakery in Orlean, Va. where he usually stays during the week. Two bakers, CIA graduate Kevin Powers and Ryan Glendenning from the Restaurant School in Philadelphia, round out the kitchen staff, with Nicole O'Brien on sandwiches and granola. Read about Brian Noyes' week here.

John T. Edge writes a monthly column, "United Tastes," for the New York Times. He is a contributing editor at Garden & Gun and a longtime columnist for the Oxford American. His magazine and newspaper work has been featured in eight editions of the Best Food Writing compilation. He has been nominated for five James Beard Foundation Awards, including two M.F.K. Fisher Distinguished Writing Awards. Edge holds a master's degree in Southern Studies from the University of Mississippi. He is director of the Southern Foodways Alliance, an institute of the Center for the Study of Southern Culture at the University of Mississippi, where he documents, studies and celebrates the diverse food cultures of the American South. Read John T. Edge's diary here.

Chris Jones and Richie Farina are chefs at Moto, a fine dining restaurant in Chicago that focuses on innovative and futuristic cuisine. They are both contestants on this season of "Top Chef: Texas." After attending Johnson and Wales University, Farina, the executive sous chef, started cooking in several Boston restaurants, and then joined Moto in 2008. In his spare time, he trains in mixed martial arts, a mixture of Ju Jistu wrestling and boxing. Jones, got his start cooking in his grandmother's kitchen. After working his way up the ladder in several restaurants, Jones is now the chef de cuisine of Moto. He lives with his wife and young daughter, Savannah. Read Chris and Richie's diary here.

Sean Henry is the owner of Houndstooth Coffee in Austin, Texas. Not until graduating from the University of Texas at Austin with a degree in Radio, Television and Film, did Sean even begin drinking coffee. While working at a local grocery store, Sean began to explore the coffee world region by region. After the initial broad strokes of regional coffees, he began working at local cafes, learning the art of being a barista. At Houndstooth, Sean aims to provide customers with the sophisticated taste and presentation of a perfect cup of Joe. He not only finds value in a well-crafted cup, but in the coffee drinking experience as well. Read Sean Henry's diary here.

Jean K. Reilly MW is the Wine Director for the Morrell Wine Bar and the Wine Buyer at Morrell Wine Co. She is a 10-year veteran of the wine business and has worked in numerous parts of the trade. In 2010, Jean became this country's 26th Master of Wine, only the sixth American woman to hold this prestigious title. Jean's interest in wine began as a hobby while pursuing a career in corporate finance at Bank of Tokyo-Mitsubishi and Deloitte & Touche. Abandoning the corporate track in 2001, Jean plunged into wine full-time, traveling the vineyards of Europe and the U.S. After a stint as sommelier at a small French restaurant in Manhattan, she worked as a wine instructor for several culinary schools, including Schiller International University in Switzerland. From 2007 to 2008, she also served as the Wine Consultant for Hilton Hotels. Read Jean Reilly's diary here.

Todd Coleman is the executive food editor of Saveur magazine, where for six years he's run the food side of things, including recipe selection, and overseeing the test kitchen. He's also an accomplished photographer who props, styles and photographs the majority of Saveur's covers, as well as frequently shooting and producing stories both in studio and on location. A graduate of the CIA, he's worked in restaurants, has been a private chef, edited at Everyday Food, produced shows for the Food Network, and has photographed cookbooks like The Japanese Grill by Tadashi Ono and Harris Salat, and the forthcoming Katie Workman book The Mom 100. He lives in Brooklyn, loves the Strand bookstore, hoards photo lenses and is a fiend for Indian food. Read Todd Coleman's diary here.

Chef Stephen Kalil joined PepsiCo and Frito-Lay in 2007 as their first ever corporate chef. In his role, he leads and inspires product development through the application of "Culinology", the blending of culinary arts and food science and technology. He is based at Frito-Lay headquarters in Plano, Texas. Read Stephen Kalil's diary here.

Food maintains a nearly constant presence in the life of 34-year-old competitive eating champion Timothy Janus, known to his fans as Eater X. Ranked #3 in the world by Major League Eating, Janus spends many of his weekends on the road, competing in contests across the country and around the world. A seven-year veteran of the sport, Janus has competed in over 100 events, owns seven world records, and yet still looks pretty good in a pair of pants. At night, Janus is a waiter at a pizza shop in Manhattan's East Village. His life, he says, has been a very good adventure. Read Eater X's diary here.

Geoff Bartakovics, 34, is the co-founder and CEO of Tasting Table, the free daily email publication all about food & drink culture. Before starting Tasting Table, Geoff was a business manager in asset-backed finance at UBS Investment Bank, where he coordinated business activities among the fixed income trading desk and the bank's middle- and back-office functions. Geoff was formerly a business analyst at Deloitte Consulting. He attended The University of Chicago, from which he graduated with honors in English. He was a Fulbright Scholar in comparative literature and philosophy in Berlin and Hamburg. He's an obsessive dinner party entertainer and a serious home cook. Read Geoff's diary here.

Elizabeth Laseter, an aspiring food journalist, is a recent graduate of Johns Hopkins University and lives in Washington, D.C. She received her diploma in Writing and Art History and is now pursuing a Culinary Arts Degree at L'Academie de Cuisine in Gaithersburg, Md. The one-year program includes six months of learning techniques in the classroom and six months at an externship in a D.C. fine dining restaurant. Elizabeth documents her food adventures through two blogs, The Baltimore Food Rag and The D.C. Food Rag. She decided to attend culinary school after interning at Baltimore magazine and working with the food editor. Read Elizabeth's full diary here.

Jane and Terry Levan operate a 20-acre pastured poultry farm outside of Lexington, Texas called Dewberry Hills Farm, after the dewberry vines that grow wild on their land. They raise antibiotic- and hormone-free meat chickens for sale. Their chickens mostly live outdoors. The Devans call themselves "omnivores with a conscience;" Jane won't eat any meat unless she personally knowns who raised it and how it was processed. Jane and Terry began farming in 2003, after reading Fast Food Nation and The Omnivore's Dilemma. The pair had always wanted to farm, but they didn't want to follow the industrial agricultural model. Jane and Terry built a processing building on-site and became state certified so they could sell their birds commercially in May 2008. Read Jane's diary here.

"James" is an Apple employee. He works at Caffe Macs, the on-site cafeteria of Apple's campus in Cupertino, Ca. Reminiscent of Google's epic food offerings, Caffe Macs is pretty much a corporate food court dream-come-true. Read James' diary here.

Brooklyn-based Aaron Lefkove used to work in book publishing and as a freelance writer. After his office re-located to New Jersey, Lefkove decided he didn't want to do the commute. Lefkove and his business partner, Andy Curtin, had the idea for a Cape Cod-style seafood joint for awhile. One day at a barbecue, they decided to commit to opening a restaurant, Littleneck, Brooklyn's first and only classic New England-style beach side seafood shack. Besides working in restaurants growing up, Lefkove had no experience as a restaurateur. He acknowledges that the process has been a major learning curve, but so far, there haven't been any obstacles they couldn't get around. At first, he thought opening up a clam shack would be easier than finding a new job but it turns it that it is actually "WAY WAY WAY harder." Despite this being the "hardest, most stressful, most frustrating, most time consuming, most ambitious thing" he has ever done, it isn't nearly as hard as he thought it would be. Plus, he says he loves working for himself, working toward something he has "always dreamed about," and building something really exciting. Read Aaron Lefkove's diary here.

Jonathan Stich, 29, is a third generation farmer from Burlington, Wisconsin. He grew weary of the corporate world, went traveling and decided to become a farmer. After reading about how heirloom tomato grower Tim Stark in Pennsylvania sells his products to New York restaurants, Stich made the decision to spend a night in restaurants in Milwaukee and Chicago asking if they'd be interesting in buying local produce. Read more about Jonathan Stich's week here.

Erika Nakamura and Amelia Posada are the owners, managers and butchers in chief of LA's artisanal butcher shop Lindy and Grundy. (Erika is Grundy and Amelia is Lindy.) The two, who also live together and are a couple, opened their store on Fairfax last spring (profiled on HuffPost Food). Lindy and Grundy has already been feted as one of the most best butchers in Southern California -- and quite possibly its most sustainable. Read about a week in the life of Erika Nakamura and Amelia Posada's here.

Recently, inspired by a meeting at the San Francisco Food Bank, chef Karl Wilder started the food stamp challenge: living and eating on a food stamp budget. What began as a one week project has turned into a two-month long commitment. Wilder calculated that a family has $1.33 to spend per meal, and decided that when using oil and seasonings, the cost would be $1.22. In total, he has less than $4 to spend on food per day. He monitors his nutrition and caloric intake on FitDay. You can read more about his daily experiences at on his blog, Fusion On The Fly. Read about a week in the life of Karl Wilder here.

Chris Cosentino is the executive chef of San Francisco's Incanto, an offal-heavy (not sure what offal is? Check out our Whole Animal Guide here) rustic Italian restaurant located in San Francisco. While encouraging patrons to try different cuts of meat, Cosentino also champions eating locally. He's previously cooked at such renowned restaurants as Kinkead's and Chez Panisse, and cites Jean-Louis Palladin as a big influence on his cooking style. He also co-owns Boccalone, which sells various cured meats and house-made salami. To learn more about Cosentino, check out his website, Offal Good. Read about a week in the life of Chris Cosentino here.

"Jane," 24, has been working for Trader Joe's since 2007, though in 2009 she left for over a year to go work for Whole Foods. She did not like it there and returned to TJ's. At Trader Joe's, every employee does a range of tasks, but Jane's speciality is dairy. Below is her explanation of the pros and cons of the job: I like working for Trader Joe's because they pay me well and offer great benefits. They also respect me as an employee and make me feel like I'm useful and needed and not just another part-time employee that can be replaced (which has been the case at other retail jobs I've had). Trader Joe's is really good at hiring great people and I'm lucky to have so many wonderful co-workers. I don't like working at Trader Joe's because the work can be strenuous on my back and wrists. Being on a register for several hours at a time is tiring and somewhat soul crushing due to ignorant people who feel the need to be condescending to me because I work at a grocery store. I also feel that the company is becoming more and more corporate as it grows and it is beginning to have an impact on the enjoyability of being a part-time "crew member." I also work in a very busy store which causes the managers to stress out a lot and I don't enjoy being surrounded by it. Read about a week in the life of a Trader Joe's employee here.

Chef Nate Appleman is the Culinary Manager at Chipotle. This involves a range of tasks including developing new menu items, opening ShopHouse (Chipotle's upcoming Asian fast-casual chain) and furthering Chipotle's commitment to sustainable sourcing. A graduate of the Culinary Institute of America, Appleman was previously executive chef and co-owner of San Francisco's super popular Italian restaurants A16 and SPQR. Appleman moved to New York in 2010 to open Pulino's. After leaving, Appleman took his current position at Chipotle. He has received a James Beard award for Rising Star Chef, been anointed Best New Chef by Food & Wine and is the champion of Food Network's Chopped All-Stars. Read about a week in the life of Nate Appleman here.

Freeganism is a lifestyle in which one employs "alternative strategies for living based on limited participation in the conventional economy and minimal consumption of resources." Gio Andollo is a writer, artist, musician and freegan. Andollo became a freegan when he realized that artists don't get paid much, but he didn't like the idea of working a "crappy, part-time job" to pay the bills. So he found another way. Andollo performs on the subway for about 20 hours a week, typically in two-hour intervals. He makes $10 to $50 per shift and has a love/hate relationship with busking. Andollo will buy food, but very rarely. The majority of his food comes from trash touring, or dumpster diving. He's become increasingly concerned with the abuses inherent in current economic systems: waste of resources, exploitation of people, degradation of the environment, calloused treatment of animals, commodification of time, labor, even war (thus human life in wholesale). In addition to busking part-time, he writes songs, blogs and books about these issues. Read about a week in the life of Gio Andollo here.

Captain Jason Joyce is an eighth-generation resident of Swan's Island, Maine. He is a Coast Guard Licensed Captain and a registered Maine Tidewater Guide. He has done lobster and fish research with the University of Maine, the University of Massachusetts, the Gulf of Maine Research Institute and the Lobster Institute. Joyce is currently doing a lot of work with the Penobscot East Resource Center, which works to secure a viable future for the fishing communities of eastern Maine. Each week, he records HD video of lobstering that he gives to restaurants to educate customers about sustainable lobster fisheries in Maine. Captain Joyce is married to his high school sweetheart and they have four children. Learn more about Captain Jason Joyce here. Read about a week in the life of Jason Joyce here.

Martin Kastner is a serviceware designer extraordinaire/jack-of-all-design-trades for Grant Achatz's Alinea, Next and The Aviary. Kastner creates custom pieces that work with Achatz's elaborate and intricate food. Born in the Czech Republic, Kastner trained as a blacksmith and received an MFA in sculpture. (His thesis was about air). He met his American wife in Prague and moved to the US in 1998. In 2003, Kastner received an unexpected email from Grant Achatz, who had emailed a host of designers. Kastner was the only one to respond. They've partnered not only on serviceware, but also on web design, video and the Alinea cookbook. Kastner's other clients include L20 (an upscale, seafood-focused Chicago restaurant), Le Bernardin (Eric Ripert's homage to seafood) and Empellon (Alex Stupak's new Mexican restaurant in New York). Read about a week in the life of Martin Kastner here.