James Beard Awards 2012: Restaurant And Chef Semifinalists Revealed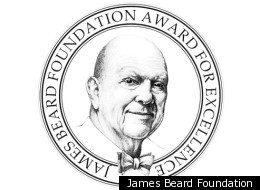 The James Beard Foundation has announced the restaurant and chef semifinalists for the 2012 James Beard Awards. The semifinalists were selected from a record 57,000 online entries, a nearly 50 percent increase from the previous year. This year, the Foundation added a new award category -- Outstanding Bar Program -- that recognizes a restaurant or bar that demonstrates excellence in cocktail, spirits and/or beer service.
The Foundation will announce the five finalists in each category, as determined by more than 550 volunteer judges from across the country, on March 19th. The winners will be announced May 7th at the annual Awards Ceremony.
Check out the 20 categories and the semifinalists below:
Best New Restaurant
Altura, Seattle
AQ, San Francisco
The Bachelor Farmer, Minneapolis
Bistronomic, Chicago
The Catbird Seat, Nashville, TN
The Dorrance, Providence, RI
The Farm and Fisherman, Philadelphia
Fiola, Washington, D.C.
Harvest, Louisville, KY
Isa, NYC
Little Serow, Washington, D.C.
The Macintosh, Charleston, SC
MB Post, Manhattan Beach, CA
Next, Chicago
Ollie Irene, Mountain Brook, AL
Park Tavern, San Francisco
Petite Jacqueline, Portland, ME
Picca, Los Angeles
Pistou, Burlington, VT
Pondicheri, Houston
Restaurant 1833, Monterey, CA
Salt, St. Louis
ShinBay, Scottsdale, AZ
Tashan, Philadelphia
Tertulia, NYC
Trade, Boston
Tremont, NYC
Yardbird Southern Table & Bar, Miami Beach, FL
Zeppoli, Collingswood, NJ
Outstanding Bar Program
Anvil Bar & Refuge, Houston
Arnaud's French 75 Bar, New Orleans
The Aviary, Chicago
Bar Agricole, San Francisco
Beretta, San Francisco
Clyde Common, Portland, OR
The Columbia Room, Washington, D.C.
Cook & Brown Public House, Providence, RI
Cure, New Orleans
Drink, Boston
The Esquire Tavern, San Antonio, TX
The Franklin Mortgage & Investment Co., Philadelphia
High West Distillery & Saloon, Park City, UT
Holeman & Finch Public House, Atlanta
La Belle Vie, Minneapolis
The Old Fashioned, Madison, WI
PDT, NYC
Pegu Club, NYC
The Porter Beer Bar, Atlanta
PX, Alexandria, VA
Rivera, Los Angeles
Standard Tap, Philadelphia
The Violet Hour, Chicago
The Zig Zag Café, Seattle
Outstanding Chef
Jody Adams, Rialto, Cambridge, MA
Sean Brock, McCrady's, Charleston, SC
David Chang, Momofuku Ssäm Bar, NYC
Gary Danko, Restaurant Gary Danko, San Francisco
Suzanne Goin, Lucques, Los Angeles
Daniel Humm, Eleven Madison Park, NYC
Paul Kahan, Blackbird, Chicago
Melissa Kelly, Primo, Rockland, ME
David Kinch, Manresa, Los Gatos, CA
Donald Link, Herbsaint, New Orleans
Tony Mantuano, Spiaggia, Chicago
Tim McKee, La Belle Vie, Minneapolis
Carrie Nahabedian, Naha, Chicago
Vitaly Paley, Paley's Place, Portland, OR
Charles Phan, The Slanted Door, San Francisco
Stephan Pyles, Stephan Pyles, Dallas
Frank Ruta, Palena, Washington, D.C.
Nancy Silverton, Pizzeria Mozza, Los Angeles
Holly Smith, Cafe Juanita, Kirkland, WA
Janos Wilder, Janos, Tucson, AZ
Outstanding Pastry Chef
Julieta V. Adauto, Orange Peel Pastries, Cakes & More, El Paso, TX
Joanne Chang, Flour Bakery + Cafe, Boston
Melissa Chou, Aziza, San Francisco
Patrick Fahy, Café des Architectes, Chicago
Ken Forkish, Ken's Artisan Bakery, Portland, OR
Michelle Gayer, Salty Tart Bakery, Minneapolis
Hedy Goldsmith, Michael's Genuine Food & Drink, Miami
Maura Kilpatrick, Sofra Bakery and Cafe, Cambridge, MA
Yasmin Lozada-Hissom, Olivea, Denver
Lisa Lu, Jardinière, San Francisco
Tiffany MacIsaac, Birch & Barley, Washington, D.C.
Cheryl Maffai and Jonathan Stevens, Hungry Ghost Bread, Northampton, MA
Dahlia Narvaez, Osteria Mozza, Los Angeles
Ghaya Oliveira, Boulud Sud, NYC
Jessie Prawlucki, Fond / Belle Cakery, Philadelphia
Aaron Russell, Restaurant Eugene, Atlanta
Mindy Segal, Mindy's HotChocolate, Chicago
Philip Speer, Uchi, Austin, TX
Bob Truitt, Ai Fiori, NYC
Cynthia Wong, Empire State South, Atlanta
Outstanding Restaurant
August, New Orleans
Balthazar, NYC
Blue Hill, NYC
Boulevard, San Francisco
Canlis, Seattle
Charleston, Baltimore
Fore Street, Portland, ME
Foreign Cinema, San Francisco
Highlands Bar and Grill, Birmingham, AL
The Kitchen Restaurant, Sacramento, CA
Magnolia Grill, Durham, NC
Marcel's, Washington, D.C.
Oleana, Cambridge, MA
Patina, Los Angeles
Picasso at Bellagio, Las Vegas
Restaurant Alma, Minneapolis
Terra, St. Helena, CA
Tru, Chicago
Vetri, Philadelphia
Vincent on Camelback, Phoenix
Outstanding Restaurateur
Edward Aloise and Claudia Rippee, E&C Restaurant Management Corporation, Manchester, NH
Nick Badovinus, Flavor Hook, Dallas
Ashok Bajaj, Knightsbridge Restaurant Group, Washington, D.C.
Tom Baron and Bill Fuller, big Burrito Restaurant Group, Pittsburgh
Roger Berkowitz, Legal Sea Foods, Boston
Frank Bonanno, Bonanno Concepts, Denver
Bruce Bromberg and Eric Bromberg, Blue Ribbon Restaurants, NYC
Richard D'Amico and Larry D'Amico, D'Amico & Partners, Minneapolis
Jason Dady, Jason Dady Restaurants, San Antonio, TX
Tom Douglas, Tom Douglas Restaurants, Seattle
Sam Fox, Fox Restaurant Concepts, Scottsdale, AZ
Richard Gonzmart, Columbia Restaurant, Tampa, FL
Mike Klank and Eddie Hernandez, Taqueria del Sol, Atlanta
Donnie Madia, One Off Hospitality, Chicago
Nick Pihakis, Jim 'N Nick's Bar-B-Q, Birmingham, AL
Piero Selvaggio, Valentino Restaurant Group, Santa Monica, CA
Stephen Starr, Starr Restaurants, Philadelphia
Caroline Styne, Lucques/A.O.C./Tavern, Los Angeles
Phil Suarez, Suarez Restaurant Group, NYC
Doug Washington, Mitchell Rosenthal, and Steven Rosenthal, Stock & Bones, San Francisco
Outstanding Service
Brigtsen's, New Orleans
Café Boulud at the Brazilian Court Hotel, Palm Beach, FL
Clancy's, New Orleans
The Compound, Santa Fe, NM
Cyrus, Healdsburg, CA
Fountain Restaurant at Four Seasons Hotel Philadelphia, Philadelphia
The French Room at the Adolphus Hotel, Dallas
Joël Robuchon at MGM Grand Hotel & Casino, Las Vegas
L'Espalier, Boston
La Grenouille, NYC
Manny's Steakhouse, Minneapolis
Michael Mina, San Francisco
Nopa, San Francisco
The Oakroom at the Seelbach Hilton, Louisville, KY
Picholine, NYC
Providence, Los Angeles
Restaurant Eve, Alexandria, VA
Spiaggia, Chicago
Topolobampo, Chicago
Vetri, Philadelphia
Outstanding Wine Program
A16, San Francisco
The Barn at Blackberry Farm, Walland, TN
Café on the Green at Four Seasons Resort and Club Dallas at Las Colinas, Irving, TX
Canlis, Seattle
Charleston, Baltimore
CityZen at Mandarin Oriental, Washington, D.C.
CUT at Beverly Wilshire, Beverly Hills, CA
Emeril's New Orleans
Five and Ten, Athens, GA
Frasca Food and Wine, Boulder, CO
Hatfield's, Los Angeles
No. 9 Park, Boston
Patina, Los Angeles
Perbacco, San Francisco
Picasso at Bellagio, Las Vegas
Restaurant Eve, Alexandria, VA
Sepia, Chicago
Tria, Philadelphia
Troquet, Boston
Wild Rice Restaurant, Bayfield, WI
Outstanding Wine & Spirits Professional
Sam Calagione, Dogfish Head Craft Brewery, Milton, DE
Ron Cooper, Del Maguey, Single Village Mezcal, Ranchos de Taos, NM
Merry Edwards, Merry Edwards Winery, Sebastopol, CA
Greg Engert, Neighborhood Restaurant Group, Alexandria, VA
Alex Golitzin, Quilceda Creek Vintners, Snohomish, WA
Paul Grieco, Terroir, NYC
Ken Grossman, Sierra Nevada Brewing Co., Chico, CA
Lance Hanson, Peak Spirits, Hotchkiss, CO
David Hirsch, Hirsch Vineyards, Cazadero, CA
Manfred Krankl, Sine Qua Non, Ventura, CA
Jim Koch, The Boston Beer Company, Boston
Steve McCarthy, Clear Creek Distillery, Portland, OR
Garrett Oliver, Brooklyn Brewery, NYC
Jorge Ordoñez, Fine Estates from Spain, Dedham, MA
Virginia Philip, Virginia Philip Wine Shop & Academy, West Palm Beach, FL
Neal Rosenthal, Mad Rose Group, Pine Plains, NY
Jörg Rupf, St. George Spirits, Alameda, CA
Abe Schoener, The Scholium Project, Napa, CA
Eric Solomon, Eric Solomon Selections - European Cellars, Charlotte, NC
Sean Lilly Wilson, Fullsteam, Durham, NC
Rising Star Chef of the Year
Dave Beran, Next, Chicago
Noah Bernamoff, Mile End, NYC
Danny Bowien, Mission Chinese Food, San Francisco
Katie Button, Cúrate, Asheville, NC
Clayton Chapman, The Grey Plume, Omaha, NE
Joe Cicala, Le Virtù, Philadelphia
Preston Clark, El Paseo, Mill Valley, CA
Chad Colby, Mozza2Go, Los Angeles
Joshua Drew, Farmshop, Santa Monica, CA
Kevin Gillespie, Woodfire Grill, Atlanta
Bryce Gilmore, Barley Swine, Austin, TX
Grant Gordon, Tony's, Houston
Emma Hearst, Sorella, NYC
Matthew Kirkley, L2O, Chicago
Casey Lane, The Tasting Kitchen, Venice, CA
Aaron London, Ubuntu, Napa, CA
Sara Lukasiewicz, Red Devon, Bangall, NY
Thomas McNaughton, flour + water, San Francisco
JD Morton, Domaine Hudson, Wilmington, DE
David Posey, Blackbird, Chicago
Jesse Schenker, Recette, NYC
Lee Styer, Fond, Philadelphia
Benjamin Sukle, The Dorrance, Providence, RI
Max Sussman, Roberta's, NYC
Christina Tosi, Momofuku Milk Bar, NYC
Jarrod Verbiak, DB Bistro Moderne at the JW Marriott Marquis Miami
Sameh Wadi, Saffron Restaurant & Lounge, Minneapolis
Blaine Wetzel, The Willows Inn, Lummi Island, WA
Micah Wexler, Mezze, Los Angeles
Kris Yenbamroong, Talésai, West Hollywood, CA
Sue Zemanick, Gautreau's, New Orleans
Best Chef: Great Lakes
Josh Adams, June, Peoria Heights, IL
Richard Blondin, Refectory Restaurant & Bistro, Columbus, OH
Michael Carlson, Schwa, Chicago
Jean-Robert de Cavel, Jean-Robert's Table, Cincinnati
Luciano Del Signore, Bacco Ristorante, Southfield, MI
David Gilbert, Forest Grill, Birmingham, MI
Greg Hardesty, Recess, Indianapolis
Stephanie Izard, Girl & the Goat, Chicago
Anne Kearney, Rue Dumaine, Dayton, OH
Regina Mehallick, R Bistro, Indianapolis
Matthew Millar, Reserve, Grand Rapids, MI
Martial Noguier, Bistronomic, Chicago
Chris Nugent, Goosefoot, Chicago
Kent Rigsby, Rigsby's Kitchen, Columbus
Jonathon Sawyer, The Greenhouse Tavern, Cleveland
Bruce Sherman, North Pond, Chicago
David Tallent, Restaurant Tallent, Bloomington, IN
Giuseppe Tentori, GT Fish & Oyster, Chicago
Paul Virant, Vie, Western Springs, IL
Andrew Zimmerman, Sepia, Chicago
Best Chef: Mid-Atlantic
Andrew Araneo, Drew's Bayshore Bistro, Keyport, NJ
Cathal Armstrong, Restaurant Eve, Alexandria, VA
Pierre Calmels, Bibou, Philadelphia
Jay Caputo, Espuma, Rehoboth Beach, DE
Tony Conte, The Oval Room, Washington, D.C.
Scott Drewno, The Source, Washington, D.C.
David Gilberg, Koo Zee Doo, Philadelphia
Spike Gjerde, Woodberry Kitchen, Baltimore
Michael Krikorian, Copper Canyon, Atlantic Highlands, NJ
Johnny Monis, Komi, Washington, D.C.
Peter Pastan, Obelisk, Washington, D.C.
Konstantinos Pitsillides, Kanella, Philadelphia
Maricel Presilla, Cucharamama, Hoboken, NJ
Dale Reitzer, Acacia, Richmond, VA
Chip Roman, Blackfish, Conshohocken, PA
Kevin Sousa, Salt of the Earth, Pittsburgh
Vikram Sunderam, Rasika, Washington, D.C.
Marcie Turney, Barbuzzo, Philadelphia
Bryan Voltaggio, Volt, Frederick, MD
Cindy Wolf, Charleston, Baltimore
Best Chef: Midwest
M.J. Adams, The Corn Exchange, Rapid City, SD
Justin Aprahamian, Sanford, Milwaukee
Mike Brown and James Winberg, Travail Kitchen and Amusements, Robbinsdale, MN
Steven Brown, Tilia, Minneapolis
Gerard Craft, Niche, St. Louis
Doug Flicker, Piccolo, Minneapolis
Josh Galliano, Monarch, St. Louis
Colby Garrelts, Bluestem, Kansas City, MO
Ted Habiger, Room 39, Kansas City, MO
Jan Kelly, Meritage, Milwaukee
Russell Klein, Meritage, St. Paul, MN
Paul Kulik, The Boiler Room, Omaha, NE
Stephen Logsdon, Lucca, Des Moines, IA
Tory Miller, L'Etoile, Madison, WI
Shinji Muramoto, Restaurant Muramoto, Madison, WI
Kevin Nashan, Sidney Street Cafe, St. Louis
Lenny Russo, Heartland Restaurant & Farm Direct Market, St. Paul, MN
Dan Van Rite, Hinterland, Milwaukee
Kevin Willmann, Farmhaus, St. Louis
Stewart Woodman, Heidi's, Minneapolis
Best Chef: Northeast
Jamie Bissonnette, Coppa, Boston
Jason Bond, Bondir, Cambridge, MA
Kara Brooks, Still River Café, Eastford, CT
Penelle, Megan, and Phoebe Chase and Ted LaFage, Chase's Daily, Belfast, ME
Tim Cushman, O Ya, Boston
Krista Kern Desjarlais, Bresca, Portland, ME
Jeffrey Gimmel, Swoon Kitchenbar, Hudson, NY
Gerry Hayden, The North Fork Table & Inn, Southold, NY
Brian Hill, Francine Bistro, Camden, ME
Dano Hutnik, Dano's Heuriger on Seneca, Lodi, NY
Liz Jackson, Libby's Bistro, Gorham, NH
Matt and Kate Jennings, La Laiterie, Providence, RI
Serge Madikians, Serevan, Amenia, NY
Demos Regas, Emilitsa, Portland, ME
Bjorn Somlo, Nudel, Lenox, MA
Champe Speidel, Persimmon, Bristol, RI
Danai Sriprasert and Nattasak Wongsaichua, Boda, Portland, ME
Bill Taibe, LeFarm, Westport, CT
Sai Viswanath, DeWolf Tavern, Bristol, RI
Eric Warnstedt, Hen of the Wood, Waterbury, VT
Best Chef: Northwest
Chris Ainsworth, Saffron Mediterranean Kitchen, Walla Walla, WA
Aaron Barnett, Restaurant St. Jack, Portland, OR
Matthew Bennett, Sybaris, Albany, OR
Matt Costello, The Inn at Langley, Langley, WA
Matt Dillon, Sitka & Spruce, Seattle
Jeff Drew, Snake River Grill, Jackson Hole, WY
Renee Erickson, Boat Street Cafe, Seattle
Jason Franey, Canlis, Seattle
John Gorham, Toro Bravo, Portland, OR
James Honaker, Bistro Enzo, Billings, MT
Christopher Israel, Grüner, Portland, OR
Jeff Keys, Vintage Restaurant, Ketchum, ID
Brendan Mahaney, Belly, Eugene, OR
Naomi Pomeroy, Beast, Portland, OR
Adam Sappington, The Country Cat Dinner House & Bar, Portland, OR
Ethan Stowell, Staple & Fancy Mercantile, Seattle
Jason Stratton, Spinasse, Seattle
Cathy Whims, Nostrana, Portland, OR
Justin Wills, Restaurant Beck, Depoe Bay, OR
Rachel Yang and Seif Chirchi, Joule, Seattle
Best Chef: NYC
Michael Anthony, Gramercy Tavern
April Bloomfield, The Spotted Pig
Marco Canora, Hearth
Scott Conant, Scarpetta
Wylie Dufresne, wd~50
John Fraser, Dovetail
Kurt Gutenbrunner, Wallsé
Dan Kluger, ABC Kitchen
Mark Ladner, Del Posto
Paul Liebrandt, Corton
Anita Lo, Annisa
George Mendes, Aldea
César Ramirez, Brooklyn Fare
Sean Rembold, Diner
Masa Takayama, Masa
Bill Telepan, Telepan
Rich Torrisi and Mario Carbone, Torrisi Italian Specialties
Jonathan Waxman, Barbuto
Michael White, Marea
Galen Zamarra, Mas (farmhouse)
Best Chef: Pacific
Matthew Accarrino, SPQR, San Francisco
William Bradley, Addison at the Grand Del Mar, San Diego
Josef Centeno, The Lazy Ox Canteen, Los Angeles
Michael Chiarello, Bottega, Yountville, CA
Michael Cimarusti, Providence, Los Angeles
Chris Cosentino, Incanto, San Francisco
David Féau, The Royce at the Langham Huntington, Pasadena, CA
Beverly Gannon, Hali'imaile General Store, Makawao, HI
Loretta Keller, COCO500, San Francisco
Christopher Kostow, The Restaurant at Meadowood, St. Helena, CA
Mourad Lahlou, Aziza, San Francisco
Corey Lee, Benu, San Francisco
David LeFevre, MB Post, Manhattan Beach, CA
Jim Moffat, Bar Acuda, Hanalei, HI
Matt Molina, Osteria Mozza, Los Angeles
Daniel Patterson, Coi, San Francisco
Richard Reddington, Redd, Yountville, CA
John Rivera Sedlar, Rivera, Los Angeles
Paul Shoemaker, Savory, Malibu, CA
Hiroyuki Urasawa, Urasawa, Beverly Hills, CA
Best Chef: South
Greg Baker, The Refinery, Tampa, FL
Vishwesh Bhatt, Snackbar, Oxford, MS
Clay Conley, Būccan, Palm Beach, FL
Paula DaSilva, 1500º at Eden Roc Renaissance Miami Beach, Miami Beach, FL
Justin Devillier, La Petite Grocery, New Orleans
Justin Girouard, The French Press, Lafayette, LA
John Harris, Lilette, New Orleans
Chris Hastings, Hot and Hot Fish Club, Birmingham, AL
Scott Hunnel, Victoria & Albert's at Disney's Grand Floridian Resort & Spa, Lake Buena Vista, FL
Chad Johnson, SideBerns, Tampa, FL
James Lewis, Bettola, Birmingham, AL
Jeff McInnis, Yardbird Southern Table & Bar, Miami Beach, FL
Tory McPhail, Commander's Palace, New Orleans
Sergio Navarro, Pubbelly, Miami Beach, FL
James and Julie Petrakis, The Ravenous Pig, Winter Park, FL
Lee Richardson, Ashley's at the Capital Hotel, Little Rock, AR
Jeanie Roland, The Perfect Caper, Punta Gorda, FL
Henry Salgado, Spanish River Grill, New Smyrna Beach, FL
Alon Shaya, Domenica, New Orleans
Wesley True, True, Mobile, AL
Best Chef: Southeast
Hugh Acheson, Five and Ten, Athens, GA
Billy Allin, Cakes & Ale, Decatur, GA
Jeremiah Bacon, The Macintosh, Charleston, SC
Tyler Brown, Capitol Grille at the Hermitage Hotel, Nashville, TN
Ashley Christensen, Poole's, Raleigh, NC
Craig Deihl, Cypress, Charleston, SC
John Fleer, Canyon Kitchen at Lonesome Valley, Cashiers, NC
Damian Heath, Lot 12 Public House, Berkeley Springs, WV
Linton Hopkins, Restaurant Eugene, Atlanta
Vivian Howard, Chef & the Farmer, Kinston, NC
Scott Howell, Nana's, Durham, NC
Anthony Lamas, Seviche, Louisville, KY
Edward Lee, 610 Magnolia, Louisville, KY
Joseph Lenn, The Barn at Blackberry Farm, Walland, TN
Daniel Lindley, St. John's Restaurant, Chattanooga, TN
Ouita Michel, Holly Hill Inn, Midway, KY
Andrew Ticer and Michael Hudman, Andrew Michael Italian Kitchen, Memphis, TN
Aaron Vandemark, Panciuto, Hillsborough, NC
Ken Vedrinski, Trattoria Lucca, Charleston, SC
Tandy Wilson, City House, Nashville, TN
Best Chef: Southwest
Bruce Auden, Biga on the Banks, San Antonio
Kevin Binkley, Binkley's Restaurant, Cave Creek, AZ
Bowman Brown and Viet Pham, Forage, Salt Lake City, UT
Bruno Davaillon, Mansion Restaurant at Rosewood Mansion on Turtle Creek, Dallas
Mitsuo Endo, Aburiya Raku, Las Vegas
Silvana Salcido Esparza, Barrio Café, Phoenix
Mark Fischer, Six89, Carbondale, CO
Manabu Horiuchi, Kata Robata, Houston
Anita Jaisinghani, Indika, Houston
Jennifer James, Jennifer James 101, Albuquerque, NM
Jennifer Jasinski, Rioja, Denver
Maiya Keck, Maiya's, Marfa, TX
Frederick Muller, El Meze, Taos, NM
John Murcko, Talisker on Main, Park City, UT
Hugo Ortega, Hugo's, Houston
Paul Qui, Uchi, Austin, TX
Martín Rios, Restaurant Martín, Santa Fe
Teiichi Sakurai, Tei-An, Dallas
Alex Seidel, Fruition Restaurant, Denver
John Sharpe, The Turquoise Room at La Posada Hotel & Gardens, Winslow, AZ