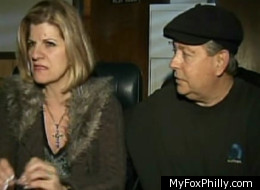 When Debbie Gianquinto found out that she couldn't donate her kidney to her husband, Dan, she offered up her much-needed organ to a stranger in Florida and Dan turned to a man he had never met in California for help.
The New Jersey couple's acts contributed to the largest kidney donation chain in history, which saved 30 lives, MyFoxPhilly.com reports. For each patient that needed a transplant, a loved one of that patient agreed to donate a kidney to someone else in need.
"I felt like I helped my husband," Debbie told MyFoxPhilly, "and literally saved his life by donating my kidney to someone else."
The 30 donors and 30 recipients came from 17 different states to help one another. The pay-it-forward strategy was born from Garet Hil, a New York businessman inspired by his daughter's illness. He started the nonprofit National Kidney Registry to conduct and facilitate the matches, The New York Times reports.
"The goal was very simple," Hil said. "Get everybody transplanted in under six months if you had a living donor. One of the things that drove us was the enormity of the problem. The other thing that drove us was that we understood the pain of being in that situation."
Feeling inspired? Learn how to get involved with the National Kidney Registry, here.
To read more inspiring stories of selfless organ donors, click through our slideshow below:
Inspiring Organ Donor Stories
Leanne Stefanovic, 31, found her soulmate with ease, but it was the best man who became her perfect match. He stepped up to donate his kidney to the bride who had been chained to dialysis for four years.

When Hélène Campbell, 20, hoped to spread the word about her struggle to get a lung transplant, she turned to one of the most popular tweeters out there, @JustinBieber to spread her message. "@alungstory i got the word....you have amazing strength," Bieber tweeted to his 17-million plus fans. "i got u. #BeAnOrganDonor"

After three sisters found out they weren't matches to donate a kidney to their father, they brought their plea to Craigslist. There, they found a donor and the inspiration to start The Flood Sisters Kidney Foundation of America to help pair donors with those in need.

After Mary Ann Holder killed her niece and son, Hannaleigh Michelle Suttles, 8, and Zachary Lee Smith, 14, some hope emerged from the senseless tragedy. Zachary and Hannaleigh Michelle's organs were donated, which helped save 12 people's lives.

When former HuffPost Impact editor Erica Liepmann found out that she was a match to donate a kidney to her adopted mom, the news felt that much more miraculous when Liepmann learned just how rare it is for biological strangers to be compatible. "The fact that my mother didn't actually give birth to me, yet I still had the perfect organ to save her life, solidified my belief that this was fate -- perhaps even part of a divine plan -- for me to be the one to donate," Liepmann said.

When the youngest victim of the Tuscon, Ariz., shootings died last year, the parents of Christina Taylor Green, 9, were determined to perpetuate her legacy by donating her organs, a gift which helped at least one young girl in Boston.

When Ava Kaufman, a dancer who committed decades to her craft, saw her body swell to a shocking weight, she knew something was terribly wrong. Kaufman was diagnosed with a rare autoimmune disorder and received a life-saving heart transplant just in time. She now raises awareness for organ donations and supports patients awaiting surgery.

After her brother struggled for 45 years with a number of health issues -- starting with losing a kidney to a tumor at 9 months old -- Elissa Stein learned that she was a match to save her brother's life. She didn't hesitate stepping up to help.

After Hernan Perez died in a sledding accident when he was 6, his organs helped save a number of people, including Megan Corfee, now 9. The families live just 30 miles from each other and work together to inspire others to become organ donors.

Charles Hoffman was getting desperate, so turned to MatchingDonors.com, a site that matches living donors to recipient in need and hoped for a miracle. When Hoffman was saved by a complete stranger, he became the site's 114th success story.

After 2-year-old Jariah Henderson was accidentally shot while playing at a relative's house in Gary, Ind., his family donated his organs, helping to save up to seven lives.