Late-Night Happy Hours In Los Angeles: Have A Good Time Anytime (PHOTOS)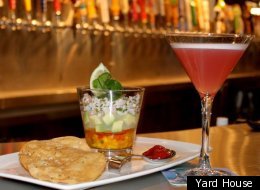 Story comes courtesy of Marpop.
Happy Hour. Two little words that bring such joy to so many. But who can get out of the office at four-frickin-thirty in the afternoon? Thankfully, restaurants and bars are figuring out that if they really want to entice all of us they're gonna have to come up with something beyond the typical happy hour window when everyone's 1) still at work 2) stuck in traffic or 3) not ready to get drunk quite yet. So I give you this list of late-night happy hours in Los Angeles offering a good time at a reasonable price and reasonable hour. (Bonus: Most include food specials, too.) If you know of any that should be included, please leave a comment below.
SUN & MON: From 10pm to 12am, this train car turned neighborhood bar offers $4 well cocktails, $4 beer and $4 wine. www.thehudsonla.com

TUE-THUR: If you like a really late night, this speakeasy-inspired lounge has a Happier Hours menu offered Tuesday to Thursday from midnight to 1:30am. All items on the seasonal menu are $6 or less, including $4 craft beer, $5 specialty cocktails and bites like $3 crostini, $5 arugula salad, $5 shrimp ceviche, $6 wood-fired pizzas and $3 desserts. www.nextdoorhollywood.com

FRI & SAT: Half-priced craft beers and crafty cocktails are now served every Friday and Saturday from 11pm until close along with discounted prices on the menu's Eastern Med small plates. www.mezzela.com

NIGHTLY: Bar flies looking for a deal might want to hit up the recently revamped bar at Cliff's for the nightly specials that run til closing time. Every night there is a $3 beer, $6 white and red wine + a couple of $7 cocktails that change regularly. www.cliffsedgecafe.com

NIGHTLY: Doesn't get better than all-night happy hour every day of the week. Drago Centro has a great selection of crafty cocktails, wine and beer for $5-$7 and tasty bar bites for $3 to $10, like margherita pizza, smoked salmon crostini and charcuterie. www.dragocentro.com

NIGHTLY: "All night, every night" is the happy hour motto at all three Chaya locations. At the Beverly Hills spot you'll find stuff like the French Kiss cocktail, crispy miso wings, Moroccan lamb meatballs and nothing-over-$7 sushi rolls. The #DTLA menu (right next to Drago Centro, fyi) changes frequently, but think $4 to $6 sushi rolls, skewers, izakaya and handcrafted cocktails for $7 plus plenty of sake, wine and beer. www.thechaya.com

SUN-TUE: Sushi Roku offers All-Night Happy Hour from 5pm-close with a menu that never exceeds $6. It's a great way to sample some of the restaurant's signature dishes like popcorn shrimp tempura ($3), albacore tacos ($5) and spicy tuna on crispy rice ($5). You can also get sushi rolls, skewers and specially priced cocktails, wine and Japanese beer. www.sushiroku.com

MON-SAT: This pricey landmark has been around forever but on February 21 Michael's launches its first-ever all-night happy hour from 5pm to close. The All-Night $6 Happy Hour features edibles like Jidori chicken & waffle wings, crispy sweetbread poppers and radish salad along with an ever-changing roster of red and white wines, beer and market-fresh cocktails. Everything on the menu is $6 with the exception of oysters on the half-shell for $3 a pop. www.michaelssantamonica.com

NIGHTLY: Another great every day happy hour find, Fraiche in Santa Monica offers discounted items in the lounge from 3pm to close. Drinks are in the $5 to $6 range while food includes a $6 turkey or short rib burger, $6 mussels, $6 salmon tartare, $6 baby beet salad, $3 truffle fries and handful of other goodies. Culver City's happy hour runs 5pm-close with its own menu ($4 crispy chickpeas, $5 smoked trout rillettes, $5 bruschetta) + $5 well drinks, beer and wine. www.fraicherestaurantla.com

NIGHTLY: Yet another "all day, every day" happy hour hangout, the huge lounge at this restaurant right off Wilshire offers $4 draft beers, $5 cranberry mojitos, pomegranate margaritas and candied apple martinis + vittles ranging from $4.95 white bean dip to $6.95 pizzas. www.palomino.com

SUN: This sceney spot hosts "Social Hour" all night on Sundays from 4pm to midnight with 50% off cocktails and 50% off the entire dining menu. Available at the bar, drinks include The Lexington made with Earl Grey-infused Woodford Reserve Bourbon, honey, lemon juice and orange bitters for (regularly $14, reduced to $7) as well as bites like the pretzel bun burger ($10), fried chicken with smashed potatoes and braised kale ($12), and dessert for $4.50. www.lexingtonsocialhouse.com

NIGHTLY: This Peruvian-Asian hangout offers Late Night Social Hour in the main bar Monday-Saturday 8pm to midnight with 50% off all food and drinks. That includes wok rice & vegetables for $6, an assortment of ceviches for $8, sushi rolls for $4 to $8 and specialty pisco cocktails for $6. The full menu is available in the bar, so this is truly a great way to experience a taste of Osaka. www.osaka.com.pe

TUE: This mainstay on the Third Street Promenade offers happy hour in the bar all night every Tuesday starting at 4pm. Specials include $4 beers and house wines, $8 bites (octopus carpaccio, ahi tuna tartare) and $9 specialty cocktails like the popular Caprese Martini made with organic tomato vodka, basil, balsamic and a cherry tomato-mozzarella skewer. www.lagosantamonica.com

NIGHTLY: This Napa Valley-inspired spot has a Reverse Happy Hour every night and all day Sunday (3pm-close) with an impressive menu in the $3 to $8 range. Selections include deviled eggs ($3), fish taco duo ($5), short rib tostadas ($5), turkey meatballs ($5), wine for $4 and plenty of handcrafted cocktails for $6. www.napavalleygrille.com

SUN-THUR: This 24-hour hangout inside the Hollywood Roosevelt offers a late night happy hour Sunday-Thursday from 11pm to 1am with $2 french fries, onion rings and sweet potato fries, $5 Boback hot dog, $4 draft & bottled beer, $5 house wines and $6 well cocktails. www.25degreesrestaurant.com

NIGHTLY: This neighborhood hang offers selections from its grilled sandwiches and drink deals during the late-night happy hour Monday-Saturday 9pm-11pm and Sundays 9pm-10pm. www.rascalla.com

NIGHTLY: This waterfront favorite offers a late happy hour in the lounge from 9pm to close every night with about a million different cocktails for $6. www.cafedelreymarina.com

SUN-THUR: This national chain not only has one of the country's largest selections of beer on tap (about 250 at each location), but it's also where you can get some late-night discount food and drinks Sunday-Wednesday from 10pm to close. The menu's huge and ranges from $3.25 domestic pints to $6 martinis and 50% off appetizers and pizzas. www.yardhouse.com

NIGHTLY: This family-owned Mexican restaurant is where holds late-night happy hour every night from 10:30 to close with $4.95 house margaritas as well as 20% of all beer and cocktails and 50% of all appetizers. www.casavega.com

NIGHTLY: This Japanese BBQ chain seems to have happy hour going on no matter what time it is. Mondays is all day, Tuesday-Thursday is 9:30pm to close and Friday-Saturday it's 10pm to close. Get up to 50% off menu items such as $2.98 BBQ tacos, $2.48 gyoza dumplings, $3.98 shrimp balls and too many other options to name. Sapporo draft is just $1.49 (pitchers are $7.45!), fruity soju drinks are $3, cocktails are $5 and the most expensive dessert is less than $3. FYI, it's $15 minimum per person, but you can have an entire feast for that price. www.gyu-kaku.com Photo via Flickr: TriggerHappyDave

SUN & TUE-THUR: This tasteful wine bar in Old Town hosts All Night Happy Hour 5pm-midnight on Sunday and Reverse Happy Hour from 10pm to midnight Tuesday through Thursday with $5-$10 items like truffle mac & cheese and chorizo pizza. www.verticalwinebistro.com