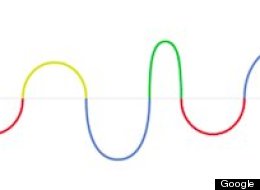 On February 22, Google's homepage sports a colorful doodle that waves on endlessly. Simply click through the animation, and the story behind this stylized wave is revealed: It's a tribute to German physicist Heinrich Rudolf Hertz's 155th birthday.
If you're a little rusty on your physics, here's a refresher: Heinrich Rudolf Hertz, born in Hamburg on February 22, 1857, was the first person to prove electromagnetic waves exist (hence the wavelength doodle) and that electricity can be carried through them. He even lends his name to a unit of measurement, the hertz, which is equal to one cycle per second and is used to gauge frequency.
The doodle's creator, Sophia Foster-Dimino is an illustrator and cartoonist based in the Bay Area of San Francisco, according to the Washington Post. Along with gathering input from Google's science-lovers, Dimino and her team made sure to take Hertz's extensive accomplishments into consideration when designing the logo.
"For this doodle, we chose to create a simple and elegant homage for Heinrich Hertz, whose research into electromagnetic waves contributed to the invention of the radio, television and radar," she told the Washington Post's Comic Riffs.
While this Google doodle is pretty simple, it's not without its hidden features. According to the Christian Science Monitor, the wavelength's repeating pattern outlines the shape of Google's usual logo -- a small example of the doodle team's keen eye for detail.
And, really, the intelligent Hertz doesn't deserve anything less after all the important work he has done. As the famous physicist's obituary so eloquently put it in an 1894 volume of The Electrical Engineer:
Great as has been the influence of his work in the short period which has elapsed since its promulgation, the importance of its ultimate results can scarcely be overestimated.
Check out the video (below) to see Hertz's Google doodle in action, and scroll down to see a slideshow of more of our favorite doodles!
Coolest Google Doodles ever.
Google Doodle Slideshow(CLONED)
On January 18, 2012, Google joined Wikipedia, Reddit and thousands of other sites for a content blackout in protest of proposed Congressional legislation calling for strict enforcement of U.S. copyright law online. The Stop Online Piracy Act (SOPA) and PROTECT IP Act (PIPA) drew the ire of web users who feared these bills would lead to unchecked web censorship. As a result of the massive protest, key Congressmen who had previously supported the bills reversed their positions; SOPA and PIPA were tabled indefinitely.

On Christmas Eve 2011, Google posted a holiday-themed doodle that serenaded visitors with "Jingle Bells".

Google celebrated Mark Twain's 176th birthday on November 30, 2011, with a panoramic scene inspired by Twain's literary masterpiece The Adventures Of Tom Sawyer.

The first-ever Google doodle was a simple stick figure behind the second "O" in the logo on Aug. 30, 1998. It represented the founders' recent trip to the Burning Man festival.

One of the great and super nerdy Google doodles, this Jul 23, 2009 logo celebrates the annual Comic-Con conference.

On March 1, 2010 Google honored the 366th birthday of Sir Isaac Newton with its first-ever animated Google Doodle.

Google wished users "Happy Halloween" Oct. 31 with a new video doodle that shows a team of crafty Googlers carving six enormous pumpkins to spell out the search engine's name.

On November 7, 2011 Google celebrated what would have been the 144th birthday of the mother of radioactivity, two-time Nobel Prize winning scientist Marie Curie.

Google introduced a super cool doodle on June 9, 2011, an interactive electric guitar to honor the 96th birthday of legendary musician and guitar innovator Les Paul. The Google guitar could play 10 notes from users' computer screen.

On Sept. 24, 2011 Google's homepage featured a medley of Muppets, honoring the 75th anniversary of the birthday of late Muppets creator Jim Henson. On the interactive logo users could play "puppeteer" by clicking on the colored circles beneath each of the characters, which opened their mouths, and the Muppets followed the cursor with their eyes when you moved your mouse. One of the characters would throw his glasses into the air, and another actually ate a fellow Muppet.

This Google Doodle went live for some on September 4, paying tribute to Queen frontman Freddie Mercury, who would have celebrated his 65th birthday on September 5.

Google's Oct. 12, 2011 doodle illustration featured a brightly colored interactive tribute to artist Arthur "Art" Clokey, who would have turned 90 on October 12. In place of the company's logo, red, yellow, blue and green balls of clay bounced around and sprang to life at the click of a mouse, in an homage to Gumby, Clokey's best known animated character.

In honor of Pacman's 30th anniversary on May 21, 2010, Google gave its logo over to the iconic arcade game with the first ever playable Google Doodle. The logo had 255 levels.

Google celebrated the 117th birthday of dancer Martha Graham -- known throughout the 20th Century as a pioneer of contemporary dance -- with an amazing animated doodle on July 11, 2011.

Google celebrated what would have been the 76th birthday of Roger Hargreaves, creator of the "Little Men" and "Little Miss" series, on May 9, 2011. Google featured a colorful cycle of doodles depicting several of Hargreaves' animated characters, including Little Miss Sunshine, Mr. Tickle and Mr. Messy.

Google celebrated its 13th anniversary on September 27, 2011, with a simple, birthday-themed doodle and a scrapbook-style doodle featuring the company's logo letters dressed in a birthday hats and sitting around presents and a birthday cake. Check out more photos here.

On Mother's Day May 8th, Google tipped its hat to moms everywhere with a spring-themed logo with a purple flower in place of the "L."

Google celebrated the Royal Wedding of Prince William and Catherine Middleton on April 29, 2011 with a Google doodle depicting a festively illustrated panorama of Westminster Abbey, where the royal knot was tied.

On April 22, Earth Day's 41st birthday, Google celebrated the occasion with a colorful animated doodle. Running your mouse over the illustration's playful animal characters brought the scene to life.

On April 16, 2011 Google celebrated what would have been the 122nd birthday of one of film's greatest stars, Charlie Chaplin, with a black and white video doodle.

On 12 April 1961, Russian cosmonaut Yuri Gagarin became the first human to enter outer space. Google's commemorative logo was dedicated to Gagarin's flight into space.

Google celebrated what would have been John Lennon's 70th birthday on On Oct. 9, 2010 with the first-ever Google Doodle video. The video played a hand-drawn animated version of Lennon's song "Imagine."