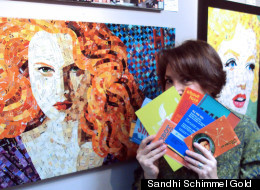 One of the reasons I started my website, Marlothomas.com, is that I wanted a place for women (including me!) to come together and dream. Women should know that they don't have to hang on to an old dream that has stopped nurturing them -- that there is always time to start a new dream. This week's story is about how one woman quit her day job and embraced her junk mail to make beautiful works of art! -- MT
By Lori Weiss
As Sandhi Schimmel Gold spent a leisurely day off, painting in the art studio she'd set up behind her home, the music playing in the background suddenly seemed to take over the room. "Jon Bon Jovi came on," Sandhi recalls, "and it was as if his words were meant for me to hear that morning. The refrain began 'It's my life. It's now or never. I ain't gonna live forever.' That was the moment I put down my brush, walked inside and said, 'I'm done.'"
From that day forward, Sandhi decided that she was finished with everything that had held her back from becoming the artist she was meant to be. So with no trust fund, no golden parachute -- but a need that had been growing inside her for 50 years -- Sandhi left her stable job as the chief information officer of an Arizona food bank and followed her heart.
"When I was a little girl I was always drawing," Sandhi explains. "There was never a question in my mind that I would do something art-related. I graduated in 1972, just as the woman's movement was underway. I wanted a career, but the messages I was getting at home were very different. My parents sent me to college, but they thought I should become a nurse or a teacher, just so I'd have something to do until I got married and had kids."
Sandhi ended up with an undergraduate degree in psychology, but soon found herself floundering. Eventually she took a job in retail, and ultimately discovered a creative niche, one that allowed her to start her own business: designing store displays and sets for special events.
And then, she did what she was supposed to do: She got married.
It wasn't that Sandhi didn't want to be a wife or start a family; but the pressure she felt to follow a particular path led her to the wrong man -- one who thought the artwork she created in her spare time was a waste of space. Within six years, he left her a single mom, just after she'd finished putting him through law school.
"One of us had to have a real job with benefits while he was in school," Sandhi says, with a shrug of her shoulders. "So I gave up my business, thinking I'd get back to it in a few years, and took a more secure job in the non-profit sector. I never thought I'd end up being the sole breadwinner. But I had a little girl to think about, so I did the responsible thing. I worked my way up the corporate ladder."
But as that little girl grew up and prepared to enter art school herself, Sandhi found herself spending more and more time in the art studio she'd always made room for, no matter where she'd lived. She was remarried now, but this time, her spouse was her biggest fan.
"Norm thought everything I did was fabulous and saw how much joy my art brought me," she says with a smile. "And he encouraged me to put 100 percent of my efforts into what I loved. He was actually the one who had been trying to convince me to quit my day job."
So with that Bon Jovi song as her anthem, Sandhi decided to take back her life. She traded in her suits and heels for the p.j.s she wears every day in her studio, then perfected a craft that would soon become her signature style: creating mosaic portraits that begin with Warhol-like drawings, and then -- in what can take up to hundreds of hours -- come to life with paint and tiny pieces of recycled paper.
"People say, 'What is that, just paper?'" she laughs. And I say, 'Yes. And what is the Mona Lisa? It's just paint!'"
But those hours Sandhi spends in the studio don't come without compromise. Long gone are the trips to the salon she used to look forward to, and the expensive dinners out she used to enjoy. She's replaced her car with a van, and now the romantic vacations she takes with her husband usually revolve around art fairs, rather than art-filled trips to Europe.
But, career-wise, those art fairs have paid off.
"I remember my first fair. People would walk by and their mouths would drop open, and I'd think, 'Oh, they hate it! But then they started pulling out their credit cards. They'd say 'I'll take it!' and I'd actually respond, out loud, 'You will?'"
It was at one of those early art fairs that Sandhi's work caught the eye of a woman who would put her in the spotlight -- a Beverly Hills gallery owner with a celebrity clientele. Before long, she was getting requests for custom pieces, and soon found herself on "Access Hollywood," presenting mosaic portraits to hosts Billy Bush and Nancy O'Dell. And now, at 57, her work is in galleries across the country.
That's not to say that any of this was easy, nor that Sandhi was an overnight sensation. She works seven days a week creating her art, as well as doing her own marketing and public relations -- even her own packing and shipping. And she credits her first 30 years in the working world, when she wasn't able to pursue her passion, for the success she's currently experiencing.
"All the different things I've done in my life got me to where I am now. I learned about marketing and public relations through those other jobs. There are things that I do in my art that I learned from being a display artist. I wouldn't have had those things in my toolbox if this had happened any earlier."
And as she puts the final touches on a portrait she's about to ship, she says softly, "George Sands, the French novelist, once said 'It's never too late to be what you might have been.'"
Sandy Schimmel's collection is available for purchase at galleries around the country at Schimmelart.com.
All of Sandhi's art work begins with the raw materials that show up in her mail box -- calendars, menus, packaging. When the mail person comes, so does a treasure trove of art supplies.

Sandhi makes her very first sale at an art fair in Prescott, Arizona.

Sandhi grew up listening to The Beatles and still finds their music to be an inspiration.

Sandhi presents Billy Bush with his portrait at an Access Hollywood charity event.

Sandhi surprises Nancy O'Dell with a custom portrait.

"Pixie" is a result of Sandhi's early experimentation with pixilation.

"Lilac Wine" illustrates the emotions a woman experiences when she's yearning for love.

Sandhi displays her work at an art fair in Las Vegas.

Super model Masha Philippova's boyfriend came across one of Sandhi's pieces on the internet and called her when he realized it was Masha. Sandhi made them a reproduction, flew to New York and delivered it to them personally.

Sandhi poses with actor Kevin Sorbo at an "Access Hollywood" event.

After meeting Kevin Sorbo, Sandhi went home and created a custom portrait for the Hercules star.

"Poppy" began as a simple line drawing and became one of Sandhi's all-time favorites.

"Love Is Touching Souls" was inspired by a Joni Mitchell song called "A Case Of You" and won "Best In Show" at Art Works Gallery in Richmond, Virginia.

This piece called "Ever" was inspired by the song "Ever Fall In Love With Someone You Shouldn't Have Fallen In Love With?" by the Buzzcocks. It's crafted, almost completely, with recycled paper.

Sandhi's solo show at the Lynchburg Academy of Fine Art in Lynchburg, Virginia.

A little girl considers the meaning behind Sandhi's piece, "Time Enough" at the Lynchburg Academy of Fine Art.

Sandhi was commissioned to do this piece called "Mountains and Meadows" for the Molson/Coors headquarters in Golden, Colorado and incorporated their packaging and marketing materials into the artwork.

"Light My Fire" is a portrait of Jim Morrison.

"Fashion Icon" is part of a series called Angels and Icons.

"Here's Looking at You, Kid" is a portrait of Ingrid Bergman inspired by her performance in Casablanca.

An album cover by The Ohio Players inspired "Sweet Honey Rox."

Sometimes all it takes to inspire Sandhi is a pair of bright blue eyes! This piece is called "Bright Blue."

"Kurt Vonnegut, Jr." was created for a solo show featuring famous authors.

"Virginia Wolff" was featured in a solo show called Literary Green in Scottsdale, Arizona.
Add Marlo On Facebook:
Follow Marlo on Twitter:
Weekly Newsletter

Sign up to receive my email newsletter each week – It will keep you up-to-date on upcoming articles, Mondays with Marlo guests, videos, and more!

Sign up here