Madonna's Super Bowl XLVI Halftime Show Re-Done By Brazilian Drag Queens (VIDEO)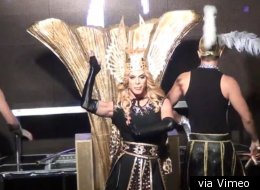 Didn't grab your tickets to Madonna's summer tour yet? Enjoy this fabulous video morsel from Brazil in the meantime: an inspired drag re-creation of the Material Girl's spectacular Super Bowl XLVI halftime performance.
From a glittery replica of Madge's Cleopatra-style headdress to the guest appearances by "Nicki Minaj," "M.I.A." and "LMFAO" -- not to mention the bevy of hunky gladiator dancers -- these drag queens certainly did their research.