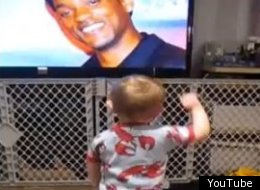 Move over "Single Ladies" baby, there's a new contender for best dancing baby on the web.
Meet Barnold. Although he wasn't born when Will Smith was rapping about Miami and the millenium -- excuse me, Willenium -- he certainly loves Smith's breakout jam "Gettin' Jiggy Wit It" as much as any 90s kid.
Watch him pretty much nail the "Na Na Na Na Na Na Na" dance in the video above, and stay tuned until the end to hear him add some, um... interesting vocals.
For more of the best dancing babies YouTube has to offer, check out our slideshow below:
The Best Dancing Baby Videos
Watch for the head bob.

At first it looks like this little guy is just tearing around the living room, but then he busts out some real moves.

Brazil teaches 'em young.

Some clever editing, but he still has the main idea.

Bustin' moves to "Hips Don't Lie".

Somebody's mommy has iMovie.

When Elmo says "Dance" this kid wants to dance. When Elmo says "Stop" this kid still wants to dance.

Way, way into it.

Why is there a Will Smith photo-montage playing on the television?

Hopefully this won't come back to haunt him in 10-15 years.

Does the full-grown version proud.

Starts the dance while still asleep. Impressive.

Another mini-dancer busting out moves to Soulja Boy.

These two young infants wiggle their little bodies every time Dad does his herky-jerky dance in front of them.

He teaches a toddler dance masterclass if you're interested.