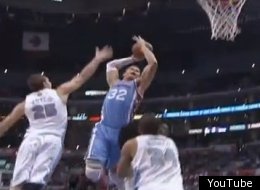 Orlando Magic center Dwight Howard may be the NBA player with the Superman costume in his closet and retired NBA legend Shaq may be the big man with the Supe ink. But is there anyone currently leaping tall post players in a single bound these days quite like Blake Griffin?
On Wednesday night, Griffin flew through the air to deliver his latest highlight reel flush of the season. Rather than simply Perking a single opponent, Griffin upped the degree of difficulty by lifting off just a stride inside in the free throw line and dunking over a pair of Denver Nuggets players (with a third clearing out of the way so as not to be pictured in any ensuing posters).
WATCH VIDEO ABOVE

These two fearsome points pulled the Clippers within a single point of the Nuggets. Los Angeles would go on to win 103-95. Basketball fans, meanwhile, would go on to be certain that any slam dunk contest without Griffin is one that will not be nearly as entertaining as the average midweek Clippers game.
As is generally the case whenever Blake does what Blake does, Twitter took note. Here are a few of the memorable tweets about his performance:
@marcel_mutoni

Marcel Mutoni
Blake Griffin held his own one-man Dunk Contest tonight it seems.
@sbnation

SB Nation
@damianmcginty

Damian Mc Ginty
What I learned tonight, Blake Griffin is a beast.