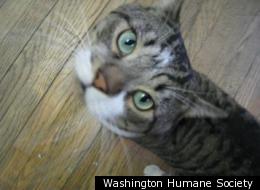 WASHINGTON -- Did you spend your three-day President's Day weekend alone? If you did, maybe you just need a good cat.
Peruse this gallery for some lovable cats ready for adoption at the Washington Humane Society and the Washington Animal Rescue League.
The Washington Humane Society provides comfort and care to nearly 30,000 animals.
For abused, abandoned and forgotten animals, the Washington Animal Rescue League provides an environment for recovery as animals transition into new lives.
In addition, Tails High is an unconventional shelter in Alexandria, Virginia that socializes rescue cats in a series of foster homes. That means a cage-free lifestyle for these domesticated felines while they wait for a new family.
Check out the slideshow below for an onslaught of adorableness.
From the Washington Humane Society, this male has a big personality and is looking for a family that will accept him for who he is. Babylon loves rubbing a leg for some attention and petting. But Babylon also likes "me" time and enjoys his space.

Carmine has the beautiful tortoise-shell-like fur that might remind you of a complex Picasso painting. Beyond her coat, Carmine just likes having her chin nuzzled. Come down to the Washington Humane Society's New York Avenue adoption center to learn more about this fetching feline.

This tender tabby will sleep on your lap or curl up at the foot of your bed. If you want to be the one to take her home, stop by the Washington Humane Society's New York Avenue adoption center.

From the Washington Animal Rescue League, Charmed is a striking female domestic shorthair cat with tortoise-shell-like fur who is both quiet and sociable.

From the Washington Animal Rescue League, Embrace is a petite female domestic shorthair cat with a beautiful "pastel" calico coat. She is sweet and quiet and would love to curl up on the sofa with her special someone.

Orange Peel is a domestic shorthair cat who is very outgoing, playful and sociable. He enjoys being stroked and will go out of his way to solicit attention. Stop by the Washington Animal Rescue League to learn more.

Rambler is a female gray-and-white domestic shorthair cat who is all about spreading the love to the humans around her. When it comes to other felines, she'd rather not share attention, but that shouldn't pose a problem; this green-eyed girl has enough personality for any household. Learn more about Rambler from the Washington Animal Rescue League.

Tiika is a large coon cat mix. This long-haired beauty loves attention and being brushed. Shelter employees from the Washington Animal Rescue League say she'll let you know when, like Greta Garbo, she wants to be alone.

Although he arrived to the Washington Humane Society quite sick, Shogun has been making a steady recovery. That's good, because he is just about as sweet as they come. Shogun loves attention from both the staff and guests at the Georgia Avenue shelter, especially scratches behind the ears.

After a rough start to life, when an owner moved away and forgot about him, Koi is waiting to be adopted. Though he can be a little timid in new situations, Koi loves having his head scratched. If you are interested, Koi lives at the Washington Humane Society shelter on Georgia Avenue.

When Sweetie was found in an industrial park in Lorton, Tails High wasn't sure if she was blind or if there was something else going on with her eyes. She's not blind; doctors found a common condition in one eye where the eye lashes are turned inward that requires surgery to repair. When Sweetie has her eye surgery next week, the doctors will assess her other eye and determine the best course of action. Donations to help cover the cost of Sweetie's eye surgery can be made to Tails High via PayPal.

Luna was found abandoned in a neighbor's back yard after her owners moved from their home in D.C.. For Tail High, that's hard to believe, given Luna's big blue eyes, her soft fur, and sweet personality. In the house, Luna's favorite place is on the bed-- she sleeps at the foot of the bed at night when she can and stretches out on the bed during the day. The folks at Tails High have found Luna seems to be afraid of other cats, so she should be the one and only in a home. She's a friendly and even-tempered cat that doesn't bite or scratch but Luna would probably prefer a home without children.

Frankie is a work in progress with a lot of potential. When Frankie came to Tails High, she was a very angry cat with poor eyesight who didn't trust many people. Frankie has come a long way; she knows how to sit when asked, gives high fives, and sometimes she'll give her foster mom kisses. Her eyelid is still a bit droopy but her vision is completely restored. Frankie still has a way to go, but she is much more trusting and confident. Occasionally, she'll climb into a lap, cuddle, and purr a very low pitch, soft purr. Frankie needs new parents who will love her, kiss and hold her but also respect that she has very definite boundaries and be willing to continue gently challenging those boundaries. She should not be someone's first cat and she is not the right cat for a family with children. She will do best with a cat she can befriend and play with and who will play back.