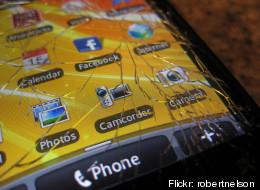 Whether you're giving a speech, performing a monologue, or playing a concert, getting thrown off by an obnoxiously loud cellphone ring is almost never a good thing. Perhaps the only exception is if you respond gracefully to such an interruption, as violist Lukas Kmit did earlier this year. Rather than tripping up in his performance, Kmit spit the Nokia ringtone right back out at the cellphone offender via his viola.
Of course, there are many other ways to handle such a situation, if you're not as clever as Kmit. We've seen public speakers call out offenders, musicians stop in mid-song, athletes get distracted in the middle of high-stakes matches; but our favorite reaction of all time has to be when an actor stays in character and incorporates the distraction into a performance.
Click through the slideshow to view the most awkward moments for cellphones to go off. Vote for the most awkward moment, and in the comments (below) tell us your most embarrassing story of a public cellphone fail.
When a very loud cellphone ring interrupted Slovakian violist Lukas Kmit, the musician barely skipped a beat. Rather than get angry, Kmit simply mimicked the ring with his viola, gave it a bit of a flourish and bowed to the applause that followed.

Not one but two cellphones interrupt this televised White House briefing of former presidential press secretary, Robert Gibbs. The first offender had his cellphone confiscated, while the second decided to leave rather than suffer the same fate.

Never one for subtly, American Idol runner-up Adam Lambert stopped a live performance in 2010 because a fan had answered her cellphone. He scolded the girl from onstage and told the band to start the song again.

Conductor Alan Gilbert completely halted a performance by the New York Philharmonic at Lincoln Center's Avery Fisher Hall after the cellphone of a front-row audience member started ringing and wouldn't stop.

While Hugh Jackman doesn't drop out of character after a cellphone starts ringing during his performance, it's clear he's not very happy about the annoying interruption.

Canadian monologist Keir Cutler keeps his cool when a cellphone interrupted his 2006 Montreal Fringe act. He manages to stay in character, even when it happens twice.

It's happened to everyone. Even to performers, on occasion. Skip ahead to 1:14 to watch "Glee" star Darren Criss' funny reaction to his own cell phone interrupting his August 2011 performance of Katy Perry's "Teenage Dream" at Chicago's Northalsted Market Days festival.

When a cellphone ring interrupted matchpoint at the 2011 Swedish World Open, the crowd was stunned to learn that the device belonged to player Alizé Cornet. Her opponent, Caroline Wozniacki, waited patiently for Cornet to turn the phone off. Wozniacki went on to win the match.

Stand-up comedian Lee Hurst was fined after smashing an audience member's cellphone. He believed the user had been attempting to film his performance, according to The Telegraph.