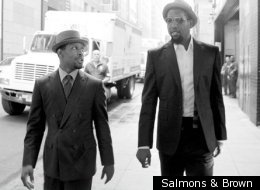 NBA All-Star Weekend is here!
While we spend the next few days being mesmerized by the smooth and gravity-defying moves of the league's top players, let's not forget how darn stylish they are off the court.
In fact, several NBA superstars have become huge fashion fans--sitting front row at fashion week, hobnobbing with fashion royalty and even launching their own clothing lines.
New York Knick Amar'e Stoudemire, Boston Celtics Jermaine O'Neal and Phoenix Suns Steve Nash are just a few of the athletes who are showing off their sartorial skills with collections that range from eco-friendly t-shirts to custom suits.
So in celebration of NBA All-Star Weekend, here's a look at all the talented b-ballers trying to make a slam dunk in the wonderful world of fashion.
NBA Players With Clothing Lines
Salmons & Brown was formed in 2010 by John Salmons, shooting guard for the Sacramento Kings and Sherman Brown, a young and talented student from the International Academy of Art and Technology in Chicago

Hakeem Olajuwon, former center for the Houston Rockets and Toronto Raptors, started DR34M in 2010. The clothing collection is not expanding into handbags and accessories. "I don't like to wear things that everyone else wears. I've always wanted to be different," Olajuwon told Thetruthsports.com. DR34M

Amar'e Stoudemire, New York Knick power forward, teamed up with designer Rachel Roy to create a limited edition collection of "courtside must-haves" for b-ball loving ladies. The line is sold exclusively at Macy's and on RachelRoy.com.

Canadian-based company Indochino and Phoenix Suns' Steve Nash teamed up to create a Steve Nash collection of custom suits and a line of fashion forward ties and pocket squares.

Willis & Walker line of custom suits to denim 24 years ago when Willis was playing forward for the Atlanta Hawks.

Le Jaunty's dynamic casual sportswear launched in 2011 by Boston Celtics power forward Jermaine O'Neal. "I've always been into fashion. I'm from Columbia, S.C., and my family is very religious. We'd go to church and Sunday school and we always had to dress up. I enjoyed that," O'Neal told WWD.

Charlotte Bobcats baller Boris Diaw, is the owner of the clothing line UKIND. The collection of eco-friendly t-shirts for both men and women is designed to raise funds for youth in Africa.