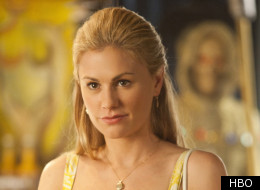 The Oscars will crown a new crop of Hollywood royalty when the winners are announced during the Sun., Feb. 26 ceremony (8 p.m. EST on ABC); but many past Academy Award honorees have now moved from the big screen to the small screen.
Just looking at this year's star-studded new shows, there are multiple Oscar winners who have decided to head to TV, like "Smash" star Anjelica Huston (who has one Academy Awards and was nominated for two more) and the leading man of "Luck," Dustin Hoffman (who has two Oscars and five more nominations).
But they're not alone. From the most hilarious TV grandmother to a beloved telepathic barmaid (who is in love with a vampire), check out our list of 15 current small screen stars who have earned Academy Awards.
TV Stars Who've Won Oscars
Paquin has certainly grown up since her Oscar win for Best Supporting Actress in 1994 -- when she was only 11 years old (the second-youngest winner in Oscar history). She was both adorable and intense in "The Piano"; she played Flora McGrath, a mute woman's daughter, who was responsible for translating her mother's thoughts to the rest of the world. Now, as an adult, she plays a telepathic vampire-loving fairy on "True Blood." Kinda the same thing, right?

Before she majorly creeped us out in the FX psycho-drama "American Horror Story" -- which also earned her a Golden Globe -- Lange received the Academy Award for Best Supporting Actress for her role as a soap opera star in the comedy "Tootsie." Lange would later take home another Oscar, this time for Best Actress, for her performance in 1994's "Blue Sky."

It's been more than 40 years since Cloris Leachman won an Academy Award for Best Supporting Actress in the 1971 film "The Last Picture Show," but she's still going strong as batty Maw Maw on the Fox comedy "Raising Hope."

Dustin Hoffman has had a storied acting career on the big screen, and has won two Best Actor Oscars: one for "Kramer vs. Kramer" in 1979 and the other for "Rain Man" in 1988. He jumped to TV this year to star in the new HBO horse-racing drama "Luck," where he plays an organized crime figure named Ace Bernstein.

Just a few years after making her film debut in Robert Altman's 1980 musical comedy "Popeye," Linda Hunt starred in "The Year of Living Dangerously" as Chinese-Australian Billy Kwan. The performance earned her the 1993 Academy Award for Best Supporting Actress, which made her the first person to win an Oscar for playing a character of the opposite sex. Hunt has continued her Hollywood career with wide-ranging roles, from the principal in "Kindergarten Cop" to a by-the-book judge on "The Practice" to lending her voice to Grandmother Willow in "Pocahontas." Currently, she stars on CBS' "NCIS: Los Angeles" as intimidating, Lady Gaga-loving operations manager Hetty Lange, a role she's played since the show's debut in 2009.

In arguably her most defining role -- ever -- Bates played psychopathic fan Annie Wilkes in "Misery." She was so convincingly scary and obsessed, she took home the Best Actress Oscar in 1991. Hey, we guess that happens when you break someone's ankles with a sledgehammer. A bit more restrained (e.g. - not a psychopath) on "Harry's Law" as Harriet "Harry" Korn, Bates is still as biting, sarcastic and clever as ever.

Anjelica Huston comes from an illustrious film lineage, and became the third member of her family to win an Academy Award when she earned the Best Supporting Actress Oscar for "Prizzi's Honor" in 1985. In the new NBC musical drama "Smash," Huston plays Eileen Rand, a strong-willed Broadway producer who's trying to prove she can stage a hit on her own after splitting from her rich husband.

Jeremy Irons took home his Oscar for 1990's "Reversal of Fortune," in which he played Claus von Bülow opposite Glenn Close. On Showtime's "The Borgias," Irons plays Rodrigo Borgia, the patriarch of a crime family who just so happens to be Pope Alexander VI.

Goldberg has been with us for a while now, in many different forms on TV and in movies (we often think of her awesome "Star Trek" character. Sigh). Back in 1990, though, she was all over the big screen, including her Oscar-winning role in "Ghost" as telepathic Oda Mae Brown. Goldberg won the statue for Best Supporting Actress, which is no small feat considering she shared the screen with red-hot Patrick Swayze and Demi Moore. Goldberg's current work -- as herself on "The View" -- lets us into the mind of the real Whoopi. No ghosts here!

"Downton Abbey" star Maggie Smith has taken home two Oscars during her lengthy career. Smith took home her first Academy Award in 1969 for her erformance as a Scottish schoolteacher in "The Prime of Miss Jean Brodie." Her second Oscar came in 1978 for her role as actress Diana Barry in "California Suite." These days, Smith is inspiring Internet memes as the Dowager Countess, the bristly matriarch on "Downton Abbey."

Easily the most high-profile deaf actress in Hollywood, Marlee Matlin won the Oscar for Best Actress for her performance in "Children of a Lesser God" in 1987. The win makes her both the youngest and the only deaf actress to earn that honor. Since her Academy Award moment, Matlin has continued to act, mainly on the small screen with stints on "Picket Fences," "The West Wing," "The L Word" and currently, ABC Family's latest hit "Switched at Birth."

Timothy Hutton was only 20 when he won an Academy Award for his role as Conrad Jarrett in 1980's "Ordinary People." And now, three decades later, he's playing a modern-day Robin Hood on TNT's "Leverage."

Shirley MacLaine was nominated for an Academy Award five times before winning the Oscar for Best Actress in 1983 for her role in "Terms of Endearment." Now, she'll be following fellow Oscar winner Maggie Smith for Season 3 of "Downton Abbey," which will see MacLaine go head-to-head with Smith's Dowager Countess.

"Melvin and Howard" may have only been Mary Steenburgen's third film, but her performance as the wife of a man who claims to have befriended Howard Hughes earned her the 1981 Oscar for Best Supporting Actress. From the "Back to the Future" franchise to "What's Eating Gilbert Grape" to "Elf" to "The Proposal," Steenburgen has been acting steadily ever since her Academy Award win. She recently had a four episode stint on the dearly-departed "Bored to Death," played Jack Donaghey's mother-in-law on a February episode of "30 Rock" and will star in the currently under-construction FX pilot "Outlaw Country."

After a long career as a character actress, Leo won the Academy Award for Best Supporting Actress for the 2011 film "The Fighter," in which she played Alice Ward, the mother of boxer Micky and his half-brother trainer Dicky. On David Simon's New Orleans drama "Treme," she plays crusading civil rights attorney Toni Bernette, who's trying to hold her life together after her husband committed suicide in the aftermath of Hurricane Katrina.