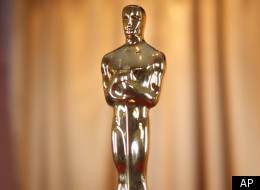 For some of the Oscar nominees, getting recognition for stellar acting performances isn't the only mark of great achievement.
Making a difference in the world by stepping up for those in desperate need of help is a role these thespians play year round.
Who made it to our list of the the top seven nominees making the greatest impact? Click through our slideshow to find out our top picks.
SLIDESHOW:
It's hard to imagine Melissa McCarthy doing anything but cracking us up. But the "Bridesmaids" star demonstrated just how committed she also is to fighting cancer when she attended a Livestrong event in January. "Everyone knows the name, knows what it's about," McCarthy told the "Insider." "It still needs money, you still need to donate, you still need to be aware. The fight is still on."

This may be his first trip to the Oscars, but Jonah Hill is no stranger to the charity stage. The "Moneyball" star is a huge supporter of Nothing But Nets, an organization that brings lifesaving nets to people in Africa at risk for contracting malaria. To help spread awareness for the cause, Hill raised $61,060 for the organization when he partook in the Mozilla Firefox charity challenge in December.

After seeing how mental illness affected her nephew and sister, Glenn Close was inspired to help erase the stigma that's attached to such disorders by establishing Bring Change 2 Mind. This Oscar nominee was also named the Entertainment Industry Foundation's ambassador for the 2006 "Key to the Cure," an initiative that's helped raise more than $20 million to benefit EIF Women's Cancer Research Fund, according to Looktothestars.org.

Just like her acting career, Meryl Streep's philanthropic work is storied and celebrated. The "Iron Lady" star is well known for her role as spokeswoman for the National Women's History Museum, which collects and exhibits the social, cultural, economic and political contributions of women to our nation.

Rooney Mara may play an intimidating character onscreen, but when the cameras aren't rolling, the "Girl with the Dragon Tattoo" star is opening up her heart to those in need in Kenya. This Oscar nominee was inspired to start the nonprofit, Faces of Kibera, which empowers young people in Kenya's Kibera slum. "It's frustrating because there are so many nonprofits sprouting up everywhere, it's become a business opportunity," Mara told Interview Magazine. "The people who need help aren't really getting it. So I started my own."

Brad Pitt may be nominated for playing the role of a frugal general manager in "Moneyball," but this Best Actor nominee is anything but a penny-pincher when it comes to philanthropy. Along with partner, Angelina Jolie, Pitt has adopted three children from Cambodia, Africa and Vietnam and uses his charity, Make It Right, to build sustainable and affordable homes in New Orleans.

George Clooney's character in "The Descendants" wrestles with what to do with a sizable Hawaiian property, but offscreen, this star doles out his fortune with ease. This Oscar nominee helped found Not On Our Watch, an organization that provides lifesaving humanitarian assistance and protection to the vulnerable, marginalized, and displaced. Clooney is also a major supporter of Bono's poverty-fighting ONE foundation, according to Looktothestars.org and serves on the board of the United Way.