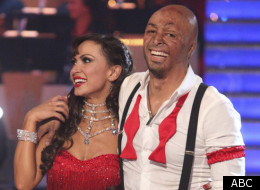 Before Brooke Burke was co-hosting ABC's hit celebrity dancing competition with Tom Bergeron in the ballroom, she was a "Dancing With the Stars" champion, taking home the Mirror Ball in Season 7 with her pro partner Derek Hough.
"DWTS" has given celebrities a chance to make a primetime comeback and it's even helped to launch the careers of lesser-known stars.
We may know what Burke is up to these days, but what about the other "DWTS" winners? With the reveal of the "DWTS" Season 14 cast fast approaching, HuffPost TV is looking back at winners past to find out where they are.
Dancing With Stars Past Winners
Season: 1 Partner: Alex Mazo Where She Is Now: After taking home the first Mirror Ball trophy, Monaco continued her role on "General Hospital," appeared in "Peepshow," a burlesque in 2009 and appeared in E!'s "Dirty Soap" reality series.

Season: 2 Partner: Cheryl Burke Where He Is Now: Since taking home the Mirror Ball trophy, Lachey co-hosted the 2006 Miss USA pageant, appeared on several HGTV programs and appeared on Broadway in "Spamalot."

Season: 3 Partner: Cheryl Burke Where He Is Now: Smith spent two years serving as a commentator on ESPN before leaving the network in 2009. Since then, he's appeared on "Who Do You Think You Are?" and he co-founded ESmith Legacy, a commercial real estate development and investment management company.

Season: 4 Partner: Julianne Hough Where He Is Now: The Olympian speed skater has been busy racking up acting credits to go along with his medals. After an episode of "Hawaii Five-0," Ohno can next be seen in "Tasmanian Devil," a new Syfy original movie.

Season: 5 Partner: Julianne Hough Where He is Now: The Brazilian race car driver is a three-time Indianapolis 500 winner, but in 2007, he championed the dance floor on "DWTS." Castroneves came into some legal trouble with the IRS in 2008, but all ended well in 2009. Now, he's back on the track: Castroneves is currently competing in the North American IndyCar Series.

Season: 6 Partner: Mark Ballas Where She Is Now: The former Olympic figure skater has been busy since her big win in 2008 as "DWTS" champion. In 2010, Yamaguchi worked as an Olympics broadcast analyst on NBC's Universal Sports Network. Then in 2011, she published a children's book, "Dream Big, Little Pig," which landed at no. 2 on the New York Times bestseller list. A sequel, "It's a Big World Little Pig," is scheduled to be published on Mar. 6.

Season: 7 Partner: Derek Hough Where She Is Now: Former model and E! personality Brooke Burke couldn't quite leave "DWTS" behind her after winning the seventh season. She went on to replace Samantha Harris as the show's co-host, alongside with Tom Bergeron, beginning in Season 10. Burke has also hosted TV Land's modeling competition series "She's Got the Look," as well as the 2011 Miss America Pageant, and released her first book, "The Naked Mom: A Modern Mom's Fearless Revelations, Savvy Advice, and Soulful Reflections."

Season: 8 Partner: Mark Ballas Where She Is Now: The 2008 Olympic gymnast headed to "DWTS" just a few months after taking home the silver medal in Beijing. But since winning Mirror Ball on the reality series, Johnson appeared on ABC Family's "The Secret Life of the American Teenage," judged the 2010 Miss America Pageant and is currently training, hoping to make the 2012 Olympic gymnastic team after a skiing ACL injury.

Season: 9 Partner: Kym Johnson Where He Is Now: After ending up on top of "DWTS," the singer and actor has earned his own syndicated radio show. Donny and his sister Marie also starred in a Broadway holiday production called "Donny & Marie: A Broadway Christmas" in 2010 and 2011, which they took to Chicago. Now, the singing siblings also have a headlining act at the Flamingo Hotel in Las Vegas, which is currently scheduled to go until October 2012.

Season: 10 Partner: Derek Hough Where She Is Now: After taking home the Mirror Ball in 2010, former Pussycat Doll Scherzinger decided to stay in the world of reality TV competitions -- but this time, she was on the other side of the judges' table. She was a judge on the first season of the US version of "The X Factor," which premiered in September 2011. However, Fox and Simon Cowell made the decision not to renew her contract for Season 2. Perhaps she's better suited for hosting?

Season: 11 Partner: Derek Hough Where She Is Now: After appearing in a 2010 episode of Fox's hit medical drama "House" and starring in the original Lifetime movie "The Bling Ring" in 2011, the "Dirty Dancing" starlet has been laying low. Coincidentally, she did fill in for judge Len Goodman during a taping of the BBC's "Strictly Come Dancing."

Season: 12 Partner: Kym Johnson Where He Is Now: For some, winning the Mirror Ball can be the ultimate career comeback, but for football player Ward, his personal struggles have overshadowed his "DWTS" win. Despite a report that says Ward won't be back in 2012, Steelers general manger Kevin Colbert says that no decision has been regarding Ward's future with the team. Recently, Ward also pleaded guilty to reckless driving.

Season: 13 Partner: Karina Smirnoff Where He Is Now: Since taking home the Mirror Ball, soap star and motivational speaker J.R. Martinez has been one busy celebrity. Not only is he currently working on a memoir but he and girlfriend Diana Gonzalez-Jones are also expecting their first child -- a baby girl -- in May 2012.