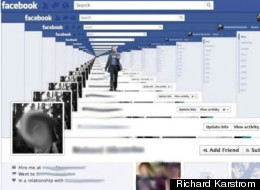 After years of uniform profile layouts (usually blue and white with text all over) the media-rich Timeline has now taken over Facebook.
This latest layout first debuted back in September at the social network's f8 conference and began rolling out to users in December. On January 24 Facebook announced that over the next several weeks this visual feast will become mandatory for all Facebook users. By now, most users have received the update and are adjusting to the new layout.
While some users haven't embraced the Timeline, many others are making the most of one of the new features, the cover photo, a huge space at the very top of the profile where you can showcase almost any image you want.
If you've yet to figure out what to do with this brand new, customizable space (imagine the possibilities!), we've got 13 creative Facebook cover photos that will get the wheels in your brain turning. Check them out in the slideshow below, and let us know in the comments which of them you like best.
Have you seen any stunning Facebook cover photos? Share them with us by hitting the "add a slide" button.
Most Creative Facebook Timeline Covers
Apparently, Reddit user Strykerx is a CSI fan -- at least, he revealed as much when he posted this cover photo on the site. Its detail certainly does recall CSI's camera-zoom scenes, though hopefully this user hasn't ever committed any crimes.

Myrian Heneine's cover photo, previously posted by Odd Stuff Magazine, switches things up a bit. Heneine appears in the midst of drawn characters right above her name, instead of in the profile picture box, which is occupied a zombie-like bunny.

Aly Moffatt designed a graffiti-like cover photo that features both her Facebook URL and a colored drawing of her face. Instead of a regular picture in her profile's default photo box, she even included the apparent "culprit" behind the "vandalism."

Richard Kårström's cover photo not only honors the hit movie Inception (cover photo within a cover photo within a cover photo...), but it also makes good use of "Strutting Leo" meme that emerged from a picture taken of a very happy-looking Leonardo DiCaprio on the film's set.

For all those Final Fantasy fans out there, this cover photo may be especially awesome. Michael DG shows his fan-boy pride with this FF-inspired cover photo, complete with maxed out levels, health points, and magic points. If you look closely, you'll see he "studied" at "Xavier's School for Gifted Youngsters," so it's not so surprising he came up with a cool cover photo like this one.

Sure, DJ Spyder's face is missing from his Facebook timeline, but given how awesome it is, this small detail can easily be overlooked. Instead of his face, DJ Spyder's profile picture box features a start/stop button that fits in perfectly with his turntable cover photo.

For those of you who are fans of the new Facebook timeline format, this simple and straightforward cover photo may be the right one for you. You can find this template and many, many others on fbProfileCovers.com, a website that features downloadable cover photo images. Simply choose the one you want, click "Make My Facebook Cover," allow the app to access some of your Facebook info, and you'll have a cool cover photo for your new timeline!

If you want help creating a more visually striking cover photo, you can visit sites like Coverphotoz.com, which features downloadable cover photos similar to those found on fbProfileCovers.com. However, this website lets you upload a photo like the one above and edit it how you see fit. It even has preset effect features to make customizing a breeze. Just click "Customize" in the lower-right hand corner of whichever cover photo you choose!

While we're not quite sure why anyone would want to depict themselves experiencing something so unfortunate (if you can't tell, the creator of this cover photo, Daniel Jewitt, is getting pooped on by a bird), it's not to say that this simple, colorful design is bad in any way. On the contrary, it points to a good sense of humor that can now be shared through the customizable cover photo.

Social Media Examiner's Tim Ware was gracious enough to share his picture-filled cover photo with his readers, along with a few tips on how they can customize their own. Ware's simple yet creative idea showcases a chronological picture progression from his youth to the present.

Who doesn't like the Muppets? Even if you don't, you must admit this Muppet-themed cover photo, posted by Photobucket user Toastydoc, is pretty well-executed -- his profile picture fits right into the line-up of Muppets, and it's amusing to look at overall.

User LUCARiO shared this Starcraft-inspired, laser-filled cover photo on Reddit's site. For those of you unfamiliar with the video game, it's got a whole lot of fans and revolves around a three-way conflict amongst species (hence the scary, laser-shooting monster).

At first glance, this Facebook user's cover photo is an artistic depiction of some unknown man. But if you look a little more closely at his profile picture, you'll see it's actually a blown-up, colored version of the image on his sweatshirt. And, according to the user's post on Reddit (under the name zroth), the man is retired NBA star Kareem Abdul-Jabbar.