Illinois Juvenile Detention Center Closings: Plan Praised By Advocates, Criticized By Union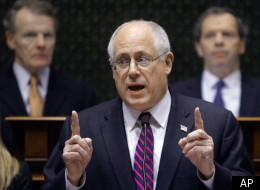 Illinois Governor Pat Quinn's plan to close ten of the state's correctional facilities, two of which are juvenile detention centers, has drawn a mixed reaction from prison reform advocates, labor unions and local political leaders.
The plan, announced during the Democratic governor's 2013 budget preview address, calls for the closing of state facilities that house juvenile offenders in downstate Murphysboro and suburban Joliet.
As Quinn spokeswoman Brooke Anderson explained to the Associated Press, the facilities -- two of eight Illinois detention centers that house juveniles -- were chosen because they are currently well below their design capacity. Murphysboro is currently only at 34 percent of its capacity. Statewide, the eight centers house 1,075 people with an average annual cost of $85,000 each and the closure of the two facilities, according to Anderson, would save the state $24 million per year.
Additionally, the Joliet facility, opened in 1959, is among the oldest in the state and the Murphysboro facility, according to prison watchdog organization the John Howard Association, does not offer sufficient outdoor space to the youth housed there, the AP reports.
The closures have generally been supported by prison reform advocates.
John Maki, executive director of John Howard's Illinois group, said in a Huffington Post blog that he believes the governor "is smart to look to the state's prison system to save taxpayer money," but he added the caveat that such closures should be accompanied by "sentencing reform, alternatives to incarceration and rehabilitation" in order to not only control costs, but also to impact crime rates and public safety.
Elizabeth Clarke, president of the Juvenile Justice Initiative, also praised the closures while adding that programs such as Redeploy Illinois, which provides counseling and other services in young peoples' homes as an alternative to their being housed in a facility, have proven effective in reducing recidivism, according to the AP.
Others are not as enthused by Quinn's plan, however. Henry Bayer, executive director of AFSCME Council 31, which represents workers at the facilities, criticized the closures of these and several other correctional centers and mental health clinics as "further devastating cuts to public services." Further, Bayer argues, "thousands of lost jobs are the worst possible approach to what ails our state."
"Budget cuts have gone too far already, harming priorities like public safety and care for the most vulnerable," Bayer said in a statement. "The problem is an unfair tax system riddled with giveaways-to rich people, who pay a lower effective tax rate while the middle class gets squeezed, and to corporations, two-thirds of which pay no corporate income tax at all."
The closures would mean an estimated 91 layoffs at the Murphysboro facility and 235 in Joliet, though some of the staff could transfer to one of the state's six other youth prisons, WBEZ reports.
Elected officials in the impacted communities also sounded off against the plan. Murphysboro Mayor Ron Williams said he will fight to keep the center open. It was previously targeted for closure by the governor last year, The Southern reports.
State Sen. Dave Luechtefeld (R-Okawville) told The Southern that he was "deeply troubled" by the planned closures, noting that, "again, it seems that downstate facilities are bearing the burden of 10 years of bad decisions by Govs. Blagojevich and Quinn."
An editorial in the Joliet Herald-News was also critical of the facilities' closings and argued that their community "seems to be a continual target for governors looking to save money" while larger budget-drainers such as Medicaid and pension-funding issues persist.
Further, the editorial continued, "we're less happy that prison decisions are being made for budgetary reasons rather than the overriding need to protect the public."