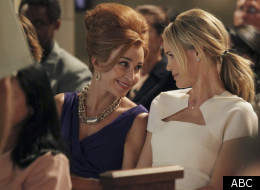 You know what they say about March: In like a lion, out like a lamb. And it looks like TV is following that old adage.
The last week in February brings us new episodes of "Smash," "Hart of Dixie" and "House" on Monday night. Tuesday is jam-packed with a new "Cougar Town," "Ringer" and the "Parenthood" season finale that sees the Bravermans gather for Crobsy and Jasmine's wedding. Bring the tissues.
On Wednesday, "Revenge" returns and Emily's path of destruction continues. New March premieres include: "Awake" on Thurs., March 1, "Q'Viva! The Chosen" on Fox on Sat., March 3 and "GCB" on ABC on Sun., March 4.
Check out our slideshow to see what else is worth watching this week.
"House" (8 p.m. EST on Fox) winter finale House and the team battle to save a successful, independent blind man (guest star Michael B. Jordan) who is struck down by a mysterious illness, just prior to him asking for his girlfriend's hand in marriage. Meanwhile, House's mother (guest star Diane Baker) unexpectedly arrives at Princeton Plainsboro to inform him of her new beau (guest star Billy Connolly).

"Hart of Dixie" (9 p.m. EST on The CW) Much to Brick's disappointment, George is named Bluebell's Man of the Year. As the town's mayor, Lavon is expected to host a cocktail party in George's honor, but this is a difficult situation for Lavon, given his history with Lemon. Fortunately, Zoe agrees to step in and help him with the party, but things take a turn for the disastrous when Zoe has to improvise a speech at the gathering.

"Smash" (10 p.m. EST on NBC) Despite last week's lackluster episode, this week's installment regains its footing with admirable confidence -- there's backstage backstabbing, devious scheming and one hell of a song and dance. Karen must learn to advance in the high-stakes world of Broadway as Derek hosts a party for hot young star Lyle (a surprisingly capable Nick Jonas). Eileen tries a sly new strategy for raising funds, while Tom goes on a first date.

"Cougar Town" (8.30 p.m. EST on ABC) There is no time for romance when you're planning a wedding, and Jules is in full "AWATT" mode (All Wedding, All the Time), until Travis is in an accident and rushed to the hospital. Meanwhile Grayson is feeling neglected by Jules, so the guys try to cheer him up by inventing a new game called "D-Ball," and things get dangerous when Laurie and Ellie want to play.

"Ringer" (9 p.m. EST on The CW) Andrew proposes again and Bridget realizes she is in over her head. Olivia becomes increasingly suspicious of Malcolm while he is working at Martin/Charles. Juliet makes a decision that forces her mother Catherine to take drastic measures.

"Parenthood" (10 p.m. EST on NBC) season finale The Bravermans come together to celebrate Crosby and Jasmine's wedding, while Julia and Joel strive to overcome the emotional roller coaster of adopting a child has put them through. Also, Crosby and Adam decide on the fate of The Luncheonette and Sarah makes a difficult decision about her future.

"Suburgatory" (8.30 p.m. EST on ABC) When Fred and Sheila strike up a croquet match with Dallas and George, Fred misreads Sheila's interest in George. Fred tells him that Sheila is fantasizing about him and asks him to seduce her. Meanwhile, Tessa desperately wants to impress the new poetry teacher, Ms. Evans, but she seems to prefer Dalia's prose.

"America's Next Top Model: British Invasion" (9 p.m. EST on The CW) season premiere Cycle 18 returns with its first-ever "British Invasion," featuring former contestants from "Britain's Next Top Model" and an all-new crop of American hopefuls competing for the grand modeling prize. The first photo shoot has the women squaring off while posing as famous British and American public figures. New judge Kelly Cutrone and Nigel Barker join guest judge Kelly Osbourne and Tyra Banks on the judges' panel for the first elimination.

"Revenge" (10 p.m. EST on ABC) The murder scandal at the Fire & Ice party rocks the Hamptons, and someone has to take the fall. The devastating turn of events call for desperate measures, as the Graysons form a united front, Emily grows more anxious, Ashley steps up for the family and Jack is no longer the only one wondering where Amanda has gone.

"Parks and Recreation" (8.30 p.m. EST on NBC) Leslie and Ben are caught off guard when her opponent Bobby Newport hires a powerful campaign manager (guest star Kathryn Hahn) from Washington. Chris forces Ron to start interviewing replacements for Leslie when work starts falling through the cracks, and an unlikely officemate solves a challenging problem.

"Family Affair" (9 p.m. EST on OWN) special presentation In this award-winning documentary, first-time filmmaker Chico Colvard offers an intensely personal examination of his own troubled family history. At 10 years old, Colvard accidentally shot his older sister in the leg. This seemingly random act detonated a chain reaction that exposed his sisters' sexual abuse and shattered his family. Thirty years later, Colvard ruptures the veils of secrecy and silence again, as he bravely visits his relatives and revisits the past.

"Awake" (10 p.m. EST on NBC) A poignant, powerful and deftly-crafted thriller, this high-concept series has an impeccable roster of talent involved, and is more than worth your time. When Detective Michael Britten (Jason Isaacs) regains consciousness following his family's car accident, he is told that his wife Hannah (Laura Allen) perished, but that his teen son, Rex (Dylan Minnette), has survived. As he tries to put the pieces of his life back together, he awakens again in a world in which his wife is very much alive, but his son Rex died in the accident. In order to keep both of his loved ones alive, he begins living two dueling realities. Trying to regain some normalcy, Michael turns to his work of solving crimes in both worlds with the help of two different partners. He begins to solve impossible cases by using his dueling realities to gain unique perspectives and link clues that cross over from world to world.

"The Break" (8 p.m. EST on MTV) 90-minute special presentation Today, over 1.5 million youth in America are living in various states of homelessness based on all sorts of circumstances. "The Break," produced by U2 guitarist The Edge, introduces viewers to three young people who refuse to give into the despair and overwhelming weight that landing on the outskirts of society has placed upon them. The documentary dives deep into the journeys of these three young individuals as they take steps to rebuild their lives once they are provided with the tools and guidance necessary to begin to emerge out of homelessness and rejoin society.

"A Gifted Man" (9 p.m. EST on CBS) season finale In what could be the medical drama's series finale, Michael learns that a patient at the clinic has a special connection to Anna. Meanwhile, Michael reunites with an old friend who is suffering from a rare illness.

"Spartacus: Vengeance" (10 p.m. EST on Starz) Spartacus urges his restless rebels to train for the defense of their new sanctuary. Lucretia and Ilithyia seek comfort from each other, while Glaber's forces swell with some deadly new recruits.

"Q'Viva! The Chosen" (8 p.m. EST on Fox) series premiere Entertainment icon Jennifer Lopez, international music star Marc Anthony and world-renowned concert director Jamie King embark on a transcontinental journey through 20 countries to discover the most outstanding Latin singers, dancers, musicians and other amazing performers. After traveling the globe, Lopez, Anthony and King will bring the chosen ones back to the States to prepare each participant for the most important performances of their lives. The show will showcase their talent and celebrate Latin music and performance arts.

"Once Upon a Time" (8 p.m. EST on ABC) Unlikely allies Mary Margaret and Leroy team together for a good cause to help the Storybrooke nuns sell their candles during the town's Miner's Day festival. But Leroy makes a promise to a nun, Astrid, that he may not be able to keep; and Emma looks into the mysterious disappearance of David's wife, Kathryn. Meanwhile, in the fairytale land that was, Grumpy finds forbidden love with a beautiful, but clumsy fairy named Nova (guest star Amy Acker).

"Army Wives" (9 p.m. EST on Lifetime) two-hour season premiere Season 6 begins with the tribe preparing to leave Fort Marshall, but Roxy isn't prepared to move. Meanwhile, Joan prepares the fort for a hurricane; and Denise and Frank celebrate Molly's first birthday.

"GCB" (10 p.m. EST on ABC) series premiere Amanda Vaughn (Leslie Bibb), once the ultimate high school "mean girl," is forced to return home in disgrace after her marriage ends in scandal. Reluctant, but desperate, Amanda has no choice but to turn to her mother, Gigi (Annie Potts), for help. Gigi, the quintessential proper Dallas socialite, wants nothing more than to have Amanda back and to give her two teenage grandchildren a good southern upbringing. The problem is that Amanda is nothing like the girl she was 20 years ago and is hesitant about re-entering this world of opulence, status and salacious rumor mills. She is hopeful for a new start, but soon finds it's not that easy to escape your past in this tight knit community, and the women of Dallas are none too happy to see her back in town.