Victor Enrich was ten years old when he started to draw unreal cities. After working in the field of architectural visualization, Enrich turned his imagined cityscapes into photographs of surreal urban spaces.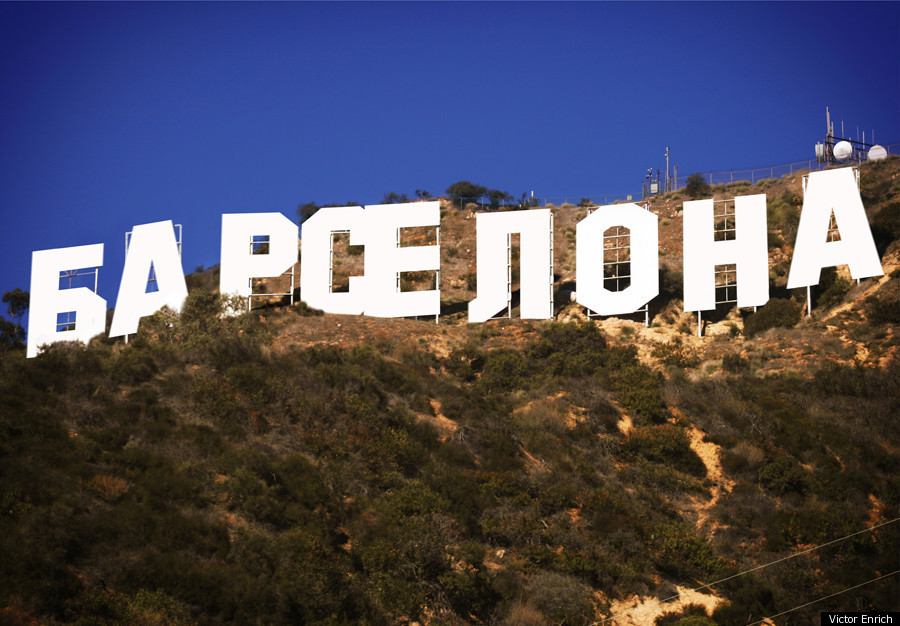 In Enrich's world, buildings zip open down the center, stick out their tongues, bend like accordions... yet each magical image has a concrete and specific meaning. "Barnawood," for example, pays tribute to the increasing cheap tourism in Barcelona and the Russian mafia deals that pervade the city. As a result, Enrich revamped the HOLLYWOOD sign to say BARCELONA in Russian.
The Barcelona-born artist considers himself an eternal traveler, and his pieces thrive off the unknown possibilities of exploration. From iconic buildings in Tel Aviv to the gaudy heart of Munich, the photographer upends our expectations of a place. They remind us of a lighter version of David Tautrimas' apocalyptic wastelands.
Check out Enrich's metropolises of the mind below (along with his explanations), and let us know what you think of these architectural feats in the comments section.
"Vef Remonts" 2007 120 x 120 cm ( 47" x 47" ) This picture shows the massive VEF "Valsts Elektrotehniskā Fabrika" (State Electrotechnical Factory) in Riga, Latvia, where I lived for three years. This is one of the buildings of the industrial area where my squad was located. For a long period we didn't have showers in the squad -- it became a little nightmare, so I had to sign up to a gym located a 30-minutes walk from our place. The picture is shot in this walking way. I always imagined a 200-meter-long swimming pool (with showers) at the top of the building under a kind of Cryptonite glass roof.

"Reval City 2" 2007 100 x 145 cm ( 39" x 57" ) Taken from the window of my first apartment in Riga, near downtown. The picture is the second of a series of four in which I played with infinite replications -- like an invasion -- of one of the most iconic buildings of the city, the Reval Hotel Latvija. A 90-meter-high glass tower renovated in the 90s by Sarma & Norde architects. That building was my first impression every morning, I couldn't take it out of my mind.

"52 Towers" 2007 136 x 100 cm ( 64" x 39" ) In the first of my short trips to Helsinki, while living in Riga, I accomplished one of my dreams: To be in one of the shooting spots of the Jim Jarmusch movie, "Night on Earth," which is the Helsinki cathedral and the square in front of it. Another building that caught my attention was the 90-meter-high panoramic tower next to the 1952 Olympic Stadium. I decided to put these two big examples together in one picture.

"Looping" 2008 132 x 100 cm ( 52" x 39" ) This picture relates to a bridge that was being built in southern Riga: A mastodonic infrastructure that nobody had requested in town and that probably served for the evasion of hundreds of millions to the pockets of few ones. In those years, Riga was entering what became their biggest economic crisis in their short capitalistic history.

"Million" 2009 139 x 100 cm ( 55" x 39" ) Already in Israel, this picture shows the Hilton hotel (now belonging to another chain) located nearby the Independence Park in Jerusalem. The shot was taken in the Gay Pride day, to which I gave support (in Jerusalem!!! Can you imagine?) It is inspired in the metallic structures located at the rooftop of two buildings of Downtown Los Angeles, famous for their appearance in one of my favorite movies, The Million Dollar Hotel" by Wim Wenders.

"Shalom 1" 2009 136 x 100 cm ( 53" x 39" ) The first of the series of two dedicated to the Shalom tower. A massive concrete building dominating the old town of Tel Aviv. Its aggressive shape reminds me of a zip, on it's side...so I couldn't resist the temptation of unzipping the building down.

"Shalom 2" 2009 132 x 100 cm ( 52" x 39" ) The second picture, shot from a rooftop in the Old Town of Tel Aviv.

"Mailpark 2" 2010 100 x 131 cm ( 39" x 52" ) Tel Aviv is known as the "white city." It is simply incredible how constrained the architects are in town when it's time to build something up. Everything HAS to be white or whitish. However, in Tel Aviv, everything is not white. The mail boxes are red. So I decided to add some red to the city. This is the second picture of the series, shot from the 15th floor of the bank Leumi tower on Rotschild Boulevard.

"Opera" 2010 120 x 120 cm ( 47" x 47" ) Few exceptions in the White City can be found. One is the New Opera Tower, located near the Tel Aviv Opera. A glass facade modern office building, totally in blue. In order to magnify the blue, I thought of adding some light orange stuff, as it's its complementary color. As well, I though also of emphasizing the prim by subtracting from it some clean spheres...

"Tongues" 2010 120 x 120 cm ( 47" x 47" ) This is a picture of a Bauhaus building; not a simple one, but the one closest to my living place. I was looking at it, day after day, until I decided to break its Germanic Order into something more comic or childish. Playing with balconies was decided by me as the operation to apply on it. Tel Aviv enjoys the largest Bauhaus Style building collection in the world.

"Horny" 2010 134 x 100 cm ( 53" x 39" ) This picture is just a potpourri of ideas. While it was being done, in Catalunya, my homeland, was being decided by politicians to avoid bull fighting forever within our regional boundaries (not in the rest of Spain, where this atrocity still takes place). This picture also refers to all the nuances that the word "Horny" has in itself.

"Mersand" 2010 129 x 100 cm ( 51" x 39" ) My favorite coffee shop, the Cafe Mersand -- with its original furniture of the 50s, when was founded. It is the Mecca of the left wing intellectual scenario of the city of TLV. As an example: Waitresses working in there study all kind of master or 3rd degrees of some very interesting subjects. It is the maximum expression of the Tel Aviv Bubble, which refers to the special energy that flows in the city apparently not aware of all the conflicts that are taking place with Palestinians just few miles away. I decided to implement this Bubble concept by isolating the building on top of a rock, in the middle of a desert. The Israeli desert...my favorite place. Thanks, Avi!

"Defense" 2011 120 x 120 cm ( 47" x 47" ) This picture is quite explicit. The Tel Aviv bubble is, at the same time, the center of the Hagana, which is the ministry of Defense, founded by civilians in the years of the Independence of Israel. It is just a reminder of what Tel Aviv really is, a gun pointing eastbound. The chosen building was perfect for this operation.

"Orchid" 2011 120 x 120 cm ( 47" x 47" ) The Orchid Hotel probably is the ugliest seashore hotel of all. It incorporates what is the typical hotel structure in town: Entrance from the back, emergency staircase at the back as well, and rooms located 90 degrees from the sea. (Perfect!!) I thought that could be funny to use the staircase not to escape from the hotel but to escape from this concept of mass tourism.

"Tango 3" 2011 134 x 120 cm ( 53" x 47" ) The third picture of the Tango series. A building that reminded me of a "bandoneon." That lovely tiny instrument used in Tangos and Milongas.

"Medusa" 2011 124 x 120 cm ( 49" x 47" ) Another picture of the Orchid Hotel, but from the other side. The balconies try to reach the best view towards the sea. Those days I was swimming in the beach every morning, and one day I got attacked by a giant jellyfish.

"Tuna" 2011 120 x 161 cm ( 47" x 63" ) This is the Water Company building (Mekorot). In its ground floor there's the café Tachzit, another of the hot spots of the Tel Aviv way of life. Actors, intellectuals and celebrities can be easily found here. I decided to roll the building showing it's boring interior, and it's bureacracy. The rolling system was chosen as the operation to apply, inspired in the old tuna fish cans and the Torah rolls.

"Deportation" 2011 120 x 129 cm ( 45" x 51" ) This is a left-on-purpose unfinished picture due to the fact that I got deported from Israel in june 2011. It will be finished when I will be back, hoping that they will let me in again. Date in which, after finishing it, will get it's original name, which is "Attention." The picture transforms the three Aizrieli towers into three massive megaphones that eject the sound of a siren. Siren sounds are quite impressive in Tel Aviv, at Holocaust day, and during Memorial day. Everybody stops, even cars, the energy is so high. (I got deported because the ministry of Interior considered my artistic activity as a kind of "job," to which I was not allowed with a tourist visa...what a pity.)

"Barnawood" 2011 100 x 138 cm ( 39" x 54" ) Still shocked by the recent events in my life I made an exercise about the process of transformation of my home town, Barcelona, into a mecca for Russian (and other mafias) dirty money. I thought interesting picking up the iconic Hollywood sign as the word has exactly the same length than Barcelona, nine letters. But it should written in Russian, of course.

"12 Ugly ducks" 2012 154 x 203 cm ( 61" x 80" ) Munich has become my next destination, where I live right now, interesting coincidence (from the heart of Judaism to the former Nazi headquarters). This picture refers to the contrast of a poorly detailed rational apartment building surrounded by two examples of abuse of decoration and facade richness. I thought that with a simply retraction of this simple building, we could show that those Rococo buildings are not really so beautiful, as they have side walls too, or in other words, things to hide.

"Manuela is getting late" 2012 140 x 140 cm ( 55" x 55" ) My last picture dedicated to my private German teacher. She is Italian, from Asti, the city with the best wines of the world. She is serious, committed and always on time...except for one single day. I found this fact to astonishing that I decided to turn our opposite building upside down...as this is actually something quite hard to find as well.