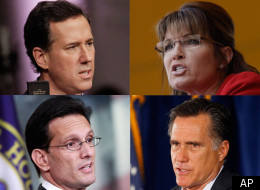 The death of Andrew Breitbart on Thursday prompted an outpouring of reaction from the political community.
The conservative blogger and journalist passed away suddenly Thursday morning, sending shockwaves through both the media and political worlds. According to Breitbart's website Big Journalism, he died of natural causes at age 43.
"Andrew lived boldly, so that we more timid souls would dare to live freely and fully, and fight for the fragile liberty he showed us how to love," his site wrote Thursday.
A number of politicians and pundits, conservative and liberal, have spoken out since the news of Breitbart's death broke. Read their reactions in the slideshow below:
Reactions To Andrew Breitbart's Death
Former GOP presidential candidate and Rep. Michele Bachmann (R-Minn.).

GOP presidential candidate Mitt Romney.

Former GOP presidential candidate Herman Cain.

House Majority Leader Eric Cantor (R-Va.).

RNC Chairman Reince Priebus.

GOP presidential candidate Newt Gingrich. More here.

Former DNC Chair Donna Brazile.

GOP Presidential candidate Rick Santorum also sent his condolences via twitter.

Former Alaska Gov. Sarah Palin (R) wrote in a Facebook post: We are all stunned and saddened by the news of Andrew Breitbart's passing. Andrew was a warrior who stood on the side of what was right. He defended what was right. He defended the defenseless. More here.

Grover Norquist President of Americans For Tax Reform tweeted his reaction to Breitbart's death.