Eric Schneiderman Joins Push To Add Marriage Equality To Democratic Party Platform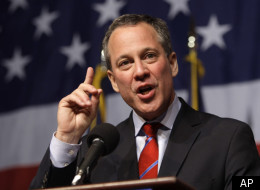 WASHINGTON -- New York Attorney General Eric Schneiderman has become the latest high-profile Democrat to sign on to the campaign to get the Democratic Party to endorse marriage equality in its 2012 platform. He is the first attorney general to publicly support the effort.
"As a result of marriage equality in New York State, every man and woman will be treated equally in our county clerks' offices, courts, and administrative agencies. But there are obstacles on the federal level that stand in the way of full equality for all New Yorkers," Schneiderman wrote in a letter to the Democratic Party Platform Drafting Committee provided exclusively to The Huffington Post.
"Because the Democratic Party has a noble history of fighting for the human and civil rights of all Americans, it is time to hold true to this record and add to the Party's legacy by supporting the freedom to marry for all couple," he added.
According to Freedom to Marry, which is leading the "Democrats: Say I Do" campaign on the issue, Schneiderman will work to encourage more of his counterparts in other states to join on.
"We are grateful to Attorney General Eric Schneiderman for his stalwart leadership in helping end marriage discrimination in New York and for signing on to our effort to secure a freedom to marry plank in the Democratic Party platform," said Marc Solomon, National Campaign Director for Freedom to Marry. "Attorneys General know first-hand the injustices that same-sex couples face every day when they are denied the freedom to marry the person they love. We especially welcome General Schneiderman's leadership in enlisting Democratic attorneys general from across the country to join in this endeavor."
In July, Schneiderman challenged the constitutionality of the federal Defense of Marriage Act, which bars federal recognition of same-sex marriage. He argued that DOMA violates same-sex couples' constitutional right to equal protection.
The language that Freedom to Marry wants included in the platform states:
We support the full inclusion of all families in the life of our nation, with equal respect, responsibilities, and protections under the law, including the freedom to marry. Government has no business putting barriers in the path of people seeking to care for their family members, particularly in challenging economic times. We support the Respect for Marriage Act and the overturning of the federal so-called Defense of Marriage Act, and oppose discriminatory constitutional amendments and other attempts to deny the freedom to marry to loving and committed same-sex couples.
If the language is adopted, the party's platform would embrace marriage equality for the first time. In 2008, the platform stated, "We oppose the Defense of Marriage Act and all attempts to use this issue to divide us," but it did not explicitly call for the legalization of same-sex marriage.
In 2004, the platform condemned Republican attempts to pass a constitutional amendment barring same-sex marriage, but it also said the decision should be left to the states: "In our country, marriage has been defined at the state level for 200 years, and we believe it should continue to be defined there. We repudiate President Bush's divisive effort to politicize the Constitution by pursuing a 'Federal Marriage Amendment.' Our goal is to bring Americans together, not drive them apart."
The Democratic platform will be ratified at the party's national convention, which begins Sept. 3 in Charlotte, N.C.
White House Press Secretary Jay Carney recently said that President Barack Obama's stance on the issue os same-sex marriage continues to "evolve."
This past week, two of Obama's national campaign co-chairs Sen. Jeanne Shaheen (D-N.H.) and former Sen. Russ Feingold (D-Wis.), endorsed the "Democrats: Say I Do" campaign. House Minority Leader Nancy Pelosi (D-Calif.) has also voiced her support.
Schneiderman's Full Letter:
To the Members of the Democratic Party Platform Drafting Committee:

At our founding, what made America different from every other country that existed before was a commitment to an ideal that had never been advanced – that all are created equal, endowed by their Creator with the rights of life, liberty and the pursuit of happiness. Our history as a nation has been one of striving to make those words ever more true. Last year, New York rose to the challenge, and the rest of the nation ought to follow our lead and carry on this great American tradition.

As a result of marriage equality in New York State, every man and woman will be treated equally in our county clerks' offices, courts, and administrative agencies. But there are obstacles on the federal level that stand in the way of full equality for all New Yorkers. For example, the Defense of Marriage Act, which our office is challenging in court over its clear violation of the principle of equal justice under law as enshrined in the U.S. Constitution, interferes with New York's efforts to ensure equality for its citizens.

Because the Democratic Party has a noble history of fighting for the human and civil rights of all Americans, it is time to hold true to this record and add to the Party's legacy by supporting the freedom to marry for all couples.

I urge you to affirm the freedom to marry in the Democratic Party by including this plank in the platform discussion of families:

The Democratic Party supports the full inclusion of all families in the life of our nation, with equal respect, responsibility, and protection under the law, including the freedom to marry. Government has no business putting barriers in the path of people seeking to care for their family members, particularly in challenging economic times. I support the Respect for Marriage Act and the overturning of the federal so-called "Defense of Marriage Act," and oppose discriminatory constitutional amendments and other attempts to deny the freedom to marry to loving and committed same-sex couples.

As Attorney General, it is my responsibility to fight every day to defend the fundamental guarantee of equal protection under law for all New Yorkers. And it is my hope that the Drafting Committee will fulfill its responsibility to uphold the Party's proud commitment to justice for all by supporting marriage equality. I look forward to working with my colleagues across the country to make it happen.

Thank you.

Sincerely,
Eric T. Schneiderman
New York Attorney General