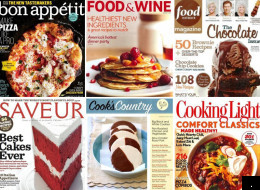 In previous iterations of our monthly food magazine round-ups, we've noticed various themes across several magazines. For March, this is not the case. The magazines are profoundly different, ranging from an entire issue devoted to chocolate (it's a really good one) to articles about snakeheads, bones and layer cakes. It's a rich crop, so click below to learn more:
We'll pretty much do whatever Jim Lahey tells us when it comes to dough, so his pizza on the cover is looking mighty tasty. Don't Miss: Actually a lot of the recipes are looking mighty tasty, such as the black sesame-pear tea cake and every single dish in the awesome modern comforts feature (but do we really need another recipe for brussels sprouts with bacon?). What to do if David Chang tells you he's coming over for dinner? It's no sweat, for Rene Redzepi that is. Last Call: The list of 2012 Tastemakers is not to be missed -- we bet you'll learn a few names you haven't heard of. Read Bon Appetit's March issue here.

Food & Wine's March issue is all about staying healthy. We found ourselves continuing to turn the pages despite our boredom with food magazines doing healthy food issue. Actually, this was one of our favorite Food & Wine's best issues in recent memories -- several feature stories were particularly strong. Don't Miss: Our Maryland roots make us absolutely love any feature story that has the phrase "the damned snakehead" in it. The photography and copy for Natural Curiosities At Home made us want to redesign our apartment, stat. And definitely want to check out the gorgeous glass dishes at Esque in Portland, Oregon. Last Word: Food & Wine wants you to get healthy, and the magazine enlisted some pretty great chefs to help you get your 21st century healthy pantry intact. We're keen to listen to 'em. Read Food & Wine's March issue here.

While Food & Wine may be going healthy, Food Network Magazine is all about chocolate. Interestingly enough, despite being on opposite sides of the health spectrum, both are stand-out issues. There is some excellent dessert porn in this issue, as the photography is particularly strong. Don't Miss: Since this is the chocolate issue, chocolate appears in unexpected ways -- in pasta, steak and even ice cubes. Along the same lines, some FNM editors tried to discover the foods that worked best covered in chocolate. Saltines and cheddar cheese are apparently some of the many options. Last Word: Many people complain that cakes are often hard to bake and turn out dry. But the recipes for Ron-Ben Israel's 4-layer cake, and this candy bar cake look super moist to us. Read Food Network Magazine's March issue here.

Get ready for some full-on layer cake porn for Saveur's March issue. But Ben Mims' cover story isn't all about the food -- it is also about family and the endurance of bittersweet memories. Don't Miss: There are a lot of great food and travel stories with accompanying recipes that go along: Transylvania, Venice, Iran... Last Word: The features are strong this issue -- definitely read this great ode to bones. And while you're at it, learn about baked beans and these beautiful Japanese candies too. Read Saveur's March issue here.

This issue of Cook's Country has a recipe for everyone, from easy suppers to complicated entrees. Don't Miss: You can bet we were intrigued when one recipe is billed as "the best potato dish you've never heard of." The guide to cured meats -- from bresaola to baloney -- is a great cheat sheet. Last Word: Who doesn't love a good Black & White cookie? Similarly, who doesn't want a faster way to make chicken broth? Cook's Country has got you covered. Read the March issue of Cook's Country here.

Comfort food can be healthy, says Cooking Light. We're inclined to agree after drooling over recipes from Jacques Pepin and the like. Don't Miss: The taste test of indian-Style simmer sauces helps one navigate an increasingly more crowded marketplace. And if we had to choose one recipe to make, it would probably be the grilled sirloin with anchovy-lemon butter. Last Word: Two especially helpful sections of March's issue were the Guide To Oils (think olive oil versus sesame oil) and Hashed, Mashed And Stuffed. New potato ideas are ALWAYS welcome. Read the March issue of Cooking Light here.