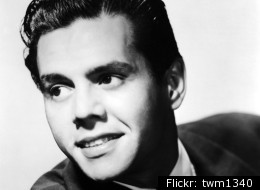 Desi Arnaz would have turned 95 years old this week.
Most recognized as the conga-playing Cuban bandleader on the television classic, I Love Lucy, Arnaz played the ultimate straight man to his wife and co-star, comedienne Lucille Ball during the show's six-year run.
And in a time when Latinos and people of color in general were largely absent from television, Arnaz was an unlikely television pioneer.
Born on March 2, 1917 in Santiago de Cuba, Desiderio Alberto Arnaz y de Acha III, was born into a life of privilege. His father was the city's mayor and his mother, the daughter of a Bicardi Rum company founder.
But in 1933 the U.S.-backed Batista revolution overthrew the Cuban government and forced his family to flee the country and seek political asylum in Miami, Florida.
Here, the young Arnaz mastered the guitar, joined a rumba band, and gained a following in the Miami nightclub scene with his Afro-Cuban beats; he is even credited for introducing the conga line to American audiences. He would later meet Ball during production of the 1940 film adaption of the Broadway musical in which he starred, Too Many Girls.
Ten years later, Arnaz and Ball would co-found Desilu Productions in Culver City, CA and eventually buy the studio where they met, RKO Pictures.
Although Arnaz was a successful recording artist and actor, many would argue that his greatest gift was as a producer, and at Desilu he fostered a culture of innovation that paved the way for the modern television sitcom, and the rerun.
In time for what would have been Arnaz's 95th birthday, Meredith Asher provided the following written statement on behalf of her husband William Asher, principal director of the I Love Lucy show to the Huffington Post:
Bill would say Desi Arnaz was the real brains behind the 'I Love Lucy' Show. Bill had such tremendous respect for him for standing behind [him] as the authority on the set and Lucy respected that Bill was the final authority as the director. As strong of a personality as Lucy appeared to be, she actually was glad to have a strong man, such as Desi and such as Bill, calling the shots.
Arnaz made "every important creative decision," wrote Douglas McGrath in the New York Times. In addition to casting veteran character actor William Frawley for the part of grouchy landlord Fred Mertz and the beautiful stage actress, Vivian Vance for the role of frumpy landlady Ethel Mertz, Arnaz was an astute businessman who served as the executive producer of I Love Lucy, and later, the The Lucy-Desi Comedy Hour and The Untouchables.
Desilu produced such TV classics as Star Trek, The Andy Griffith Show and Mission: Impossible.
According to McGrath:
It was he who wanted to put the show on film. (Until then, ''live'' shows were preserved on kinescope, a rudimentary technique, which has the warmth and depth of an image traced on foil.) It was he who wanted to do the show in front of a live audience. And it was he who persuaded the great cinematographer Karl Freund to devise for the first time what Freund originally told him would be impossible: the simultaneous shooting of wide shots, medium shots and close-ups as the show was played out in full view of a live audience.
But the success of television's favorite couple had its hurdles. For one thing, CBS was skeptical about the premise of the I Love Lucy show. Would the audiences believe that a "red-blooded American girl" married a Cuban-American?
On the 1955 variety program Toast of the Town hosted by Ed Sullivan, Arnaz recalls that time:
I think if it wouldn't have been for Lucy, I would've stopped trying a long time ago because I was always the guy that didn't fit. When she did My Favorite Husband on the radio, they said I wasn't the type to play the part. Then finally, she wanted to do the television show and she said, "Well, I wanna do it with Desi." So everybody again said, "Well, he's not right to play your husband." Finally, one executive at CBS said, "Well, maybe the audience would buy him, because after all, they have been married for 13 years."
The Monday night program was so popular, than when Lucy and Ricky Ricardo were about to welcome the birth of Little Ricky on the program, more than 70 percent of U.S. TV watchers (44 million people) tuned in to see the episode.

By 1960, the couple's marriage ended in divorce and Arnaz sold his share of the company to Ball. He retired to Del Mar, CA and later re-married. On December 2, 1986, Arnaz passed away in his home with his daughter Lucie at his side.
"Bill had tremendous love and respect for Desi and was just devastated when he died," writes Mrs. Asher.

SCROLL THROUGH THE SLIDESHOW BELOW TO SEE DESI ARNAZ OVER THE YEARS:
Publicity photo of Desi Arnaz, circa 1950. Photo Source: Wikimedia Commons.

Ball and Arnaz eloped on November 30, 1940 and were married for twenty years. In order to minimize their six-year age difference on the marriage certificate, Ball subtracted three years from her age and Arnaz added two to his. This photo was taken at Our Lady of the Valley Church in Canoga Park, Calif., June 19, 1949. - From the Lucille Ball and Desi Arnaz Collection, Music Division. Photo Source: Library of Congress.

The very funny foursome. Publicity photo of the "I Love Lucy" cast: William Frawley (Fred Mertz), Desi Arnaz (Ricky Ricardo), Vivian Vance (Ethel Mertz), Lucille Ball (Lucy Ricardo), undated. Photo Source: Wikimedia Commons.

"Badass Babalu." Not our title, but pretty accurate. This scene is from the Season 1 episode, "The Audition." Air date: November 19, 1951.

Who knew Desi Arnaz could do a Charles Boyer impersonation? Here he is as a celebrity contestant on the game show "What's My Line?" in 1956.

Publicity photo of Ball and Arnaz for The Lucy-Desi Comedy Hour, which ran from November 6, 1957 - April 1, 1960. Photo Source: Wikimedia Commons.

Publicity photo of Desi Arnaz Sr. and Desi Arnaz Jr. in the television special "California, My Way," 1974. Photo Source: Wikimedia Commons.

Director William Asher, editor Dann Cahn, and writers Bob Carroll Jr. and Madelyn Pugh Davis, among others talk about "I Love Lucy." Source: www.emmytvlegends.org

Desi Arnaz has two Stars on the Hollywood Walk of Fame. His star for contributions to television can be located on the south side of the 6200 block of Hollywood Boulevard. The other in honor of his contributions to motion pictures can be found on the north side of the 6300 block of Hollywood Boulevard.