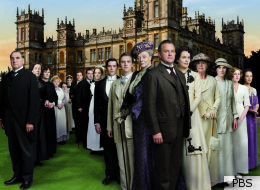 It may have taken two seasons, but "Downton Abbey" has finally permeated pop culture, thanks to a very clever rap, written and produced by Adam WarRock.
"Downton," which includes a sample from Lord Tariq & Peter Gunz's "Deja Vu (Uptown Baby)," has one catchy chorus, but we're not quite sure the Dowager Countess would aprove.
"If you're from where I'm from then you call it Downton/In the house like Lord Grantham/That's the damn anthem/Live the high life in the abbey we run/And we sip Earl Grey when the day is done."
"Downton Abbey" is currently filming Season 3 in the UK. Joining the British drama for the third season is Academy Award-winning actress Shirley MacLaine.
Take a listen to the track above. Can you get down with "Downton?"