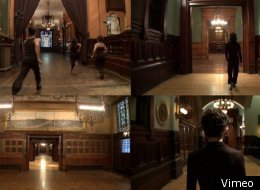 The Park Avenue Armory was built in 1886 for the military; in 2006, it began its five-year restoration process for the arts. A short film directed by Tapio Snellman and Jonathan Clabburn explores the repurposed space and the intricacies to come with it.
The New York State's Seventh Regiment of the National Guard built the Armory; the same regiment to respond to President Lincoln's 1861 call for troops. The massive building was designed by Regiment veteran and architect Charles W. Clinton as both a military facility and a social club.
As shown in the video, the space is extravagant, from the 55,000 square foot drill hall, down to the gold leafing details. Designed and conceptualized by Herzog & de Meuron, a Swiss architecture firm, the Armory has opened its doors to a myriad of art projects, such as dance recitals and music festivals. Find out more about their 2012 season here, including the upcoming ADAA: The Art Show.
Watch below for a video profile of the Armory:
Park Avenue Armory - Director's Cut from Tapio Snellman on Vimeo.