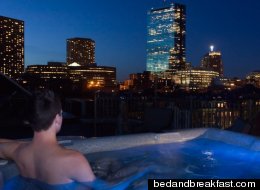 Everyone has watched this scene: The alienated traveler enters a cold cliche of a hotel room and stares out at the unblinking lights of the monolithic city. Too often, the audience empathizes with this character rather than scolding him for being a fool. There is no reason to feel alone in the crowd and simple ways to avoid becoming that guy. One easy trick, eschew the big hotels in favor of an urban B&B.
BedandBreakfast.com has released its survey of the world's best metropolitan guesthouses and the results make a persuasive argument for finding a room that offers luxury without anonymity. It feels better, after all, to ask an innkeeper for local advice over breakfast than it does to solicit wisdom from the concierge. Though there is nothing wrong with a big hotel, there is a lot to be said for being immersed in a more neighborly environment, for being a tourist while enjoying the lifestyle of a local.
And it isn't exactly like these luxe properties demand that travelers rough it or compromise. They offer amenities of all kinds and personalized service to boot. Whether your in Boston, San Francisco or Paris, consider forgoing room service in favor of personal service.
Photos and captions courtesy of bedandbreakfast.com
Experience life in the heart of Le Marais district of Paris when you stay at Bonne Nuit, a B&B originally built in 1609 that still maintains a feeling of "old Paris." It's located on the right bank, just across from The Latin Quarter, and full of architectural marvels. You'll be within easy walking distance of a large variety of cafes and restaurants, cinemas, bars, jazz clubs, and museums such as the Louvre and Musée d'Orsay. It's also walking distance from Notre Dame Cathedral, Opera Bastille, Saint Paul Village, and local markets. The Metro and bus stops are just a few minutes' walk from the inn, which can take you on a short ride to other sites such as The Eiffel Tower, Moulin Rouge, and Champs Elysées.

Situated on the border of Soho and Tribeca, this 1826 Canal House is the perfect place to experience authentic New York City while still having a peaceful place to retreat when you're done exploring. The inn is within easy walking distance from the unique neighborhoods of Greenwich Village, Soho, and the East Village. It's surrounded by five-star restaurants and is just a block away from parks, tennis courts, and beautiful sunsets at the Hudson River Park. The inn shares a building with the Canal Park Playhouse, downtown's newest venue for theater and cabaret. Profits from your stay at the inn help support the Playhouse. Each morning, you'll get to enjoy a free breakfast in the playhouse's café.

Stay in the heart of downtown Vancouver at O Canada House. It's set in one of the West End's most historic buildings; it's the place where Ewing Bunchan wrote one of the first English versions of Canada's national anthem in 1908. The B&B is just minutes from the town's best shopping, dining, performance centers, beaches, and tourist attractions. In less than a 15-minute walk, you can be in Stanley Park, Gastown, Yaletown, Kitsilano Beach, Chinatown, and many other amazing areas in this exciting city.

Embassy Circle Guest House is a renovated former embassy in one of the city's most popular downtown neighborhoods, Dupont Circle. It's a safe and convenient area that serves as a perfect home base for exploring the nation's capital. The inn is also right on the border of Georgetown, and both neighborhoods are very walkable, with tons of gourmet restaurants, art galleries, shops, and architectural treasures. It's a short five-minute walk from the inn to the Dupont Circle Metro station, from where it's a quick ride to all of the city's other major landmarks and museums.

This historic inn was originally built in 1875 as a bordello and saloon, then functioned as a speakeasy in the 1920s. The European-style B&B is at the junction of the lovely Presidio Heights, Pacific Heights, and Laurel Heights neighborhoods. It is only two blocks from Victorian shops, Vogue Theatre, award-winning restaurants, and Sacramento Street's antique stores. It's also within walking distance from Union Street and Fillmore Street.

It's hard to beat this inn's location in downtown Boston's South End, set in a historic district of 19th century townhomes. It's only steps from theaters, shops, and tourist sites. You'll be only minutes away from Copley Square, the Boston Public Garden & Common, Freedom Trail, Fenway Park, the Isabella Stuart Gardner Museum, and much more. From the rooftop hot tub, pictured to the left, you can see incredible views of the city's skyline. The historic property was originally built in the 1860s, and while it still maintains some of its historic charm, it features stylish modern décor.

Located in the center of Chicago's trendy Lincoln Park neighborhood, the inn is just steps away from the city's best shopping district, fine dining, and nightlife. When you're done exploring, retreat to your luxurious and modern room in this Tuscan-style villa. You can also relax in the on-site theater, private grotto, or spa and sun deck. The inn offers concierge service that can book sports tickets, restaurant and club reservations, and concert tickets for you. If you're looking for some fun nightlife, the inn also offers exclusive table reservations for V.I.P. lounges and clubs.

Enjoy being a short walking distance from some of Houston's best restaurants and entertainment venues. La Maison is conveniently located in the popular Midtown neighborhood, but manages to offer a relaxing and peaceful environment. The newly-constructed inn has seven luxurious guest rooms with European flavor. Relax on the veranda overlooking the downtown skyline. It's a close drive to the Theater District, the Museum District, major sports venues, downtown, the Galleria, and more.

Stay in an incredibly convenient area in Central London for a reasonable price at Parkwood at Marble Arch. Located in a Regency townhouse in the exclusive Connaught Village, the inn is just across the street from the beautiful Hyde Park. It's only a minute from Marble Arch, which is the start of Oxford Street, which has a mile of shopping. You'll also be in easy walking distance from Buckingham Palace, Kensington Palace, and the famous West End theaters.

This guesthouse is in the heart of historic Amsterdam, next to some of the most beautiful canals and only a three-minute walk to the central station. The B&B is located in a typical Amsterdam canal house originally built in 1777, but it has been fully renovated and features unique tropical décor. It's a quick walk to great restaurants, coffee shops, boutiques, art galleries, and more. It's also next to the Jordaan quarter, which has Anne Frank's house and markets.