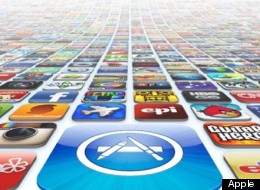 Someone is about to win $10,000.
Just over two weeks after announcing a countdown to 25 billion app downloads, Apple has revealed that the milestone has been reached.
The company announced the countdown on February 17, saying that the person who downloaded the 25 billionth app would win a $10,000 gift card credit.
The credit can be used in the iTunes Store, the App Store and the iBooks Store, meaning whoever wins could purchase around 10,000 new songs for their library, or, according to The Huffington Post, 10 copies of the $999.99 BarMax CA app. BarMax is essentially an entire bar exam prep course in one huge (over 1 gigabyte) application.
As of this writing the winner had not been announced, but according to Apple's website, a winner will be posted there later.
On February 18, Apple's countdown clock had recorded 24,338,612,000 app downloads, which means that it took just over two weeks for customers to download over 660 million applications, which as The Next Web reports, works out to about 48.6 million per day.
In comparison, about 11 billion apps have been downloaded from Google's Android Market, and about 2 billion from BlackBerry's App World store.
The contest may be over, but there are still apps to be downloaded. Check out 10 essential iPad apps in our slideshow below.

10 Apps To Download On Your New iPad
You're going to want to do a lot of reading on your iPad -- and not just book-reading, either! Instapaper is a handy utility for saving articles from webpages for clean, ad-free viewing on your iPad later. You can save an article from anywhere -- your laptop, your iPhone, or your iPad itself -- and it saves the text of that article to your Instapaper account for you to access later from your iPad. A great way to collect and read interesting writing from the web on your new tablet. Download Instapaper here. ALTERNATIVES Read It Later is a popular Instapaper alternative.

Twitter's iPad app features one of the best and most simple interfaces of all the major website apps -- an easy, attractive way to sort, read and send out your tweets, write direct messages, sort your lists, and do everything else you would expect to be able to do on Twitter.com. Download it here, and after you do, follow @HuffPostTech and @gilbertjasono on Twitter, why don't you? ALTERNATIVES Tweetcaster($4.99) and HootSuite (FREE) are popular Twitter suites with apps custom-made for the iPad.

Facebook (finally) came out with its iPad app in October of this year, and though it has its detractors and bugs, it does represent the best way to access the world's largest social network on your iPad. And hey, if you liked the look of Twitter's interface, you'll...equally like that the look of Facebook's interface, as they are remarkably similar. Download it here (and like HuffPostTech on Facebook here!). ALTERNATIVES Perhaps you'd prefer to surf Google+? Alas, we're still waiting on the official Google+ iPad app from Google.

Surprise! There's no alarm clock on the iPad. If you were hoping to use your new tablet as an alarm (and you live in a neighborhood without whistle tips), you'll need to snag one from the app store. We like Nightstand Central, a well-designed, free app with a split-flap clock that gives you the time and the weather in glorious full-screen mode. Download it here. ALTERNATIVES There are lots! Waku has a cute one with animated monsters, and the popular Ambient Alarm features a relaxing "color changing mood light option."

Apple's #1 news app of 2011 is Zite, which is kind of like a Pandora for news reading. You begin by inputting your Google Reader, Twitter, Delicious or Read It Later profiles and then Zite creates your magazine for you in a simple and elegant single screen. You can give a thumbs up or thumbs down to any article you read, and Zite's article recommendations for you grow smarter and more personalized over time. Download it here. ALTERNATIVES Flipboard is a tremendous, beautiful Zite competitor in the personalized magazine space. Google recently launched its own newsmagazine called Currents; Aol (which owns Huffington Post) also has a magazine-style newsreader called Aol Editions.

Amazon's Kindle app is our favorite book reader, beating out Apple's iBooks and Barnes and Noble's Nook app. It's especially useful if you already own a Kindle and you've just upgraded to an iPad, as the books you've already bought on the Kindle can be redownloaded to your iPad free of charge. Note that you can only actually download books on Amazon.com or on your Kindle, not directly on the Kindle iPad app; you can only do that on iBooks. Download it here. ALTERNATIVES The aforementioned iBooks and NOOK apps are both free; Google also has a free iPad app for its Books.

The iPad does not come with a native weather app; The Weather Channel's iPad app looks great, loads fast and gives you the weather. What more could you want from a weather app, really? Download it here.

Your iPad comes pre-loaded with YouTube, yes, but for a more visually-pleasing way to view and find new web videos, check out the excellent Showyou app. It aggregates all the videos in your social media streams (Facebook, Twitter, Reddit, etc.) into one swipe-able screen. A great user experience made just for the iPad. Download it here.

The app is free, and recently redesigned, but you'll need an $8/month streaming subscription to enjoy Netflix's library of movies and TV shows on your iPad. But if you're one of over 20 million who already have that subscription -- well, stream away. Download it here. ALTERNATIVES There are lots of terrific apps for watching movies and TV shows on your iPad (See our 11 favorite free ones here). Try Crackle for free, unedited content from Sony; the ABC Player has full-lengthTV shows from ABC; PBS also has a bunch of documentaries and shows on its app for the iPad. Hulu Plus subscribers have their own app; if you subscribe to HBO, you probably also have access to HBO Go, which also has its own app.

If (God forbid) you were to lose your iPad or have it stolen, you're going to want to have Find My iPhone running. It's a free app from Apple that runs through its iCloud service and can pinpoint your device's location on a map, which you can see any time at iCloud.com. This is an app that takes a couple minutes to install and it could save you several hundred dollars (or hours digging around your home searching for your dang tablet). Download it here.