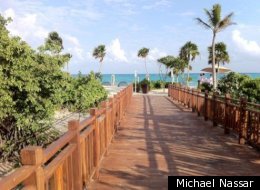 No two people go on the same vacation. Depending on who you're speaking to, a trip to Mexico can be a relaxing beach getaway, or an adventurers hiking sojourn. And because different travelers view the same spots across the world with different eyes, we were elated to see these very different vacation photographs from four of our community members.
Each of the photos below feature the same great location: Mexico.
What does Mexico look like through your travel eyes? If you have a spectacular travel photo, or a destination you'd love to see split four ways, send us a tweet to @huffposttravel for the next feature!
"Last week, I was in San Miguel de Allende," says Gina Hyams sharing her delicious Instagram photo of seasoned mangos and jicamas on sticks and a colorful heap of garbanzo beans.

While Gina was enjoying a street snack in San Miguel de Allende, Michael Nassar was taking a beach break. "Last week in Playa del Carmen - I wish i was back there right now!" he told HuffPost Travel.

Marianne Schwab went the adventure route on her trip to Mexico, sharing with us a perfect photo featuring the Coba Maya ruins in the Yucatan against a beautiful blue sky.

On Twitter we fell in love with this sunny and dreamy photo by the similarly handled 'travel_bugg' who told us, "I was there in January! Going back in two weeks!" Her photo of the Malecon is unmistakably a gorgeous water photo with a spark of life running through it, as a salesman wanders the embankment with piles of colorful balloons under the shade of a towering palm tree.