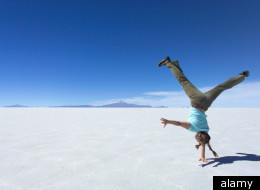 Do you love to dance in the rain or juggle at parties? You might be a free sprit!
Inside College's panel of experts recently named the most free-sprited colleges, or as they described it, schools where those who "wear a tutu to school and don't notice (or care) about...funny looks" can just have fun!
Check out our list of the most free spirited colleges, then tell us, are you a free-spirit? Weigh in below!
Bard College can be found in Annandale-on-Hudson New York. Members of the rock band Steely Dan attended the school in the late 60's.

Beloit College is located in Beloit, Wisconsin.

Bennington College is situated in Bennington, VT. Fun fact: Bret Easton Ellis went there!

Brown University is located in Providence, Rhode Island, HuffPost College 1's hometown!

College of the Atlantic is located Bar Harbor, ME.

Colorado College is located in Colorado Springs, CO.

Deep Springs is only two years long, and all-male. It is located in Deep Springs, California.

Earlham is a Friends school that is located in Richmond, Indiana.

Evergreen has no grade, only narratives. True story.

Grinnell is famous for its open curriculum and located in Iowa.

Guilford situated in North Carolina.

Kalamazoo has the most Peace Corps volunteers per capita!

Lewis and Clark is in Portland Oregon. Fun fact: It is named after explorers.

Macalester College is in St. Paul MN. Fun fact: Walter Mondale is an alumnus!

Marlboro is located in Vermont. True Life: It was founded for WWII vetrans!

NYU is located in New York City!

Pitzer is part of the Claremont Colleges.

Reed College is in Oregon. Steve Jobs is an alumnus.

Previously an all-women's college, Sarah Lawrence is located in New York.

Skidmore is located in New York state.

The Santa Fe campus of the Maryland school.

The oldest school in the California higher education system.

Vassar is located in New York.