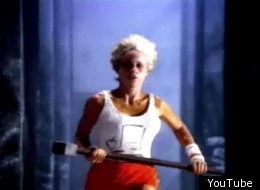 Apple's famed "1984" ad, which introduced Apple's Macintosh computer for the first time, is one of the most famous TV commercials of all time.
The ad is modeled on George Orwell's book of the same name and depicts IBM users as mindless, gray robots who can only be saved by an Iconoclast, i.e. Apple, represented here as a beautiful woman who rebels against Big Brother by hurling her hammer through his giant onscreen image.
The spot concludes with the words "On January 24th, Apple Computer will introduce Macintosh. And you'll see why 1984 won't be like '1984.'"
Despite the commercial's enduring fame -- Rick Santorum recently copied it for a campaign commercial -- according to an AdAge interview with Apple's "first marketing guru" Regis McKenna, it failed at its primary purpose, which was to sell Macintosh computers. McKenna, whose firm was the first to handle Apple's advertising and PR needs, told Ad Age:
The ad was more successful than the Mac itself. The Mac was expensive to build, and Apple's margins went negative in 1986. That conflict led to Steve's ouster from Apple[..] The ad set an attitude of rebellion against the status quo, and it probably continues to serve Apple today.
While it may not have been able to combat the Mac's issues, the commercial is broadly credited with establishing Apple's brand identity as that of an opponent to the status quo. With its big name Hollywood director (Ridley Scott) and huge production costs, the ad, which aired during the Super Bowl, also set the bar for the Super Bowl ads that we still enjoy today.
As CNET, which wrote about the 25th anniversary of "1984" in 2009, points out, the ad has become more and more ironic as Apple products like the iPhone and iPad gain a more and more cult-like following among fans. With each Apple release, the lines get longer, the black market prices get higher and the glazed-eyed masses willing to trample each other for a phone, look more and more the same. "As critics of the 'Apple cult' have pointed out, they seem to be willing to believe their fearless leader's every word," CNET writes.
Check out our slideshow below to see 11 more memorable tech ads, and read Ad Age's full interview with McKenna -- which includes his take on marketing startups, Apple's "antennagate" uproar, and the Steve Jobs biography -- right here.
11 Most Memorable Tech Ads(CLONED)
This heartwarming commercial for Google originally aired during the 2010 Super Bowl. Not only does it manage to depict Google as the door through which all of your goals will be realized, but it brings that warm fuzzy connectivity thing into the sometimes antiseptic world of search. The commercial leaves viewers happy, wistful, and imagining a world in which the only thing standing in the way of them and their Parisian girlfriend is the right search phrase.

Web-hosting company Go Daddy is known for risque ads that feature scantily clad women who are both nice to look at and likely to physically hurt you if you look too long. Go Daddy Girls, as they are known, have included professional wrestler Candice Michelle, race car driver Danica Patrick, fitness trainer Jillian Michaels, and of course Joan Rivers the most dangerous of them all. As Go Daddy CEO Bob Parsons wrote on his personal blog, a "Go Daddy-esque" ad is "fun, edgy and a bit inappropriate."

This controversial commercial first aired during the 2011 Super Bowl. According to AdWeek, it was meant to parody celebrity cause commercials, while calling attention to the plight in Tibet, and introducing consumers to the fact that Groupon started as a platform for social causes. Instead of doing any of those things, many thought the ad came off as mean-spirited and exploitative.

This poignant commercial first played in 1999 at the height of the dot-com bubble. In the commercial kids talk about what they want to be when they grow up, but instead of naming aspirational professions like "astronaut" and "President," they reference jobs that are far more mundane, saying things like, "When I grow up, I want to file all day. I want to be forced into early retirement." More than ten years later, the monotonous jobs they were making fun of don't seem so bad. If the commercial was made today it might be shorter: "When I grow up I just want a job."

This ad for HP-owned Electronic Data Systems first aired in 2000. The commercial compares the difficulties of herding cats -- scratching, shedding, refusing to do what you want them to do -- to the difficulties of running a global business and technology services company. We'll have to take their word for that.

To make this 2005 commercial for Sony's Bravia TV line, Danish director Nicolai Fuglsig released 250,000 bouncy balls on the biggest hill in San Francisco and hoped for the best. The resulting footage, set to Jose Gonzalez's always wonderful cover of "Heartbeats," is beautiful, and strangely calming considering what must have been a chaotic day of filming.

Apple's "Get A Mac" ad campaign ran from 2006 to 2009 and included 66 different interactions between a PC, former Daily Show Correspondent John Hodgman, and a Mac, actor Justin Long. In this particular commercial, the PC holds a guitar and sings "The Vista Blues" a sad song about the negative reaction to Windows Vista: "Vista's got issues/It's so glitchy/They're leavin' me for Mac."

This Jerry Seinfeld/Bill Gates collaboration was launched in 2008 as part of a $300 million Microsoft ad campaign aimed at combating negative reactions to Windows Vista. Unfortunately, Seinfeld and Gates had none of the chemistry of the previous slide's duo. Instead, the ad seemed forced, confusing, and generally awkward. So much so that Microsoft actually released an explanation of what the ad meant: After seeing the new ad from Microsoft, which debuted today, some may wonder what Jerry Seinfeld helping Bill Gates pick out a new pair of shoes has to do with software. The answer, in the classic Seinfeld sense of the word, is nothing.

Commercials with good music are always, well, good. Apple's people-dancing-to-their-iPods commercials aired from 2003 to 2009, and are credited by some for having revitalized the Apple brand by making the iPod a cultural icon. Artists whose music has been featured in iPod/iTunes commercials include Jet, U2, Daft Punk, Eminem, and Gorillaz

This 1997 Intel commercial, is probably as exciting as a commercial for a computer processor can get. The outfits are shiny, the dance moves are dorky, and the whole thing is set to Wild Cherry's "Play That Funky Music." What else do you want from a tech commercial?

The actor and comedian Michael Ian Black brought the Pets.com mascot to life for the first time in a commercial during the 2000 Super Bowl. The ad featured a sock puppet dog who wears a watch around his neck and spreads the good word to pets who are trapped at home. According to an article in Business Insider, the ads are an example of a mascot that became more popular than the company it represented. Pets.com went out of business in 2000, but auto loan lender BarNone bought rights to the puppet for $125,000.