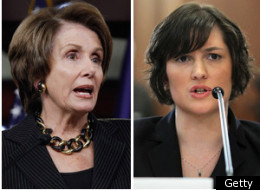 After being called a "slut" by Rush Limbaugh, Sandra Fluke received a call from President Obama, and now House Minority Leader Nancy Pelosi (D-Calif.) has reached out to the law student caught in the crossfire of the contraception debate.
"Thanks to @nancypelosi for the call. I appreciate your continued concern and support," Fluke tweeted Monday afternoon.
Last week Pelosi called on House Republicans to disavow Limbaugh's remarks.
"They won't disassociate themselves from it. They're tattooed with that," she told the Washington Post. "I wouldn't want those words repeated in my office."
House Speaker John Boehner called Limbaugh's attack "inappropriate" but stopped short of condemning it.
After Limbaugh's advertisers started pulling out of his show, he walked back his comments on Monday, describing his word choice as "uncalled for."
Fluke did not accept Limbaugh's apology.