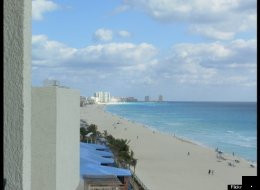 This year's Spring Break "Top 10" list starts and ends with, oh-so-appropriately, MTV. College students may remember MTV's The Real World: Cancun, a pre-Jersey Shore preserve of vodka-infused excessive partying and generally questionable behavior. According to the Los Angeles Times, which recently published a list of STA Travel's most-booked destinations for 2012, Cancun once again reigns supreme.
At the tail end of the Top 10 list is Las Vegas, which happens to be this year's destination for "MTV Spring Break." The MTV special takes place from March 20 to 22 of this year but THANKFULLY will be available for your tasteful viewing pleasure as a mini-series online, in case you can't make the trip to Sin City.
Check out our slideshow to see the eight other destinations that will be partying hard this March.
A consistently popular destination for students on Spring Break, Cancun again tops the charts despite State Department travel warnings for Mexico.

Punta Cana: the alleged location of "Harvard's hottest party" in 2011. Will they top it in 2012?

Miami is up four spots from number seven in 2011. South Beach, rage on!

With big names like Young Joc, Lil Wayne and Kenny Chesney making Panama City Beach appearances in spring breaks past, the PCB "Official Spring Break" website (yes, seriously) will soon release names of expected 2012 celebrity appearances.

"Electo Beach Puerto Vallarta" is a 42-night Spring Break musical festival.

Acapulco is yet another top spring break destination in Mexico. Last year, there was a supposed dip in the number of student travelers due to reports of violence an hour from the city.

Negril is located about an hour and a fifteen minutes by car from the airport in Montego Bay, Jamaica. Both towns boast gorgeous beaches and are popular destinations for students this year.

A stop on many cruise ship routes, Nassau is located nearby the popular resort Atlantis.

At the ninth-most booked location according to STA Travel, Cabo is the fourth and final Mexican hotspot to make the Top 10 list for 2012.

Lupe Fiasco performed "Daydreamin" at MTV Spring Break 2011, also held in Las Vegas. What shenanigans will 2012 have in store?