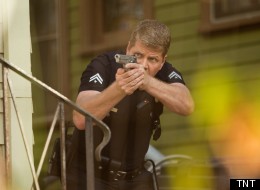 TV is chock-full of celebrities this week.
Katy Perry makes an appearance as a not-so-glamorous prison guard on Fox's "Raising Hope" on Tuesday. Sean Hayes has a stint as a Indianapolis talk show host interested in interviewing Leslie on Thursday's "Parks and Recreation" on NBC. And "Scrubs" fans can catch Sarah Chalke working with Bill Lawrence again on Tuesday's "Cougar Town" on ABC.
Plus, there's plenty of new programming to tune into: "Breaking In" returns to Fox on Tuesday for its second season premiere, featuring new series regular Megan Mullally; the long-awaited (and Sarah Palin-hated) "Game Change" premieres on HBO on Saturday; and "Bob's Burgers" is back on Sunday on Fox for the sophomore premiere of this surreal and underrated comedy.
Check out our slideshow to see what else is worth watching this week.
What To Watch: TV Picks For March 5 - 11
"Alcatraz" (8 p.m. EST on Fox) two-hour episode In back-to-back all-new episodes, two of "Alcatraz's" most violent brothers -- Herman (guest star Travis Aaron Wade) and Pinky (guest star Graham Shiels) Ames -- who were notorious for nearly escaping in 1963, find something mysteriously amiss when they return to Alcatraz in the present day. In the second installment, Sonny Burnett (guest star Theo Rossi), a man with an incredible dark side who became ultra-violent during his stint at Alcatraz, returns.

"The Lying Game" (9 p.m. EST on ABC Family) season finale An unexpected engagement leads to a quickly-planned wedding, causing suspicions that something is awry. Sutton encourages Emma to show Kristin what they found in Rebecca's house. And Ethan makes a discovery that changes the game. Meanwhile, a shocking revelation leads to major repercussions in the Mercer household.

"Smash" (10 p.m. EST on NBC) Karen finds a new use for her acting talents as she joins Dev at a high-powered government party. The drama between Michael and Julia heats up, as Eileen and Tom's ambitious assistant Ellis forges an alliance. Elsewhere, Ivy senses trouble in her relationship with Derek.

"Raising Hope" (8 p.m. EST on Fox) new timeslot Sabrina is arrested after participating in an Occupy Natesville protest and is sentenced to two weeks in prison. One of the prison attendants (special guest star Katy Petty) claims to be a friend from her past and will stop at nothing to make Sabrina's stay in the slammer as dreadful as possible until she remembers their childhood friendship. Meanwhile, the mayor of Natesville grants Virginia three wishes after she helps her avoid a public scandal, but when Jimmy turns down the mayor's advances, Sabrina's chances of being exonerated are put at risk.

"Cougar Town" (8:30 p.m. EST on ABC) This episode kicks off a spectacular run of three episodes that "Scrubs" fans won't want to miss. One look is all it takes for Bobby to fall for Travis' photography professor (guest star Sarah Chalke), but Travis refuses to introduce them; Laurie falls for a guy she's never met when she begins a romance via Twitter with a soldier in Iraq; and Jules and Andy prepare to go to war against an unruly gang of kids on bikes who are terrorizing the cul-de-sac.

"Breaking In" (9:30 p.m. EST on Fox) season premiere Following Fox's eleventh-hour save of the quirky workplace comedy, some changes have come to Contra Security. In the second season premiere, Cameron, Cash and Melanie discover that Oz is forced to sell the company to a corporate conglomerate headed by the brash and bold Veronica Mann (Megan Mullally, who joins the cast as a series regular). With the help of her prickly British assistant Molly, Veronica turns the office upside-down.

"Southland" (10 p.m. EST on TNT) While Lydia and Ruben investigate the death of a nanny, in an alarming twist, it emerges that the children who were in her care are missing. Ben's attempts to help a prostitute with a daughter backfire, while John confronts Tang about coming clean over a past shooting.

"Idina Menzel Live: Barefoot at the Symphony" (8 p.m. EST on PBS) special presentation Tony Award-winning Broadway ("Wicked"), television ("Glee") and recording artist Idina Menzel, backed by an orchestra led by legendary composer/conductor Marvin Hamlisch, performs at The Royal Conservatory's beautiful Koerner Hall in Toronto, Canada.

"Happy Endings" (9:30 p.m. EST on ABC) A panicked Alex enlists Jane's help in convincing Dave that something he's certain happened never did, but will they succeed? Meanwhile, Penny and Max are determined to finally beat an annoyingly perfect couple (Morgan Walsh as Julie, Brice Williams as Justin) in the annual Rosalita's Run and Scavenger Hunt.

"Face Off" (10 p.m. EST on SyFy) The contestants must create a human-dinosaur hybrid ahead of a double elimination. Cleve Fall from SyFy's upcoming "Monster Man" is the guest judge.

"Parks and Recreation" (8:30 p.m. EST on NBC) winter finale Leslie and Ben are thrilled when Buddy Wood (guest star Sean Hayes) wants to interview Leslie for his Indianapolis talkshow. April and Ron prep Andy for his final exam in his Women's Studies course. After this week's episode, he show returns on April 19.

"Person of Interest" (9 p.m. EST on CBS) When The Machine spits out the number of a six-month-old baby, Reese and Finch turn into overprotective parents ... with an arsenal at their disposal. Meanwhile, when Elias resurfaces, Det. Carter begins to question her new allegiance with Reese and Finch.

"Awake" (10 p.m. EST on NBC) Det. Michael Britten continues to deal with his parallel versions of reality. In one world, he's looking for ways to reconnect with his son, Rex; in the other, Britten works to understand the emotions that his grieving wife, Hannah, is going through. Meanwhile, his captain, (guest star Laura Innes) shows growing concern over his behavior, and the events surrounding the fateful accident that changed Britten's life come into question.

"The Mentalist" (9 p.m. EST on CBS) special night and time Jane and the CBI try to narrow down the list of suspects when a terminally ill man, is found murdered. Meanwhile, Cho is forced to face his demons.

"Spartacus: Vengeance" (10 p.m. EST on Starz) Spartacus and his rebels try to increase their numbers by freeing fighters enslaved in foreign wars. Lucretia seeks to recruit one of her husband's former gladiators to outmaneuver powerful Romans.

"Game Change" (9 p.m. EST on HBO) original telefilm Starring Julianne Moore, Woody Harrelson and Ed Harris, this HBO Films presentation follows Ariz. Sen. John McCain's (Harris) 2008 presidential campaign, from his selection of Alaska Gov. Sarah Palin (Moore) as his running mate to their defeat in the general election. Harrelson portrays Steve Schmidt, McCain's senior campaign strategist. Based on the bestselling book of the same name by Mark Halperin and John Heilemann, the film is directed by Jay Roach and written by Danny Strong.

"An Idiot Abroad" (10 p.m. EST on Science) season finale Karl returns home to meet Ricky Gervais and Stephen Merchant and discuss what he's learned on his travels.

"Once Upon a Time" (8 p.m. EST on ABC) After quitting Granny's diner and with her self-esteem at an all-time low, Emma hires Ruby to be her assistant in order to help her discover what it is in life that she's good at; and Emma continues questioning David about the disappearance -- and possible murder -- of Kathryn. Meanwhile, in the fairytale land that was, Red Riding Hood yearns to run away with her true love. But she, along with her fellow townspeople, are virtual prisoners when a bloodthirsty wolf continues on its relentless killing spree.

"Bob's Burgers" (8:30 p.m. EST on Fox) season premiere The kids hunt for treasure in an abandoned taffy factory and Bob and Linda must find them before the factory's scheduled demolition in the Season 2 premiere of this surreal and underrated comedy.

"Hoarding: Buried Alive" (9 p.m. EST on TLC) season finale One woman's hoarding may have done irreparable damage to her relationship with her daughter, while another admits she needs help after years of hoarding have left her home uninhabitable.