Patricia Heaton Apologizes For Joining Rush Limbaugh's Attack On Georgetown Student Sandra Fluke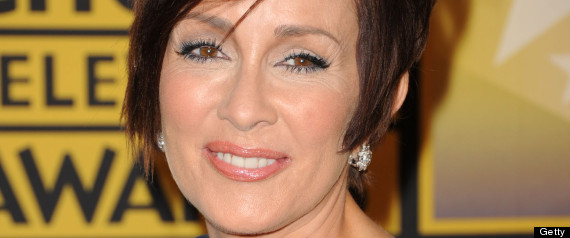 Yet another publicist is likely cursing the invention of Twitter after "The Middle" star Patricia Heaton joined Rush Limbaugh's attack on Georgetown Law student Sandra Fluke.
The 54-year-old actress, best known for her role on "Everybody Loves Raymond," temporarily deleted her Twitter account after going on a rant that sided with Limbaugh's remarks that Fluke was a "slut" and a "prostitute." While Limbaugh is still losing advertisers by the second, Heaton also felt the heat over her comments and was bombarded with messages from angry fans.
Last week the actress tweeted:


"Hey G-Town Gal: Plz let us also pay for your Starbucks, movie theater tickets and your favorite hot wings combo deal at KFC! Anything else?"

"Hey G-Town Gal: If your parents have to pay for your birth control, maybe they should get a say in who you sleep with!" Instant birth control!"

"If every Tweaton sent Georgetown Gal one condom, her parents would have to cancel basic cable, & she would never reproduce -- sound good?"

"Hey GTown Gal: How about only having sex on Wednesday? (Hump day!)."

"Hey G-Town Gal: turn your underwear inside out! Then u only have to do laundry every 2 weeks—saves on detergent & trips to Laundromat!"
After feeling the backlash, on March 3, both Limbaugh and Heaton issued their own apologies. Heaton deleted the tweets and apologized to Fluke for her comments .
"re @SandraFluke Mea culpa Sandra! Wasn't being respectful 2 u re my tweets as I hope people wd b w/me. Don't like you being dissed -so sorry," she wrote and again on March 5th she reiterated the apology to her followers. "I apologized to Ms Fluke last week. I may not agree with her views but I didn't treat her with respect and I'm sorry. I was wrong. Mea Culpa."
While Fluke dismissed Limbaugh's apology as insincere, she has not commented on Heaton's apology at this time.
Heaton has never hidden her conservative views from typically left-leaning Hollywood, and last year she told PopEater she's lost roles because of her beliefs.
"We know for a fact there are some people who have said they wouldn't want to work with us because of our politics," she said, with her husband, actor David Hunt, adding, "We get lumped in with lunatics."
More celebrity tweets that went too far:

Loading Slideshow
Gilbert Gottfried

Comedian Gilbert Gottfried apologized for his <a href="http://www.huffingtonpost.com/2011/03/14/gilbert-gottfried-tweets-_n_835553.html" target="_hplink">offensive remarks </a>about the earthquake that devastated Japan in March 2011.

Gilbert Gottfried

Gottfried's apology wasn't enough to keep him from <a href="http://www.huffingtonpost.com/2011/03/14/gilbert-gottfried-fired-aflac_n_835692.html" target="_hplink">losing his job as the voice of the Aflac Duck. </a>

Kenneth Cole

Designer Kenneth Cole <a href="http://www.huffingtonpost.com/2011/02/03/kenneth-cole-tweet-uses-c_n_818226.html" target="_hplink">later apologized </a>for using the political unrest in Egypt to promote his clothes.

Ashton Kutcher

Ashton Kutcher tweeted his disbelief that Penn State fired football coach Joe Paterno. The actor later tweeted that he didn't realize it was because of Paterno's involvement in a child abuse scandal. <a href="http://articles.nydailynews.com/2011-11-10/news/30384760_1_dna-foundation-tweet-twitter-followers" target="_hplink">Kutcher apologized at length and even announced</a> he would be taking a break from Twitter until he could find a way to manage his account.

Chris Brown

R&B singer Chris Brown responded to celebrities like Miranda Lambert who were upset he performed at the Grammys where he also won an award.

ICE T

Actor Ice T <a href="http://www.huffingtonpost.com/2011/08/17/ice-t-jokes-about-real-housewives-husbands-russell-armstrongs-suicide_n_929564.html" target="_hplink">freely admitted</a> it was a bad joke when he tweeted that many of the women from the Real Housewives shows would make him consider suicide, after Taylor Armstrong's husband Russell killed himself.

Keri Hilson

Singer Keri Hilson angered Amy Winehouse fans after the singer's untimely death by tweeted a photo of herself with a Winehouse look alike. Hilson quickly <a href="http://rapfix.mtv.com/2011/07/26/keri-hilson-apologizes-for-amy-winehouse-tweet/" target="_hplink">apologized for the comment</a>, telling Winehouse fans, she meant no harm.

50 Cent

Rapper 50 Cent joked about the earthquake and subsequent tsunami that devastated Japan in March 2011.

50 Cent

50 Cent didn't apologize for making light of the devastating earthquake in Japan, but <a href="http://www.huffingtonpost.com/2011/03/14/50-cents-japanese-earthquake_n_835280.html" target="_hplink">admitted</a>: "Some of my tweets are ignorant I do it for shock value. Hate it or love it. I'm cool either way 50cent."