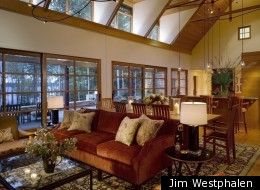 If you're considering moving, downsizing or building a home in retirement, you'll find plenty of inspiration in the new book "Unassisted Living: Ageless Homes For Later Life" by architects Wid Chapman and Jeffrey Rosenfeld.
"Unassisted Living" feature 33 homes for baby boomers -- ranging from single-family to apartments to getaway cottages, built over the past dozen years. They vary widely in location, style, size and cost, but share an open and contemporary feel, flooded with natural light and crafted with natural materials such as wood and stone. Simultaneously minimalist and warm, these dwellings were built with both longevity and vitality in mind – but barely hint at the special accommodations typically required by age.
"Boomers have gone through life being rebels," said Rosenfeld. "They are aware of their coming frailties, but they are thumbing their noses at some of the rules." For instance, Rosenfeld interviewed the director of a geriatric program at a major hospital who specifically asked for stairs in his retirement home. "If anyone should know the challenges of age it would be this person, but he said, 'How will I get exercise if I have no stairs in my home?'"
The notion of being challenged by one's home is taken to a conceptual extreme in a project called "Bioscleave" in East Hampton, New York. Designed by Madeline Gins and Shusaku Arakawa, the home looks more like a child's playset, with vibrant colors, floors textured like a lunar landscape and unexpected twists, turns and sloping spaces. Not even the light switches are where they're supposed to be. Outside, the grounds are literally a maze.
Bioscleave is an example of a philosophy called "reversible destiny" –- the idea that a steady decline in faculties from midlife onward is not inevitable. "It's all about a home that is intentionally disorienting," said Chapman. "You need to think about finding your way through the home."
Chapman admits there's a "healthy element of denial" at work: "Boomers are in good health and many of them are not fully addressing these issues." Some homeowners included shafts for future elevators and space for bathroom grab bars; one designed a pool cabana that could be converted into a caretaker's cottage.
"No generation has ever placed such contradictory demands on later-life housing," the authors write. In their interviews with homeowners and architects, the authors discovered three main priorities in a retirement home.
"Many people wanted to stay connected to children, grandchildren and friends; stay fit and healthy; and be involved in a combination of work and leisure pursuits," said Rosenfeld. "I didn't hear people say, 'I want to leave it all behind me.' Many were planning to continue their careers in a new form -- working from home or as a consultant or doing volunteer work related to their careers."
In addition, post 50s want homes that balance privacy and connection -- the cozy master suite as well as flexible, separate quarters to host adult children, aging parents or visiting friends. Sustainability is another priority. "It's the first aging population that had any social interest in green design and an understanding of climate change," said Chapman. Homeowners put a premium on sustainable materials and energy-efficient systems.
"Boomers are transformative," said Rosenfeld. "The life span is lengthening and the whole experience of later life is changing, and they are making an impact on how we live our later years. We wanted to celebrate that."
Check out the slideshow for seven unique homes from "Unassisted Living."
"3 In A Row" in downtown San Diego exemplifies "bistro living" at its best. The baby boomers who live here are liberated from the maintenance of a single-family home and yard, and can walk to work and the city's prime attractions. The homes are also affordable.

The "3 In A Row" townhomes contain a bedroom and full bath at ground level; a kitchen, dining room and family room on the second level; and more bedrooms and baths with a balcony on level three. Clerestory windows minimize the need for artificial light in the day, and there's room to add an elevator as residents age.

Post 50s want to age in the company of friends, and South Park Lofts, a townhome development in Seattle, Washington, embodies this theme. The units face each other across a commons, encouraging residents to socialize. South Park is now known for its art shows and parties. The LEED-certified development attracted eco-minded couples and singles. On the exterior, solar panels also serve as a protective awning.

Eco-friendly interior features at South Park Lofts include bamboo flooring; hard surface tile with 40 percent recycled content; and a heating system designed to perform about 20 percent better than Washington State energy code. Patios, common areas and recessed entries also encourage neighbors to mingle.

A Madison, Wisconsin couple built "Ross Street House," a LEED-certified platinum-rated residence that is designed to allow the owners to age in place. A smooth path and broad steps make for easy front-door access. The house has a shaft space for a future elevator, and a cabana near the pool has a kitchen and bath so it can be converted to a caretaker's residence.

The main level is an open plan for dining and entertainment, and the lower level contains a bedroom for guests and grandchildren (who also have a "rumpus room"). The upper level has a master suite and study that opens to the living room below.

This private residence in Shelburne, Vermont was built for a boomer couple who live with their daughter and her two children. More than 51 million Americans live in multigenerational households and the numbers are growing. Eventually the roles could be reversed, and this home would allow the daughter to take care of her parents.

The open and spacious main living area easily accommodates three generations. The windows of the home offer magnificent views of Lake Champlain.

"Bioscleave," in East Hampton, New York, exemplifies a philosophy called "reversible destiny" -- the idea that a steady decline in our faculties from midlife onward is not inevitable. The home is intentionally disorienting so the owners have to think as they find their way through it -- keeping them mentally challenged and sharp.

Outside, the grounds at "Bioscleave" are literally a maze, inspiring a "way-finding" exploration that makes life more fun and interesting.

In New Orleans' 9th Ward, Brad Pitt's nonprofit "Make It Right Foundation" has worked with architects to build green and affordable single-family homes. Some 40 percent of the homeowners are between 55 and 65. "Float House," pictured here, sits on posts that allow it to rise 12 feet in the event of a flood and includes solar roof panels.

A new take on the traditional shotgun house, Float House has a welcoming front porch and a wide, green ramp that makes it accessible to all.

The contrast of black and white elements in the kitchen are easier on aging eyes. Work areas are designed to be accessible. Many of the new homes in New Orleans are attracting three-generation families headed by people in their 60s.

A post 50 couple seeking to simplify their lives by downsizing built the "Corum Residence," an isolated, elegant and highly efficient home in Pella, Iowa. Not an inch of space is wasted in this unique dwelling.

Interior finishes at Corum Residence are natural and easily maintained.

At Corum Residence, large windows make the compact space feel light and airy, and maximize natural light and passive solar heat.