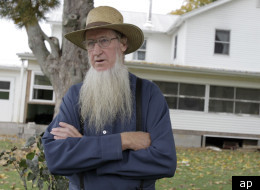 An Amish sect accused of cutting off the beards of its rivals in Ohio is now challenging the constitutionality of the hate crime law under which they have been charged.
Sam Mullet, the bishop of an Amish splinter group, was swept up with 11 followers in a federal indictment for a spate of attacks in rural Ohio in the fall.
Federal prosecutors said Mullet orchestrated at least four beard- and hair-cutting raids because he was upset that his sect was ostracized by other branches of the Amish community.
On Monday, attorneys Wendi Overmyer and J. Dean Carro tried out a number of strategies while attempting to get the case dismissed in Cleveland.
These attempts included arguing that Congress overstepped its limits by passing the Hate Crimes Prevention Act in 2009. Even if the law is legitimate, they said, it shouldn't apply here because the alleged attacks occur within a religion.
The Amish-on-Amish attacks surprised many outside the community, but a sheriff told HuffPost at the time that Mullet and his sect were "troublemakers."
At most, the alleged crimes should be treated as cases of assault, the lawyers wrote in documents cited by the Pittsburgh Post-Gazette.
The lawyers say the Hate Crimes Prevention Act should be struck down, because it doesn't affect interstate commerce -- meaning it's outside the purview of Congress. But a spokesman for the U.S. Attorney in Cleveland told the Pittsburgh Tribune-Review simply that the law is constitutional.
The twelve defendants pleaded not guilty in January.