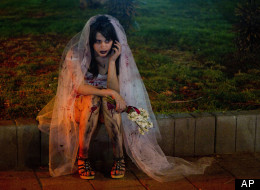 From the launch of Apple's new iPad to violent protests in the Middle East, thousands of stories have unfolded around the world in the last 24 hours.
Check out our slideshow of some of the most eye-catching images that photographers have captured during that time.
They include 'zombies' in Israel, colorful Hindu festivals, Paris Fashion Week and quirky dog walkers in Maryland. Check it out.
A woman wearing zombie make-up and a wedding dress sit and speaks on the phone while waiting for a friend to join the 2012 Zombie Walk during the Purim festival in Tel Aviv, Israel,Tuesday, March 6, 2012.

Lisa Polinori, left, walks her Boston Terrier, "Enzodog," while riding a unicycle in Baltimore, Tuesday, March 6, 2012.

Hindu devotees pray and face a deity as colored powder is thrown on them while celebrating "Holi," the festival of color, crowd at the Banke Bihari temple in Vrindavan, about 140 kilometers (87 miles) from New Delhi, India, Wednesday, March 7, 2012.

A model wears a creation by Italian designer Miuccia Prada for Miu Miu Fall-Winter, ready-to-wear 2013 fashion collection, during Paris Fashion week, Wednesday, March 7, 2012.

An anti-government protester prepares to throw a Molotov cocktail during clashes with riot police Tuesday, March 6, 2012, in the western village of Malkiya, Bahrain. Daily clashes continue in largely Shiite areas throughout the Gulf island kingdom.

A construction worker steps across the center of the bed of the new Lincoln Memorial Reflecting Pool in Washington,Tuesday, March 6, 2012. The repairs to the Reflecting Pool required the complete demolition of the existing site and replacement with a new pool, water treatment facility, pedestrian walkways, and lighting. The original pool had been sinking since its construction in the 1920s, leading to numerous leaks. The new Reflecting Pool is estimated to complete by the spring of 2012.

Protestors pray at Taghyeer Square (Change Square), where protesters have been camping for around one year to demand the resignation and trial of Yemen's President Ali Abdullah Saleh in Sanaa, Yemen, Tuesday, March 6, 2012.

Apple CEO Tim Cook introduces the new iPad during an event in San Francisco, Wednesday, March 7, 2012. The new iPad features a sharper screen and a faster processor. Apple says the new display will be even sharper than the high-definition television set in the living room.

A synchronized swimmer is lifted from the pool during the performance show entitled Ilulwane, that forms part of the City public Arts Festival taking place in Cape Town, South Africa, Wednesday, March 7, 2012. International and local artists are taking part in the 5th annual City Public Arts Festival, with a multi-disciplined range of public artworks and performance based art on display.

A Buddhist monk walks past devotees in observance of religious rituals during prayers at Kelaniya Buddhist temple, outskirts of Colombo, Sri Lanka, Wednesday, March 7, 2012. Every month, this island nation of 19 million people shuts down for the Full Moon day. Offices, schools and cinemas are closed. Bars don't serve alcohol. Even cricket, the national passion, takes a break.