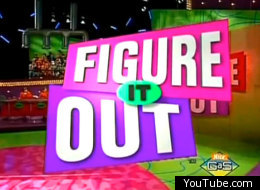 Fans of 1990s Nickelodeon you better have a seat: "Figure It Out" is coming back. The network announced it has ordered 40 new episodes of the popular game show, which featured a panel of celebrities attempting to guess the young contestant's special talent.
"'Figure It Out' is a show that celebrates kids and their wonderful and often bizarre talents," Marjorie Cohn, president of development and original programming at Nickelodeon, said in a statement. "In this internet age where kids are expressing themselves online, it feels timely to give them a TV platform to showcase those talents in a uniquely Nickelodeon way."
The original version was hosted by Olympic swimmer Summer Sanders and ran from 1997 to 1999. It produced more than 150 episodes. New episodes will begin production in L.A. in April. "101 Ways To Leave a Game Show" host Jeff Sutphen will serve as host on the new "Figure It Out."
Four celebrity panelists would have to guess the contestant's skill asking "yes" or "no" questions over three rounds, winning a prize after each round the panel fails to guess correctly. If the panel failed to guess the talent, the contestant took home the grand prize.
"All That" stars Lori Beth Denberg and Danny Tamberelli were regular members of the original panel. In addition to Nickelodeon stars, the show also featured another Nick staple: slime. Check out some "Figure It Out" slime action below.
Now that "Figure It Out" is back, we couldn't help but think about what other classic Nickelodeon game shows we'd like to see return to TV. Check out the slideshow below for our picks.
We have one question: "Do you have it?!" From 1992 to 1995, long before he became Kurt Hummel's dad on "Glee," Mike O'Malley hosted "Guts," which went international with "Global GUTS." Three contestants -- clad in red, blue and purple -- from three different countries battled it out in the "Extreme Arena" in various athletic events. After shooting baskets with bungee cords and fighting rapids in swimming pools, it was time to climb the Aggro Crag, where anyone could win. O'Malley would consult Moira "Mo" Quirk, the British ref who controlled the "the leaderboard," to find out who would take home "a glowing piece of the rock." We think it's time to climb the Crag again.

We are so ready to slip on our water shoes and get back to Olmec, who ruled Nickelodeon from 1993 to 1995. With Kirk Fogg acting as the host and guide of "Legends of the Hidden Temple," six co-ed teams of two would compete in various mythologically/historically-themed challenges for pendants of life in order to head into the temple. After three rounds, only one team remained to enter Olmec's temple and find a historial artifact behind the temple gates. Of course, they must beware the "dreaded" Mayan Temple Guards and put together that damn Shrine of the Silver Monkey. If Nickelodeon is wondering if we're ready for more "Legends of the Hidden Temple," we only have one response (courtesy of Olmec): "Let's rock!"

There were many iterations of the Marc Summers-hosted series "Double Dare," but "Family Double Dare," which premiered in 1988 on Fox, took the cake ... or pie, in this case. The team size grew to four with two children and their parents competing to answer questions or take a "physical challenge," if they were stumped. The team with the most points would eventually head to the obstacle course to find those coveted goo-covered orange flags. Though it took a brief break, Nick brought "Family Double Dare" back and it aired until 1993.

Who could forget "Mikey"? Nick Arcade aired from 1992 to 1993 and had two teams of two playing trivia rounds to gain control of the virtual little boy and listen to host Phil Moore sing along with his irritatingly catchy walking music. Eventually, the winner would advance to the "Video Zone" to battle the virtual "Video Game Wizard" of the day on a green screen that led to some unintentional hilarity.

As if the "Double Dare" franchise wasn't enough, Marc Summers also hosted "What Would You Do?" The series, which ran on Nick from 1991 to 1993, would call on audience members to eat gross things (i.e. a Twinkie with gravy), do something silly (i.e. burp a song) or something of the like. But, if they weren't up for those dares, they could choose to take on one of the many pie contraptions: the pie pod, pie pendulum, pie slide, pie wash, etc. Clearly, TV needs more pies in 2012.

Mike O'Malley had a bit of history with Nickelodeon before "GUTS." For a portion of 1991, he hosted "Get the Picture," which featured two jumpsuit-sporting teams of two battling it out. The orange and yellow teams would answer questions and play games for the opportunity to unveil one of the smaller screens that made up the larger screen of a hidden picture. The "physical" games were far less difficult than those on some of Nick's later shows so couch potatoes, this one's for you.

Before "Hangin' With Mr. Cooper," "Smart Guy" or "Miami Medical," Omar Gooding -- yes, Cuba's brother -- was one of three hosts on Nickelodeon's "Wild & Crazy Kids" from 1990 to 1992. The other hosts were Donnie Jeffcoat, who went on to appear on "One Life to Live" for five years, and two young women: Annette Chavez was replaced by Jessica Gaynes at the beginning of Season 2. Each episode took place on playgrounds, in water parks and the like and consisted of three games that -- thanks to some pies and some slime -- were typically quick messy (or wild and/or crazy, if you will). Though there was a 10-episode revival in 2002 on Nick GAS, we think "Wild & Crazy Kids" deserves a third chance.