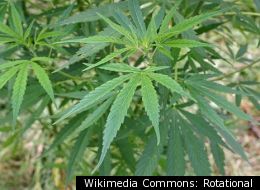 By: Jennifer Welsh, LiveScience Staff Writer
Published: 03/06/2012 12:30 PM EST on LiveScience
A dreamy diet pill that someday allows people to eat as much as they want without gaining weight seems possible, based on new research into certain brain chemicals that influence how quickly we burn fat.
Scientists used lab mice to turn down brain levels of endocannabinoids, chemicals produced by our bodies that are similar in molecular structure to the active ingredients in marijuana.
Previous research has found that endocannabinoids play an important role in regulating energy metabolism. In the new study, blocking the activity of endocannabinoids in the brain enabled mice to stay skinny without exercise or dieting. The researchers explained that the mice were in a "hypermetabolic state," in which their bodies were using up energy (that is, calories) at a much higher rate than normal.
"We discovered that these mice were resistant to obesity because they burned fat calories much more efficiently than normal mice do," study researcher Daniele Piomelli, a professor at the University of California, Irvine, said in a statement. "We had known that endocannabinoids play a critical role in cell energy regulation, but this is the first time we found a target where this occurs."
This target is a compound called 2-AG, found in high levels in mammalian brains, and researchers think it plays a role in the brain circuits controlling how the body uses energy, which we get from food.
A previous study by Piomelli found these compounds make us crave fat. To see if lowering the levels of these compounds had the opposite effect, Piomelli engineered the brain cells of mice to express only low levels of this compound, then compared the animals' behavior and health with that of normal mice.
The modified mice ate more and moved less than their normal counterparts, but stayed skinny even on a high-fat diet. Not only did they look healthy, they had normal blood pressure, and no increased risk of heart disease and diabetes that usually come with a high-fat diet.
The researchers determined that the modified mice's brown fat was overactive — it was being turned into heat much quicker than in the normal mice. Brown fat is a type of fat that keeps mammals warm, and this heat creation burns off excess energy.
Jumping from lab studies in mice to actual health benefits for humans is still a ways away, though, since it is difficult to make a drug that acts only in one brain area.
"To produce the desired effects, we would need to create a drug that blocks 2-AG production in the brain, something we're not yet able to do," Piomelli said. "So don't cancel that gym membership just yet."
The study was published today (March 6) in the journal Cell Metabolism.
You can follow LiveScience staff writer Jennifer Welsh on Twitter @microbelover. Follow LiveScience for the latest in science news and discoveries on Twitter @livescience and on Facebook.
Copyright 2012 LiveScience, a TechMediaNetwork company. All rights reserved. This material may not be published, broadcast, rewritten or redistributed.
SLIDESHOW: BIGGEST MEDICAL MARIJUANA STORIES 2011
Medical marijuana advocates in October sued the federal government in response to prosecutors' crackdown on medical pot establishments in the California. In the pending lawsuit, Americans for Safe Access, the country's largest medical marijuana advocacy organization, argued that the Department of Justice had overstepped its constitutional authority in policing local medical marijuana laws within the state.

Fifty percent of Americans favor legalizing marijuana, according to a Gallup poll. That's a record high, up from just 36 percent in 2006. The past two decades have seen a marked shift in public opinion on the issue. Asked in 1970 if they thought the drug should be made legal, only 12 percent of respondents agreed. That number rose to 28 percent by the late 1970s, dipped slightly lower in the 1980s and then rose to 36 percent in 2006. Support spiked in the past five years, with 40 percent of respondents favoring legalization in 2009. The number has now jumped another 10 percent, according to Gallup's annual crime survey conducted Oct. 6 to 9, with majorities of men, liberals and 18- to 29-year-olds currently supporting the legalization of cannabis.

After U.S. attorneys in California announced a crackdown on medical marijuana dispensaries, hundreds of the state's pot clinics closed up shop. Three of the best-known dispensaries in San Francisco were forced to close. And the Marin Alliance for Medical Marijuana, the state's oldest medical marijuana dispensary, shut its doors. The shop had been operating since 1996, the year California legalized medical marijuana.

In November, Govs. Lincoln Chafee of Rhode Island and Chris Gregoire of Washington (above) called on the Drug Enforcement Administration to reclassify marijuana as a Schedule II drug, which would allow it to be dispensed for medicinal use. The governors' move marked just the latest development in a larger struggle to protect medical marijuana shops operating under state laws from the threat posed by federal law enforcers. Rhode Island and Washington are two of 16 states that have legalized the use of medical marijuana, but that in recent months have faced ramped-up enforcement actions from federal prosecutors.

The FBI's annual Uniform Crime Report revealed that in 2010 police made 853,838 arrests for pot-related crimes (or more than half of drug arrests nationwide). The total is among the highest numbers of marijuana-related arrests ever reported by the bureau.

A study from the University of California-San Francisco concluded that medical marijuana, combined with certain opiates, could be a safe and effective treatment for patients with chronic pain. Published in Clinical Pharmacology and Therapeutics, the study found that patients who use cannabinoids inhaled through a vaporizer, combined with long-acting morphine or long-acting oxycodone, experienced a greater reduction in pain than those who used opiates alone. Researchers said the study implies that patients may be able to get away with taking lower doses of opiates for longer periods of time if they take them in conjunction with vaporized cannabis.

The White House in October rejected several marijuana legalization petitions, despite significant public support. One such petition called on the federal government to stop interfering with state marijuana legalization efforts. "As a former police chief, I recognize we are not going to arrest our way out of the problem," wrote Gil Kerlikowske, director of the Office of National Drug Control Policy. "We also recognize that legalizing marijuana would not provide the answer to any of the health, social, youth education, criminal justice, and community quality of life challenges associated with drug use." Kerlikowske's statement came in response to a petition submitted by retired Baltimore narcotics officer Neill Franklin through the White House's "We The People" project, an effort to allow ordinary Americans to gain the attention of policymakers through an online portal at the White House website. Any petition garnering 5,000 signatures within 30 days of submission is guaranteed a response from the White House. Franklin's petition received more than 17,000.

In June, Reps. Barney Frank (D-Mass.) (above) and Ron Paul (R-Texas) -- both of whom are retiring next year -- introduced the Ending Federal Marijuana Prohibition Act of 2011 to eliminate the marijuana bar at the federal level. The bill, which is the first legislation since 1937 to call for legalizing cannabis, awaits congressional action.

Delaware passed a bill stating that, with a doctor's written recommendation, patients with certain chronic or debilitating conditions may possess up to six ounces of marijuana. Gov. Jack Markell signed it into law in May, making Delaware the 16th state to legalize the drug for medical use.

Connecticut reduced possession of a half-ounce or less of pot from a criminal misdemeanor, punishable by jail time, to a non-criminal infraction, punishable by a $150 fine. The bill was signed into law by Gov. Dan Malloy in July, making Connecticut the 14th state to decriminalize the possession of small amounts of pot.