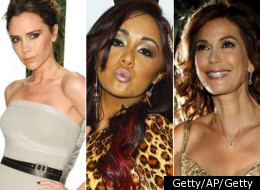 If there's one generalization that tends to hold up when it comes to celebs, it's that they are an attractive bunch. Good genes, intense scrutiny and oodles of cash will do that for a group of people.
To stay so shiny and bright, Tinsletowners put in a lot of work and some of their beautification strategies are downright strange.
Here's our list of some of the top "huh?" treatments and tricks that celebrities turn to in order to maintain their good looks -- some of them interesting, others downright questionable.
Which do you think is the strangest of the bunch?
To keep 'em shiny, Zeta-Jones reportedly cerveza-s her strands. "I do condition my hair with honey and beer," the actress has said, according to the Daily Mail. "I smell like the bottom of a beer barrel for days afterwards, but it's very good for the hair."

The Jersey Shorette once chatted with Conan about one of her beauty "tricks" -- using cat litter (yes, cat litter) as an inexpensive exfoliant. According to The Gloss, when the host asked if Snooks had any concerns about the strong chemicals in the litter, she shrugged: "I haven't broke out at all yet."

According to O, The Oprah Magazine, the legendary actress dished on some of her favorite beauty tips in her book "My Way of Life." Her recipe for treating dry hair? A "masque" of mayonaise.

Simpson caught a lot of flack for her questionable teeth-cleaning techniques, copping to forgoing regular toothbrushing in favor of mouth wash and a good ol' swipe with whatever she's got on. Like, on her person. As UsWeekly reports, the crooner turned fashion mogul told iheartradio: "Sometimes, I'll use my sweater!"

According to reports, the actress doesn't just drink wine, she also dips in it. As the Dayton Daily News wrote, Hatcher's been known to dump leftover wine into the tub in order to help soothe her skin. "Wine has a natural skin softener and exfoliant in it, and it just makes you feel luxurious," the oenophile said.

To keep her supermodel looks, Crawford reportedly turns to milk. According to the Daily Glow, she mixes a little with water and sprays it on her face throughout the day.

According to Elle, Beckham is a fan of the so-called Geisha facial -- a.k.a, the bird poop technique. The New York spa that offers the treatment claims that powdered nightingale droppings are used to help exfoliate the skin. It says it was once the preferred technique of geishas.