Though they may be worlds apart in terms of geography, the UK and Australia share a perspective that is closer than one might think.
The two locales are connected by more than simply history, as evidenced by the new exhibition, "Hijacked III," showing simultaneously at QUAD in the UK and PICA in Perth Australia.
As part of the FORMAT International Photography Festival's off-year program, "Hijacked III" is a blockbuster photography exhibit, but one that achieves intimacy through the careful selection of its roster. The work shown is quite diverse, showing the collages of Melinda Gibson, the wry wit of Tarryn Gill and Pilar Mata Dupont and many compelling portraits of contemporary culture.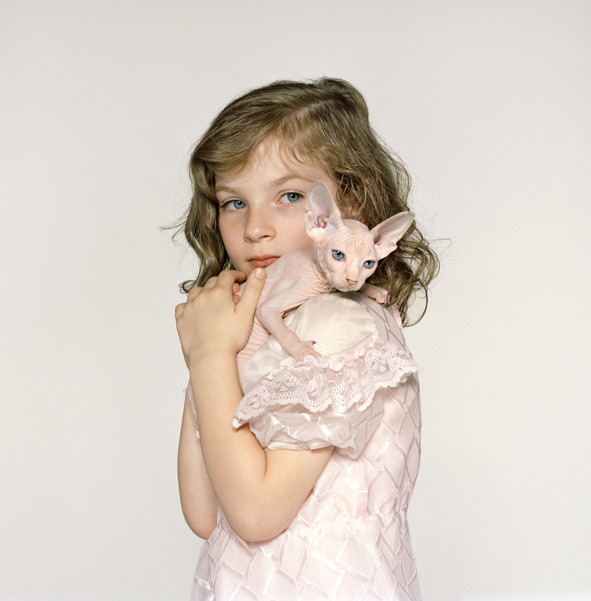 Petrina Hicks, Emily the Strange, 2011, Lightjet print, 100 x 98cm, Edition of 8 + 1AP, Courtesy of the artist and Stills Gallery
In addition, rather than merely calling it a collaboration between the two regions, events at the two locations will actually link up live for a series of workshops and artist talks. Now that's what we call a "collaborative effort." View a slideshow of work from "Hijacked" below, and let us know what you think of this international pairing.
"Hijacked III: Contemporary Photography from Australia and the United Kingdom" will be on display at QUAD Gallery in Derby, UK until May 6th, 2012.
"Hijacked III" - Quad Gallery
Christian Thompson, Untitled #7 from the King Billy Series, 2010, C-type print, 100 x 100 cm, Edition of 10, Courtesy of the artist and Gallery Gabrielle Pizzi

Trish Morrissey, Hayley Coles, June 17th, 2006, Colour Photograph 101.6x80cm Edition of 3, Courtesy of the artist and Elaine Levy Project, commissioned by Impressions Gallery

Melinda Gibson, Photomontage V, 2009, 12.2 x 9 cm Mixed Media From the series: The Photograph as Contemporary Art

Sarah Pickering, Electric Thunderflash 2004, from the series: Explosion, 2004 - ongoing, Courtesy of the artist and Meessen De Clercq Gallery, Brussels

Helen Sear, Beyond The View 5, From the series 'Beyond The View' 2009 - 2010, Courtesy of the artist.

Warwick Baker, Mildura VIC, 2011, C type photograph, 80 x 60 cm, Courtesy of the artist and Lindberg Galleries, Melbourne

Laura Pannack, Shay, 2010, Courtesy of the artist

Tarryn Gill and Pilar Mata Dupont, Blood Sport, 2010. Promotional photograph of the artists by Kim Tran, Giclée print, 120 x 80 cm, Courtesy of the artists and Goddard de Fiddes, Perth

Adam Broomberg and Oliver Chanarin Culture3/Sheet72/Frame3, 2011, C-type print, 150 cm x 190 cm Edition of 5 Courtesy of the artists & Paradise Row, London The photographers would like to acknowledge and thank the original photographers Mervyn Smith, Sean Mc Kernan, Gerry Casey, Seamus Loughran and all other contributing photographers to Belfast Exposed's archive.