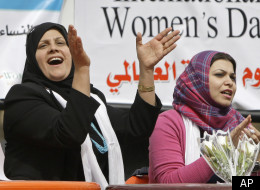 International Women's Day is not only a celebration of gals all over the world -- it's also a call to action.
First celebrated in 1911, International Women's Day is rooted in celebration of economic, political and social achievements that women have made. The commemorative day also serves to highlight women in need.
This year's theme, "Connecting Girls: Inspiring Futures," urges us all to be an advocate for future generations. Organizations such as GirlUp empowers American girls to raise funds and awareness and for young women in need worldwide. Microloan providers such as Kiva provide opportunities for women to create a successful future for their families.
Click through the slideshow below to discover ways to support women and girls all over the world.
SLIDESHOW:
Kiva provides microloans to people around the world who don't have access to traditional banking systems, but have the passion to get a business off of the ground. This donation model, which invites contributions as low as $25, enables small change to forever change a life. To learn more about giving microloans, visit Kiva.org, an international micro-lending nonprofit.

Girl Up, a United Nations organization, connects American girls with girls their age in developing nations to share their hopes, passions, hobbies, fears and the underlying message that all girls deserve the opportunity to dream. To get involved with Gir lUp, click here.

Thousands of women convened on bridges across the world Wednesday to demonstrate their support for the women suffering in such war-torn countries as Afghanistan, Iraq, Congo, Rwanda and South Sudan in the Join me on the Bridge campaign. One participant summed up the experience as the chance to covey the message: "We're with you. We understand your plight. We support you." To find a location near you, and participate today, click here.

Up to 70 percent of women and girls will experience physical or sexual violence, according to Say NO: UNiTE To End Violence Against Women. This social mobilization platform aims to combat that statistic by organizing advocacy programs at schools, volunteer opportunities at shelters and pushing for more government legislation. To sign a petition or donate to Say NO, click here.

Room to Read focuses on gender equality and literacy in schools across Africa and Asia to give girls ample opportunity to reach their potential and give back to their communities. To donate to Room to Read, click here.